Samsung and T-Mobile had a star-studded (if you consider a bunch of no-name bloggers and bands I've never head of "star-studded") launch fiesta yesterday for the SGH-T519 cellphone, which I somehow managed to run away with. Also known as the Trace, the T519 is the successor to the T509, so if you're familiar with that, you should feel right at home.
The first thing you'll notice is that it's quite skinny, like Kate Moss-level skinny, or around 0.3-inches in depth. The LG Chocolate, my main cellphone, is decidedly fat in comparison. (There's a comparison shot after the jump, along with a few other glamor shots.) It's also very light (flimsy?), so light (again, flimsy?) that you get the feeling, "If I concentrate hard enough, I can break it with my mind." What else does it having going for it, hmm...
The T519 is not a smartphone, so don't expect too many groovy features. Instead, just be happy that you get Bluetooth, a 1.3-megapixel camera and a music player that's buffeted by the inclusion of a microSD card slot. There's EDGE, too, for all of you who use it. Clearly, Samsung was shooting for style over...well, maybe not substance, but you can tell that looks were of the greatest import.
G/O Media may get a commission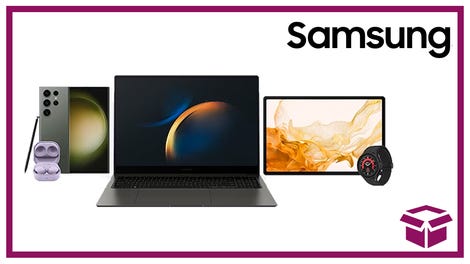 24 hour deals
Discover Samsung - Daily Deal
Pics~!
The Samsung Trace is available now for $100 (well, $99.99, but come on) from T-Mobile after rebates and sacrificial rituals. We may be getting video of it in action soon, so keep your eyes peeled.
Product Page [T-Mobile]