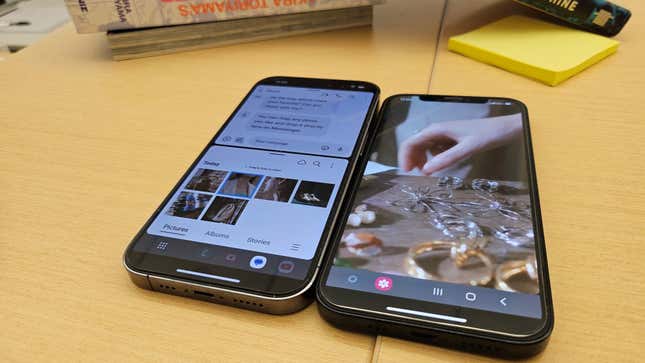 With Samsung pouring its marketing money into its latest foldable phones, the company is trying to snatch up potential iPhone 15 customers by showing them all the fun and weirdness of using two screens, so long as they have an additional iPhone on hand and they're easily distracted by playing a dull game of air hockey.
Samsung Galaxy Flip 5: Hands-on first Impressions of Samsung's Pocket-Sized Folding Phone
On Monday, Samsung updated its Try Galaxy browser-based app to include a new "Foldable Experience." The app now shares video about its "FlexCam Experience" to provide details about the $1,000 Galaxy Z Flip 5's selfie features with its new exterior screen. An additional feature called "Fold Experience" lets you connect to separate iPhones together to create a pseudo multi-screen experience that can barely match the actual capabilities of the $1,800 Galaxy Z Fold 5.
To access it, iPhone users need to access the Try Galaxy site on Safari, then hit the "Add to home screen" button to access the app. The result, however, doesn't do much to sell prospective users on Samsung's premium, foldable phones. There are only three "apps" available in the Fold Experience mode, including "Multi-tasking," "Immersive View," and "Game."
The Game section takes users to a single game of air hockey, which can be played either solo or against a friend as the puck glides with sluggish abandon on every hit. Immersive View plays a video that's supposed to appear across both screens, but in Gizmodo's tests images only appeared on one screen and not the other.
Finally, the Multi-tasking panel is supposed to give users a glimpse of all the different ways they can access apps on a Z Fold 5. You can play a video on one screen, but place two apps on top of the other on the other screen as fake friends send you innocuous texts in a rather thin facsimile of the real foldable experience. Though it's a modest attempt at emulating the Z Fold 5's tablet mode, the real fun of this app flexibility in practice is mixing and matching all the different apps you want displayed at once—for example, you could have a video streaming on the entire screen but scroll on Reddit at the same time in a windowed display. The Try Galaxy app's limited execution doesn't really get that point across.
As for the Z Flip 5's camera features, you can take selfies with the phone shut in a more constrained aspect ratio, but you can also set the Flip on a table and use the exterior screen to show how you'll look in frame. As of right now, the only true way to see if these extra camera features work for your purposes is by trying it out yourself. Samsung did have its own pop-up experience space running New York City, but that's been closed since Aug. 20.
Samsung is currently leading the race on foldable phones, but the market is still a niche in the massive smartphone arena. DSCC industry analyst Ross Young reported Monday that foldable phone shipments rose 42% year-over-year, and that's expected to grow in the latter half of the year to a total 6.9 million shipments by the third quarter. Samsung absolutely dominates in foldable shipments even compared to Google with its Pixel Fold. Still, even with that growth, foldables are just a small blip compared to the 1.21 billion smartphone units shipped in 2022 alone, according to analyst firm IDC.
The Try Galaxy app does nothing but display the difficulty of putting eyeballs on the latest foldables. Both the Flip 5 and Fold 5 are quality devices with only a few hiccups between them, but one of the biggest factors hindering market penetration is the price. With the iPhone 15 announcement right around the corner, Apple users looking for an upgrade will likely need to spend close to $800 more for a Z Fold 5 than whichever Pro or "Ultra" model is around the bend. Even if the next premium version of Apple's mainline phone costs more than previous iterations—as some rumors have suggested—few will want to spend several hundred dollars more on a new device that most have not had the chance to extensively try.