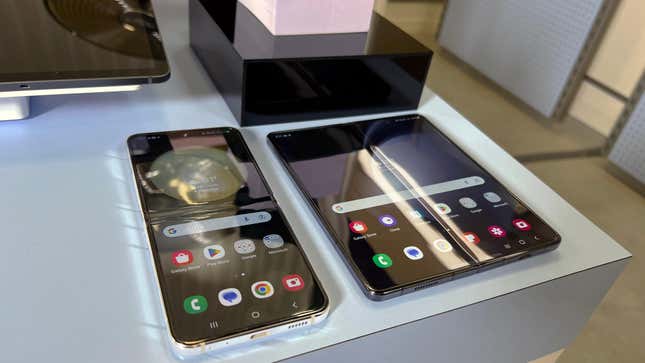 While U.S. east coasters were still scrambling out of bed and west coasters were sound asleep, Samsung unveiled its latest, now-flattenable foldable phones from Seoul. Samsung didn't debut many major innovations, instead offering new performance improvements and small enhancements at similar price points to previous years' devices.

On the smartphone front, the South Korean electronics giant pushed its next versions of its Z Flip 5 and Z Fold 5. Both shut a hell of a lot flatter than prior versions, are slightly thinner, and boast improved chipsets and UI improvements. The Flip 5 sports a much larger exterior screen with several widget and app integrations, and Samsung is promising even more utility from that display in the future. The company is also promoting a special case with the Fold that includes a redesigned, thinner S Pen.
As for smartwatches, the next Galaxy Watch 6 series brings back the more-expensive "Classic" design along with the physical rotating bezel. Samsung is putting a lot of emphasis on the device's sleep tracking features, including a new app that will supply users an animal name for the different type of sleeper they are. The company is also promising future app integrations like Gmail and Audible.
The next set of Galaxy tablets are making a statement that size is indeed everything. The Tab9 Ultra is sitting at 14.6 inches, bigger than some laptops and most large tablets like the iPad Pro. Otherwise, the Tab now comes with a redesigned S-Pen and the same chipset powering its higher-end Galaxy phones.
Most of these devices are already up for preorder and should be available come Aug. 11.