San Diego Comic-Con, coming next month, is one of the geek holy days, but it's not for female geeks, apparently. At least, a new Comic-Con contest was for boys only, and the L.A. Times published an insulting "guide for girls."
Deadly Mississippi Tornado Kills More Than 2 Dozen | Extreme Earth
What makes both of these episodes of insane cluelessness so vexing is that Comic-Con has plenty of female attendees, and you can't walk down the hallways of the convention center without stepping over women in cute costumes camping out in line to see Joss Whedon or Lucy Lawless in person.
So, first the contest. The other day, comics blogger Johanna Draper Carlson broke the news that video-game site IGN was running a contest tying in with District 9, the new movie directed by Neill Blomkamp and produced by Peter Jackson. District 9, of course, is the movie about aliens landing on Earth and being forced into horrendous internment camps, thus demonstrating the evil of segregation and treating intelligent beings like second-class citizens. But this message was lost on IGN and the film's publicists, who put together a contest aimed only at males:
This sweepstakes is open only to males who are both legal residents of the fifty (50) United States and Washington D.C. and who are at least between 18-24 years of age as of July 23, 2009.
G/O Media may get a commission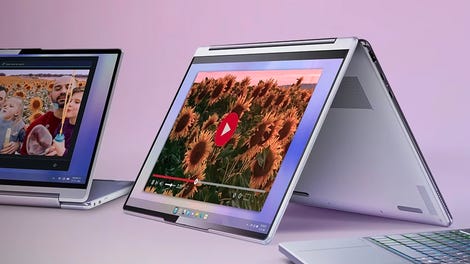 up to 70% off
Lenovo Spring Clearance
The winner of the contest would go to Comic-Con where he (and it has to be a "he") would take part in a "journalistic assignment" relating to District 9, interviewing people connected to the movie, under the supervision of someone from IGN. After Carlson and other bloggers protested this contest, IGN claimed it wasn't their fault:
Hello, IGN here...The eligibility requirements for this contest were determined by Columbia TriStar Marketing, the marketing team behind the District 9 film, and were passed on as a directive to IGN as Sponsor of this particular Sweepstakes running on the IGN.com site. While IGN supports gamers of all ages, genders, shapes and sizes, these guidelines were created to foster a buzz for the film among a very narrow target group that the film's promoters felt would be extremely passionate about the film's subject matter. Thanks for listening, we hope this provides some clarification...

Also know that we're aware of the frustration these guidelines created and will look to avoid such missteps in the future.
When the controversy continued over the weekend, IGN finally backed down and created a second contest, just for women. Men have until June 22 to enter their contest, women have until July 3, since their contest was created later. Still, the fact that IGN's contest was originally for men only sends a terrible message, and I'm left wondering if the contest's female winner will have the same "journalistic assignments" as the male one.
But speaking of sending a terrible message, the L.A. Times put out a "Girls' Guide To Comic-Con 2009," which starts out by assuring readers that contrary to what you might believe, the event "is not just for nerdy guys anymore. And it's not all just about the influx of squealing "Twilight" girls, either." Wow, really? You mean women can be into genre entertainment other than Twilight? Apparently so. Because there are more vampires, from True Blood and the upcoming show The Vampire Diaries. And there'll be "ass-kicking heroines" from TV shows like Dollhouse, plus maybe Brad Pitt will be there and you can ogle him!
Plus maybe Jake Gyllenhaal will be there for Prince of Persia:
Women will be rushing the stage, offering to do star Jake Gyllenhaal's laundry on those washboard abs that he acquired for the film, since he spends much of it fighting, shirtless or both.
Write-ups for other upcoming science fiction franchises assure us that they feature an "emotion-driven storyline" or "bittersweet tears."
So girls, don't feel intimidated by Comic-Con. You can do Jake Gyllenhaal's laundry!
Comic-Con middle finger pic by Omar Gutierrez on Flickr.