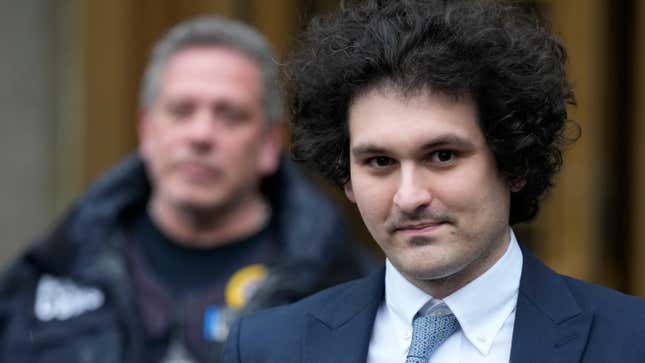 A federal judge doesn't think proposed changes to Sam Bankman-Fried's bail conditions will be enough to address the disgraced FTX founder's messy online behavior while awaiting trial, according to a Friday Reuters report.

Meet Microsoft's New Surface Laptops
Per the outlet, Judge Lewis Kaplan said he had continuing concerns about Bankman-Fried's access to technology and communication devices as the former crypto golden boy is out on bond and residing at his parent's multi-million dollar California home. Recently suggested, additional tech restrictions wouldn't be sufficient, the judge said.
"He could find a way around it and conceivably not get caught," Kaplan said during today's hearing, calling Bankman-Fried "inventive." The judge subsequently denied a proposal for bail condition changes put forth by both Bankman-Fried's legal team and the prosecution the week prior.
Though the Bankman-Fried's lawyers have denied that the their client is engaged in any activity that could impact the integrity of the case, the defense and prosecution came together and agreed on a set of proposed changes to SBF's bail—outlined in a March 3 letter.
These adjustments included that Bankman Fried be explicitly barred from:
Communicating with any current or former employees of FTX or associated hedge fund, Alameda Research.
Using encrypted messaging or call apps including Signal.
Using a VPN except under specific, qualifying exceptions relevant to accessing his case documents.
Purchasing or obtaining any new internet-connected devices.
The proposed bail condition changes also would've limited SBF's tech access to a non-smart, flip phone without internet capabilities and a laptop with limited functionality, installed with monitoring and security software that would log his activity. Finally, his parents would have been required to submit documentation of all of their internet-connected devices with the court and SBF would've had to hand over both his flip phone and monitored laptop for searches regularly.
Yet even this suggested crackdown wasn't enough to appease the judge, per Reuters. In response to the judge's denial, one of SBF's lawyers noted he would go back to the drawing board and work with prosecutors on a new proposal.
SBF was released to his Stanford professor parents' home on an eye-watering $250 million bail in December 2022, and is awaiting trial on house arrest there. Since the former crypto exchange CEO has been home with mommy and daddy, federal prosecutors have expressed concerns about his communications and activity.
Bankman-Fried allegedly used a VPN to access the internet on two separate occasions—signaling that he could have been attempting to avoid online tracking and surveillance, or even trade cryptocurrency, according to a letter filed with the court on February 13. Prosecutors have additionally claimed that, while on bail, SBF has used encrypted messaging platform, Signal, to contact former employees and the general counsel of FTX's U.S. arm. Prosecutors argued this constituted attempted witness tampering—accusations the defense denied—in a February 6 court filing.
Bankman-Fried faces a litany of felony fraud, conspiracy, money laundering, and campaign finance charges. All are in connection to his role in the collapse of cryptocurrency exchange FTX, and alleged criminal activity concerning customer and company funds during his time as FTX CEO.

SBF's trial is currently scheduled for October 3. However, Bankman-Fried's lawyers noted earlier this week that they may request a delay in that trial date because the defense team has yet to receive certain evidence from the prosecution.