Less than a month after unanimously passing a contentious tax on big business, Seattle's city council has voted to repeal the so-called "head tax." Against the fervent protestations of residents and local coalitions—which were extended to a full hour of testimony—council members voted 7-2 to pulled the plug on what would have been a vital source of support for city's growing homeless population.

Recent Video
This browser does not support the video element.
The repeal comes a day after the No Tax on Jobs campaign—a coalition which large businesses which would be affected by the "head tax," like Amazon and Starbucks, pledged significant financial support to—announced it had gotten over 45,000 signatures, more than enough to generate a referendum to overturn the tax in November. Speakers on behalf of No Tax on Jobs at the City Council chambers repeatedly described the coalition as "grassroots," however the Public Disclosure Commission of Washington reveals it gave over $246,000 to a firm called Morning in America for "signature gathering and verification" and an additional $20,000 to Cre8tive Empowerment for "campaign/volunteer/social media management."
Mayor Jenny Durkan described the quick legislative retreat as a means to avoid "a prolonged, expensive political fight over the next five months that will do nothing to tackle our urgent housing and homelessness crisis." Critics saw the repeal as a backroom deal to appease Amazon.
G/O Media may get a commission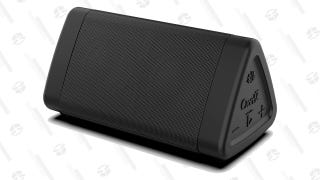 Save 31%
Oontz Angle 3 Portable Bluetooth Speaker
In the form it was passed last month, the "head tax" would shave off $275 per full-time employee at companies generating over $20 million in revenue, totaling an estimated $47 million per year for five years. Those funds would then be earmarked for homeless services and affordable housing. Seattle declared its homelessness a state of emergency in 2015, with soaring costs of living and congestion of public services considered the foremost catalysts for the rising homeless rate.
The vote to repeal was expected to pass, as Durkan and the majority of city council members publicly supported the decision prior to voting. Kshama Sawant, one of the dissenting members, called the repeal a "cowardly betrayal of the needs of working people."
Currently there is no backup funding plan in place for homeless services.

Update 6/12/18 5:50pm ET: An Amazon spokesperson furnished the following comment to Gizmodo via email: "Today's vote by the Seattle City Council to repeal the tax on job creation is the right decision for the region's economic prosperity."
Interestingly, analysts for financial services company Moody's claimed the tax would have been "a credit positive for the city" that would help local economy.

The spokesperson added that "We are deeply committed to being part of the solution to end homelessness in Seattle and will continue to invest in local nonprofits like Mary's Place and FareStart that are making a difference on this important issue."