We saw last month that data sets hidden in Google Street View can be extracted to create immersive 3D point clouds that make every city look like a holograph. Inspired by that work—by designer Gonzalez Vivo—Callum Prentice has mocked up an interactive version, a Google Street View search that shows you any available address as if it's being beamed in from another dimension.
It's "more of a render test than anything right now," Prentice explained over email, but his plans are to "capture chunks of a city and let you wander about in 3D."
The results so far, based on my preliminary searching of old addresses, my current office, and family homes, vary from fine-grained sheets of visual information to abstract planes standing seemingly without context, like some strange megalithic circle, a new Stonehenge of data that implies rather than captures the form of a city.
G/O Media may get a commission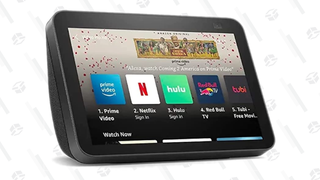 A major limitation of the site right now is that you can't navigate up or down the street; you can only spin in circles and change the pixel size (resulting in giant, elephantine blocks of spatial data sitting atop one another like marshmallows).
But check it out for yourself here—type your own address, or any address you want to see, and here is Gonzalez Vivo's work again, the original video that inspired all this. below. [Callum Prentice]