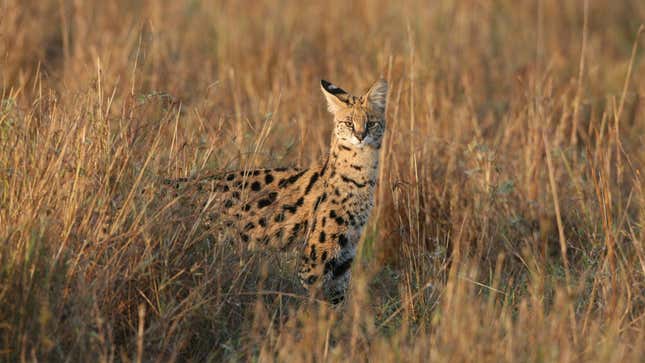 Sometimes the movies are loosely based on true events. Sometimes reality seems to mimic fictional film. In the story of Amiry the serval, both are true at once.

Before its February release, trailers and other ads for the cinematic masterpiece Cocaine Bear were circulating widely on the internet. The film, inspired by the true story of a black bear that ingested cocaine in a Georgia forest decades ago, doesn't hold so steadfast to its source material. Yet while Cocaine Bear was reaching peak online-virality, a Cincinnati, Ohio animal shelter was dealing with its own cocaine cat.
Shelter wardens responded to reports of a "leopard" in a tree on January 28. When they arrived to investigate, however, they found the cat wasn't a leopard, but instead resembled a serval, a type of small African wildcat. They captured the animal, named Amiry, which had escaped clandestine pet captivity. Back at the Cincinnati Animal CARE humane society, Amiry received medical treatment and a DNA test to confirm its species identity, according to a Thursday statement from Animal CARE.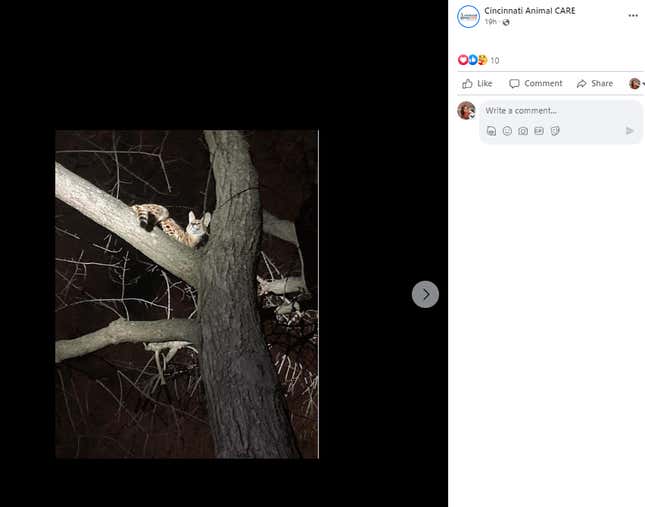 Drug testing—which had become the shelter's routine practice for captured exotic animals following the 2022 case of a capuchin monkey on methamphetamine—showed that the feline had cocaine in its system. Meanwhile, the genetic test confirmed Amiry was not a hybrid domestic/wild cat, which are legal to own as pets in Ohio, but was instead 100% serval. The wildcats, native to several sub-Saharan countries, are illegal to keep as pets in the state. "Our facility is not equipped to house wildlife," CARE wrote in the statement. So, the shelter said it ensured that Amiry was transported safely to the Cincinnati Zoo and Botanical Garden on January 30.

The wildcat reportedly escaped its previous owner during a police traffic stop, per the Associated Press. The owner cooperated with investigators, willingly relinquished Amiry, and paid for the animal's interim care, according to a report from NPR. So thus far, authorities have opted to not press charges. However, the case remains open and the Ohio Department of Agriculture is also conducting its own investigation, NPR noted.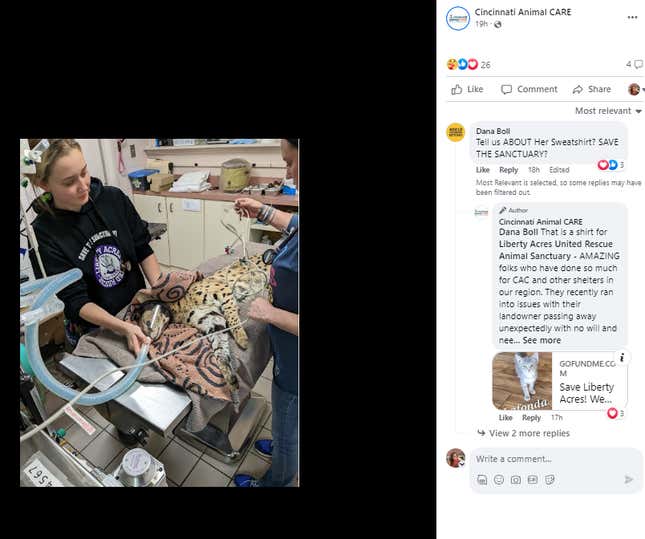 Since Amiry's transfer to the zoo, the serval has been doing "very well," Ray Anderson, a shelter representative, said in an email to Gizmodo—though it had fallen and broken its leg during its capture. Amiry received treatment at the zoo, and the wildcat might end up with a permanent home there, as part of the zoo's educational "Cat Ambassador Program," Anderson added.
"We're extremely proud of the work done in this case by the Dog Wardens and Medical Staff and are immensely appreciative to the Cincinnati Zoo for getting Amiry the care he needs. We ask that our community please be respectful of the Zoo's privacy at this time as they are working diligently to determine next steps," the humane society wrote in its online statement. "Now that Amiry is safe, we remind our community that there will be thousands of dogs, cats, and other animals in need of rescue entering our facility this year who will not receive this level of publicity," the shelter added.