Dozens of hilarious stories and photos of busted laptops have been received as part of Gizmodo's M4000 WideNote laptop giveaway—including this one—from a firefighter. So there's a look at the competition. to those of you who have yet to send in your entries. Read of for all the contest details...
When the good people of Sharp gave Gizmodo a spankin' new M4000 WideNote laptop to do with whatever we pleased, my first inclination was to grab it and run away fast while yelling w00t! The notebook is only 3.8 pounds, so I could have run fast too, ga. But then reason intruded and I realized there are people who need the Intel M740 processor, the 13.3-inch WXGA screen, CD-RW/DVD combo drive and six hour battery life even more than I do. People like you.
So if you want to own this M4000 WideNote, here's what you have to do: Send a photo of your tired, your poor, your beaten-down laptop. Write a horror story (no more than 400 words long and in English) describing exactly how your precious equipment got wrecked. Please do not take a hammer or .44 Magnum to your old-but-working notebook. Do not dunk it in a vat of acid, or drop it from a fourth-story window. The resulting story will be good, but not good enough.


Some important details that you must abide by or else face public ridicule: This contest is only open to US and Canadian readers. Send entries, with photos attached as JPEG format only, to tips at gizmodo dot com with the subject SHARP ME. REPEAT - tips at gizmodo dot com with the subject line "SHARP ME." All entries with other subject lines will be tossed and the senders will be called dorks. The top photos and stories will be posted next Wednesday, October 26, and Gizmodo readers will vote on the best entry. The winner will receive the prize directly from Sharp.
G/O Media may get a commission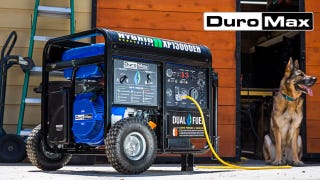 Black Friday Sale
DuroMax Generator Sale
Good luck!
"Sponsored by the Sharp M4000 WideNote. With a battery life in excess of six hours, the 3.8 pound notebook is the answer to your notebook problems."

The new Sharp M4000 WideNote keeps up with your busy schedule. Because it weighs just 3.8 pounds it can go wherever you go. And with a battery life in excess of six hours, chances are, you'll burn out before it does.

The M4000 WideNote has both brains and beauty. Its sleek style and brushed aluminum case are bound to turn heads.
Intel Pentium M 740 processor
13.3" WXGA Sharp LCD screen
CD-RW & DVD combo drive
512MB DDR SDRAM
Approximately 80GB hard drive
Full-size keyboard