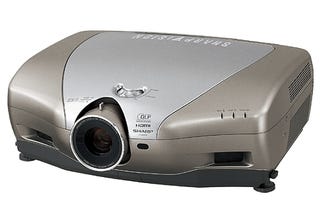 Yes, that looks like an alphabet soup, but suffice to say that this XV-Z21000 is one sharp projector from Sharp. That highly desirable 1080p number is the holy grail here, representing the pinnacle of our current HDTV spec. Sharp is also quoting some other big numbers, such as a contrast ratio of 12000:1. We'll believe it when we see it.
Now if the company can just bring its price down from its current $11,279. Hang in there, though—1080p projector prices are coming down out of the stratosphere soon. To give you an idea, in January we were celebrating the Grand Cinema HT3000 1080p projector breaking the $16,000 mark, and the Marantz VP-1C1s1 edged ever lower with its $15,280 price last month. And we've even seen a Sony VPL-VW100 1080p projector priced in the neighborhood of $7,250.
Unless you're planning to install a gigantic screen, though, you're better off with one of the 1080p DLP rear screen projectors which don't cost nearly this much.
XV-Z21000 the HD DLP Video projector from SHARP [Akihabara News]