One of the more delightful things—aside from the movies themselves—to come out of Shinji Higuchi and Hideaki Anno's "Shin" tokusatsu movies is the Shin Japan Heroes project, a merch collab that mashes up Evangelion, Ultraman, Godzilla, and Kamen Rider. Now, it's gotten even weirder, and more delightful.

To celebrate the Shin universe's latest mashup, Bandai has created a special new short film which sees Evangelion's Unit 1, alongside the "Shin" iterations of Kamen Rider Ichigo, Godzilla, and Ultraman from Higuchi and Anno's recent films, working together as... well, basically a Power Rangers squad where three quarters of the team are already giant robot sized.
And then they become a giant robot anyway.
It's a wonderful tribute to the tokusatsu shows that most of these characters helped inspire to take shape in the first place—and even Neon Genesis Evangelion was heavily influenced by the genre in the first place, so it doesn't feel too out of place to watch it break up and fold apart to become the arm of a combining mecha monstrosity. It's bananas in the best way, from Kamen Rider forming the head by pretty much riding his bike up to the top of the unholy amalgam, to Godzilla's face poking out of the chest through an A.T. field. Incredible.
Even better is that the "Shin Robo" was made to, well, promote a toy. Being sold in Japan through Bandai's premium fan website, as well as the dedicated brand stores for Evangelion, Godzilla, and Tsuburaya (the makers of Ultraman), the DX Shin Robo toy features small transforming replicas of each component part of the mecha, from Kamen Rider and his bike all the way up to the big boys.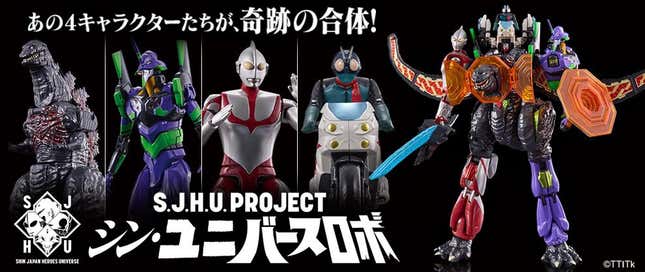 Each figure is displayable on its own, but of course the real glory is found in combining them into the almost 10" tall Shin Robo—which comes with a giant sword made out of Godzilla's dorsal fins and Ultraman's specium ray attack beam, as well as an A.T. field shield.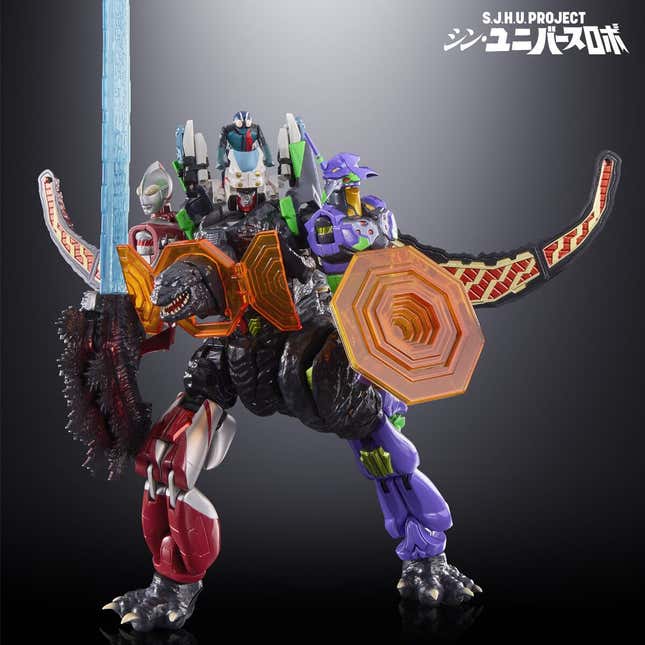 Preorders for the DX Shin Robo begin today in Japan, for a whopping 23,100 yen—just shy of around $170. It's a price worth paying for such premium tokusatsu silliness though.
---
Want more io9 news? Check out when to expect the latest Marvel, Star Wars, and Star Trek releases, what's next for the DC Universe on film and TV, and everything you need to know about the future of Doctor Who.