The weekend's so close you can almost taste it. It tastes like lollipops and sunshine. Let's kick off the week's end with a free-gaming-app Friday edition of app deals. Space mining seems like a good idea for a game. But in reality, with dwindling resources on Earth, you could be learning a valuable job skill. Finally create a Sim that could potentially be killed in a joust. And let's go fishing with cannons that create coins when the fish explode.
It's been heralded as one of the must-have games in the App Store. We called it, "probably the best game to hit the iPhone." The goal of Space Miner is to build up your space ship as you destroy space rocks in order to mine them for their precious space minerals. It sounds like Harlan County in space, but it's pretty spacetacular. Dropped from $5 to Free.
G/O Media may get a commission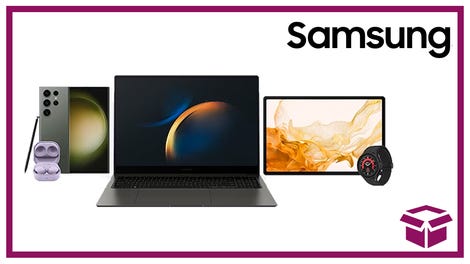 24 hour deals
Discover Samsung - Daily Deal
Head back to the days of yore when everyone said things like, "Ye olde blah blah blah." Like other Sims games, you create a character and control their destiny. Like a god, welding the hands of fate. In this medieval version, you start with a serf, squire, and oddly, a vampire. Sure why not, everyone knows that King Arthur was a part-time vampire hunter. Dropped from $5 to Free.
You're fishing with a series of cannons that blow up fish. I'm not sure you can call that fishing. The game should really be called WhatsThatExplosion. Whatever, the exploded fish drop coins and you can upgrade the weapons you use to blow up even more fish. Fish destruction aside, it's a pretty game that's fun to play and it's free. Dropped from $1 to Free.
Everyone sort of fancies themselves as a pool shark. That is until they actually pick up a pool cue and realize that getting all those balls in those tiny holes is difficult. Instead of embarrassing yourself in front of your friends, pick up this game and do something with your Kindle Fire besides pretending to read Game of Thrones. Dropped from $1 to Free.
The App Deals of the Day is made in collaboration with Appsylum. Check it out for the complete list of app discounts.
---
You can keep up with Roberto Baldwin, on Twitter, Facebook, and Google+.