I took a nap in the park and when I woke up I saw this pretty picture of the sun shinning behind these clouds. I used a Cannon EOS.
-Zane Gilfillan
I took this driving down the road using my HTC Thunderbolt smart phone. I cropped out a building below the clouds and used the ICE effect that is in the camera settings.
-Jeremy Fraga
G/O Media may get a commission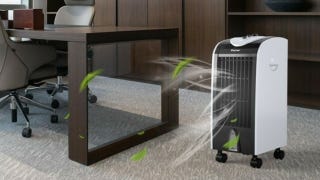 Save $10
Evaporative Portable Air Conditioner Cooler with Filter Knob
Around 8pm off my front deck in North West Las Vegas. A couple beers deep! Do you see the face in the clouds?
Canon Powershot G11, 1/80sec at f/2.8, 6.1mm, Iso 80.
-Dan Leszczynski
I see a square...
shot with iPhone 4. nyc.
-Matthew Fagan

This Photo was taken in Oklahoma out of a hotel window at sunset. I used an iPhone 3GS with a 3.0 MP camera and the "Camera+" app. I set the focus on the sun and the aperture in between dark and light so it would not be too bright or too dark. I also had to edit the top left corner in GIMP as I accidentally caught some of the window in the picture and also to eliminate some of the "graininess" from the photo along with adding the caption.
Fictional Story: Alas, as the "X" bomb detonates in the atmosphere humanity realizes it's doom. Over 30 years research has been put into the making of the "ultimate weapon" and yet it had to fall into terrorist hands. All this could have been prevented if the research money had been used for more profitable avenues, but NO they insisted on building THIS and now look what we have for it. This Bomb is the largest ever built, far greater than the Czar Bomba developed decades before. It was designed as the ultimate nuclear deterrent and now it has become our executioner. Whats left is to hide in our bunkers, await the nuclear winter and begin to rebuild.

Nothing special here. Just a quick coincidence. Thunderhead was rolling by(now overhead), and I had my iphone 4 with me and shot this with HDR mode on. I came in to weed out the weak shots and saw your post right after. Im too late to bust out any lenses but thought I would throw this in the ring. Phones are getting a little crazy. Not too hard to snap a breath taking photo with one now a days.
-Frederik Höfges
Taken today before one stunning summer storm. I see thru my home window (i live in Brescia, Italy) while seeing Dante's Peak movie, and i think "Oh my God, this is a pyroclastic flow or God want to take me?" I run on my balcony, with my iPhone and shot!
-Davor Orel
So I was in Maui on vacation two weeks ago and I decided to take a bike tour down the 10,000 foot volcano called Haleakala. This picture was taken around 4000 feet by a Sony Bloggie Touch in widescreen mode (no fancy ISO or settings here) biking down a lot of switchbacks around 1 PM.
-Jack Borris
Last week a buddy from El Paso came into town and we went out around my neighborhood in Austin, TX with my Nikon film camera to take some pictures. I love shooting film for many reasons. Film has a quality about it that I can't stay away from. It also forces this delayed gratification concept that myself, at 22, am at a constant struggle with. I don't own a digital camera - just my point and shoot Nikon.
For this shot - I saw this huge thunderhead developing far off over the horizon. I was on a zoom lens and I knew it would look epic if I zoomed in to compress the space. I had no idea how epic it would turn out. I was able to capture just after sunset at dusk. I fell in love with this picture because my friend is looking back to see all the stages of golden hour in a massive thunderhead/nuclear bomb. I was probably shooting around f5.6 on a 135 mm lens. Fugifilm 400 speed Supera film. This capture was a personal best for me, and I can't wait to top it!
-Cameron Schmucker
I awoke from a nap on a flight down to Costa Rica to see these large clouds somewhere over Central America as the sun was setting.
Canon T1i, f/8, 1/125, ISO-100, 55mm.
-Pete Biggam
I took this photo with my HTC evo's 8mp camera. Looked up walking out of Starbucks this morning in Tempe, AZ and just had to take this image.
-Zach Ross
Shot this today using my iphone and the hipstamatic app. I had the app set to the Blank Film with the Jimmy lense. I feel gross using this app but the images are actually cool. I thought this looked kind of like space.
-Alfred Broadbent
-Jake Mulligan
This shot was taken out of an airplane window with a Canon Rebel XT. It was taken with a 50mm lens. Aperature was set at 1.4 and ISO was set at 400. I was just on my way to Italy and when I glanced out the window I was able to see a rainbow so I had to take a picture. It was amazing to be above the rainbow.
-Jessica Krzywicki
I had an awesome time in Vegas and with lack of sleep I decided to sit in the backseat. Suddenly someone in the front was yelling out my name and telling me to pull out the camera and challenge me to shoot this pic. I was still drowsy and was still scratching my eyes as we were speeding along at 60mph down the Interstate 15 (San Bernardino Desert). Whip out the camera locked through the viewfinder and snapped 2 shots through the window. One in landscape and one in portrait. Slight cropping to take out the car's window sill. To my shock it actually came out!
Canon 5D Mark II, Canon 24-70mm f/2.8 L @ 65mm, AV Priority, ISO 400, shooting speed: 1/4000, circular polarizer attached.
-Patrick Manzon
I'm what you might call a total amateur photographer. However, I was walking around Waikiki Beach in Hawaii as the sun was setting, and I had to snap a picture of these gorgeous clouds with the only camera I had on me; the one on my iPhone. Contrast was adjusted slightly in Photoshop.
-Nicole Na
I took this picture the night this challenge was posted. A storm was rolling into Lynchburg, VA and I decided to go out behind my apartment complex and try and get some good shots of the storm clouds above one of the pavilions in the area. The picture was taken with a Nikon D3100, 18-55mm Nikkor lense (kit lense), 100 ISO, 18mm f/8.0 and 1/8 second shutter.
-Daniel Rees
Had some bad thunderstorms and strong winds come through Chicago this past week. Had a few minutes to grab the camera before it started raining cats and dogs. Couple people of commented that the photo reminds them of Ghostbusters.
Canon 50D, Canon 10-22mm, focal length 22 mm, exposure 0.004 sec (1/256), aperture - f/4.6.
-Chris Vasta
-Vlad Lissovenko
Equipment: iPhone 4.
Story: avoiding a storm on a helicopter ride.
-Sebastian Londono
I went this weekend to make a summit attempt on Mt. Shasta, the 2nd largest volcano in the continental U.S. As described by John Muir, "Lonely as God, and white as a winter moon, Mount Shasta starts up sudden and solitary from the heart of the great black forests of Northern California." Watching the clouds roll in over the setting sun is at once a striking yet solitary image. I brought my dslr, a nikon d40 with the kit lens. The iso set to 200, and aperture dialed all the way down, to keep a large range of focus. Slightly slower shutter time of 30s to capture the fading light of dusk.
-Ben Geller
This image was taken on my HTC Desire and as I has no further manipulation as I like the pastel-y imperfection. I work as stage crew for events so I end up all over the place all of the time living like a gypsy, this shot was taken somewhere near Chichester, I dont even know what the place is called.
-Jack Hancock
I borrowed my sister's lens during our trip back to Manila from Palawan here in the Philippines. I just wanted to test the lens' clarity at its longest focal length. It was a short but very bumpy plane ride, so I just took shots like hell from the window! It was an overcast during that late afternoon, a bit challenging to catch glimpse of sun-rays to outline the clouds, sadly.
Canon EOS 60D, Canon EF 70-200mm f/4.0 L USM, ISO 640, exp. time 1/1600 and + one stop of exp. bias.
-Gary F. Rivera
I saw this cloud in the form of a gigantic bird when i was just sitting down in a park and relaxing this evening. I used a point and shoot camera, (Nikon S5, quite old) in the regular mode (auto, i guess).
-Mario Ryan
There is nothing better than when a rainy day turned bright, and no better picture to describe it, than the first ray of sun breaking through the clouds.
Taken with a Nikon D90 with a 18-105mm lens, Iso 200, Aperture 16. Manipulated the levels and vibrance a bit, while adjusting curves, to achieve the result.
-Eduardo Garcia
I was on my way to the airport and i saw this cloud looking like a ship ready to sail and an airplane below it. i always loved the strange shapes of clouds from ma childhood. I hope everyone finds the plane and the ship ;)
Canon 7D, kit lens 28-135mm, F-4.5, shutter speed-1/60, ISO-250.
-Hari Pinnamaraju

Exploding Clouds
I was on my flight back to my hometown from Singapore during night time, the last few hours it began to rain and thunder outside. It was rare as i seldom encounter storm during the night flights. The flashes outside tempted me to take out my phone and challenge the thunders from my window. And so I got ready my phone aiming at the night sky waiting for the lightning to strike anytime and click the shutter at the same time. The results weren't as great as i expected but the flashes after the lightning from the above looks pretty much like making the clouds exploding!
Focal length: 3.85. F-number: 2.8. Exposure: 1/15. ISO: 1000. Device: Apple iphone 4.
-James Voon
Believe it or not ... This was taken on my iPhone4. No Apps, or crazy tricks, just a beautiful sky and great timing. I wanted to take some nice shots this weekend and squeeze in before the deadline but after I struck it lucky with this shot, I figured it was meant to be. The location of the shot is Caldwell, NJ.
-Paul Valerio
Used an mytouch 3g the clouds were kinda random we knew it was going to rain and the pic was just right.
-Adrian Garcia
Shot from my office window in NYC using iphone 3gs and camera+ app and clarity filter.
-Sean Duffy
I work long hours, usually from dawn to evening, most of the time it's dark. Today, I got out of work early and appreciated the sky. Picture taken with Motorola Atrix. not too shabby.
-James Heiser
Faces
Taken from my yard, I had the perfect conditions with slight wind and clouds scattered enough so that I was getting a constant dose to feed my imagination. Sat outside for about 1.5 hours with Sony a55, a tripod, laptop and an extra card just incase something interesting would be born over my head while importing the set. I kept a vigil eye on the sky while at the same time entertained myself with an online game of timer-less chess. This was my last interesting motif. By that time, I had countless; turtles, stickmen, dogs, waves, flowers, and even a penguin slowly drift over me. A bit on the dark-side, this was my first challenge of many more to come.
Sony a55v, Focal Length: 80, f13, exp.1/200
-Szymon Kiszkiel
I was relaxing on the deck after work, enjoying the nicer weather following a lengthy heat wave. I looked up into the sky, saw the clouds and suddenly remembered the shooting challenge! I grabbed my camera and sunglasses and had one of my housemates pose for this shot. When living in the downtown of a city (Philadelphia), it becomes a habit to ignore the beauty of nature around us – yet all we need to do is stop and look up. I duplicated the image in Photoshop and desaturated the top layer, then erased the area of the lenses to reveal the colored layer underneath.
f/2.5, 1/2500 s, ISO 100, 50 mm. I increased the exposure on the colored layer to make the sky and clouds pop, and decreased the contrast of the B&W layer to de-emphasize it.
-Mike LaMonaca
I used my iPhone.
-Terence Robertson
I took this photo while flying over Japan from Tokyo to Toronto. The sun was setting at a very fast pace because of this, lighting up the clouds beautifully and casting shadows across the cloudscape. The clouds below appear almost like a vast, pristine, snow covered wilderness. They are overshadowed by dark storm clouds above, but the light streams through the wisps to illuminate the entire thing in gold.
Camera: Nikon Coolpix S550 (regular lens and default ISO).
-Jeremy Krygsman
I took this photo from the back porch at my wife's parents house. I was looking for a good cloud photo for this challenge and these clouds were the only clouds out in the sky at the time. So I snapped the photo but in color it was really lacking something.
Pentax K-7, Pentax 18-55mm f3.5-5.6, f/16, 1/200 sec, ISO 100, Rollei IR 400 filter.
-Cole Ewert
After enjoying some huckleberry bbq chicken (amazing btw) at a restaurant called the Beachhouse at the lake with family, I took the opportunity to head outside for some pictures of the marina attached to this place. Having read about this week's Clouds contest earlier in the day I thought, "perfect!" What I got was the remnants of a sunset over Lake Couer d' Alene. This was a simple luck of timing with this shot, no filters. Just a little half past golden hour and some play on the shutter speed.
Nikon D60, ISO 100, 50mm, f/10, 1/30.
-Jake Herres
Not much of a story really, other than Vancouver had some pretty cool cloud cover over the Burrard Inlet/Vancouver Harbour and the North Shore Mountains. I was out shooting anyways and realized this could possibly work for your challenge.
Camera: Nikon D3000
Lens: 18-55mm VR (kit lens)
ISO: 100
Shutter: 1/100
Aperture: f/5
-Daniel Finnis
Today I woke up at sunrise, against my wishes as I had to be in office early. I looked out of the window and wanted to take back the curses I had thrown at my mundane work schedule just a moment ago as my eyes caught this beautiful cloud pattern. I grabbed my iPhone and took a couple of pictures.
-Toufeeq Ahmad Syed
A few friends and I were bored with the routine of our day jobs so we decided to ride around the island and get away from the city. On our trek to the North shore of Oahu, we stopped by the Halona Blow Hole and as we got out the car, I spotted this guy on top of some of the rock formation that occurred from the volcanic lava thousands of years ago. He's definitely standing on the shoulders of giants. Canon 7D, 16-35mm at 16mm, f/7.1, shutter 1/2500, ISO 1250.
-Joant Ubeda
-Harsha Jasti
I took this picture, this week while I was travelling in Bandipur, Nepal. I am studying in U.S and i am here in Nepal for my summer holidays. I was walking in this ancient town called Bandipur in the hilly regions of Nepal. I was trekking in the hills while I took this photo because of the beautiful sky and the mesmerizing scenery of the hills. I used my Nikon D3000 to take this picture.
-Reshav Malla
It was a very hot and humid day in July. Somehow, a few hours after announcement on Gizmodo, there was an isolate storm over New York City. I was so happy to be cooled down without A/C. The rain stopped, clouds were slowly moving toward the East. My wife and I were having dinner and we spotted parts of the rainbow from our apartment window. I went out on the balcony. In a few seconds rainbow completed itself. I was rushing to get my camera, attached the widest lens I have on it. Ran back to the balcony and started firing.
Camera: Nikon D300
Lens: Nikon AF-S DX Zoom-Nikkor 12-24mm f/4G IF-ED
Shutter: 1/200
Aperture: f/7.1
White Balance: Cloudy (6500 K)
Adjust contrast and color slightly in Photoshop CS5
-Tunyaluck Phuttal
Technicolor Rain
I was on my way to shoot some hot air balloons launching and on the way I saw this stray rain shower just explode w/ morning light. I pulled off the road, freaking out the people behind me, just to get this.
Shot at sunrise using the Olympus E-3 & Zuiko Digital 50-200ED f/2.8. Shot in aperture priority at f/2.8 & 69mm.
-Jamie A MacDonald
I was on my way to Frankfort, MI with a friend and happened to see this cloud out the passenger side window. I have always wanted to photograph a tornado and this cloud was so uniquely shaped and reminded me of a funnel I had to capture an image of it to add to my collection of nature photography.
Camera: Fuji FinePix S6000fd.
ISO: 200
17mm focal length
f-stop:f/8
-Shannon Adams
I was intending to drive from Emerald to Longreach in Queensland Australia, so I had an early start. The sunrise was so spectacular that I had to stop at the nearest open space and take a few shots. The open space happens to be the Emerald Racecourse. No fancy filters or enhancement used, time was against me and I just took a number of shots with small settings variations before the sun burst through. I did use a fill-in flash on this one, not sure if it really helped.
Taken on my Pentax K200D, f/3.5,1/45 second, ISO 100 with a little exposure compensation. The lens is a Sigma 18-50mm short zoom. No faces or patterns hidden in here, just the clouds in the sunrise
-Nick Smith
I was flying back to Portland from Minneapolis when I remembered the Gizmodo challenge. I was watching the could formations below and the captain announced over the intercom that we would have turbulence for 20 minutes due to thunderstorms over Montana so I knew this would be my chance. I only had my iPhone with me, but I took several photos of different patterns and settled on this one. I like the solar reflection on the engine cowling and the solar flare caused by the dust on the airplane window in the upper right of the shot.
iPhone 3GS ISO 64 f/2.8 1/2798 3.8mm taken 7/14/2011 at 7:04PM local time somewhere over Montana
-Anton Mogilevsky
Took this cool shot of the moonlight on the clouds.
1/2, ISO 80, F 4.0, Panasonic DMC FZ35, tripod.
-Peter Glitsch
I shoot a sunrise picture every morning on my way to work. I knew I needed to capture clouds for the contest this week, but got extremely lucky with an unexpected visitor in my frame. I took the picture out of my car window while driving out of my neighborhood (it's 6:45 am, not many cars out and I live on a quiet street) for you who are against cell phone use while driving.
Camera HTC EVO 4G, stock camera app, adjusted exposure in Adobe Photoshop.
-Joel Vixie
I was coming down from the northside (of Chicago) to my girlfriend's place on the westside and saw from the Kennedy expressway that the clouds coming off the lake just at the top of the buildings looked awesome. I knew I could get an awesome view/shot from the roof of her condo building so I punched it and when I got there I pretty much threw all my stuff at her and booked it up to the roof and started shooting away.
Canon T2i, EF-S18-55mm f/3.5-5.6 IS at 18.0mm, f18, 1/80, ISO 100.
-Rob Lennox
This is my first contest post. I got my Canon 60D few weeks ago. My wife and I were having a Bike Cart tour in Central Park NY when we saw this up in the sky. I've never seen a rainbow in a cloud before, and apparently neither had my driver. He switched to driving with one hand whilst snapping photos on his phone with the other. For a minute we all forgot about our Central Park tour and were staring at the sky.
Camera: Canon 60D
Lens: Canon EFS 18-200mm f/3.5-5.6 IS
ISO: 100
Aperture: f/10
Shutter: 1/640
0 EV
-Paul Oh
I was walking home from my neighbor's house this beautiful summer evening when I noticed how gorgeous the full moon looked with clouds surrounding it. I ran inside and grabbed my Canon 7d and got a few shots before the magic was gone. To me, it looks like the full moon is a giant pearl in an oyster.
Canon 7d, 70-300 mm lens, F/4, 1/10.
-Kelly Walsh