I froze two reindeer ornaments in a pyrex dish and and back lit the
block of ice with white X-mas lights while the block was wedged
between the window and the pane.
Is AI Moving Too Fast? | Future Tech
The photo was shot with a Nikon D3000 with a 52mm L37 Lens on at F8 on bulb.
-Onile Thomson
Hi,
I took this picture while I was coming back from San Francisco to Paris. You can see England below the clouds!
G/O Media may get a commission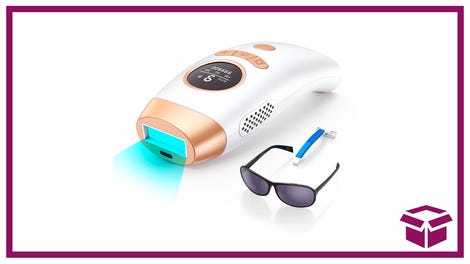 58% Off + Coupon
IPL Hair Removal Device
Shot with my Samsung Galaxy S2
-Sebastien Bonaime
Hi Gizmodo guys,
hope we are still in time for the "Ice Filter" Challenge. It's our first submission and we hope that you like our shot.
The Story:
The idea was to use the challenge and make a picture from our city Christmas tree which is situated just next to our balcony (very convenient :-) ).
The first challenge was to make the ice filter. We tried to freeze different blocks of ice over night. The results were very fogy and we couldn't even look through it. On Friday during our after work beer we decided to make a second attempt and freeze boiled water. It froze quicker and we managed to get a real good filter that was thin enough to take a picture through it and had really nice ice crystals.
The second challenge was to get the filter in the right position. We had one tripod for the camera, but we couldn't hold the filter in place without ruin the shot. So we build a stand for the filter by using a table, a chair and a carton, wich we modified to hold the filter in place. We took several pictures through the ice layer with different settings of shutter time.
We love the result with the blurry Christmas tree shining through the ice Christals.
It's our first submission and we really enjoyed the challenge and we are looking forward to the next one.
We also attached some pictures of the constructing process, so that you get an impression on how we managed the challenge.
Best regards from cold Austria
- Jakob & Thomas
For this shooting challenge I tried a few different shots, but I chose to go with this one since I liked the lack of focus/ emphasis on the ice itself. I captured this one using a very thin, clear piece of ice that I ran across while on a hike near Lake Tahoe. I think it added a cool effect to the surrounding landscape, much like a painting.
This was the first time using my new Canon S100, which by the way I am quite happy with so far compared to my old S95. The exposure time was 1/400, ISO 160, f/4, and a focal length of 5.2mm.
Thanks for looking,
-Lysle Turnbeaugh
This contest came at a perfect time, since it was announced the night before it snowed in New Hampshire. I found some nice ice sheets on top of a trash can, but in the end they were too chunky to see anything through, so I used a sheet that I made in the freezer. I went out shooting as the sun was starting to go down - around 3:30pm. Most of what made it through the ice filter was just colors and general shapes. After taking a bunch of photos on the nearby golf course, I chose this one, because I like how through the ice you can see the continuation of the landscape with the five color layers of snow, trees, sunset, clouds, and sky.
I used a Sony DSC-H20.
-Leah Nicolich-Henkin

Shot with my Canon T2i
f/2.8
1/30 sec.
ISO - 400
Living in Los Angeles County we don't get too much snow here. Such a shame I know.
With that being said, my girlfriend and I had to put our thinking caps on since I only had 12 hours to make this photo happen!
She's quite the artist and she had some extra matte film 2-sided translucent paper.
That, a spray bottle with water, a freezer, with a dash of Christmas lights and boooyah!
P.S. JJPhotog.com
Thank you :)
-Jason Gonzalez
GIZ,
Ice reminds me of space. Naturally. So after some thinking, I decided to set out and create a space-scape using ice, light and a few things lying around the kitchen. In this case, it was cupcake decorations and flour. I began by lining a baking pan with some wax paper, filling it with water, adding some transparent elements and experimenting with the colors and shapes of the ingredients. After about an hour of shooting through the ice at sunset this evening, I came up with a handful of images. It was tough picking just one.
The photographs were taken on a cool fall evening in eastern Pennsylvania.
Included in the ice are:
- Exposed X-Ray film
- Microfiche
- Metallic cupcake sprinkles
- Colored sugar crystals
- Ginger Ale
Image details:
12/11/2011
2:01:42PM
Canon EOS REBEL T2i
Sigma 105mm 2.8 macro lens
ISO 400
1/200 at f/45
Thanks and keep up the good work!
Best,
-Thomas Ricci
Taken with Canon T2i 1/60s Focal Length 50mm f 2.8 ISO 200 with Raynox Macroscopic Lens Model M-250
Believe this or not but this is a Homie (called Dre, all Homies have names, who happens to be ironing under the ice) created by David Gonzales, a cartoonist and artist known for his plastic figurines depicting characters from the barrio somewhere in LA.
This particular serious looking Homie is immersed in ice and shot through ice and glass.
I did some minor manipulation in Picasa to give the ice a clearer/whiter feel.
-Berta Finkelstein
I am glad I got this week's shot in. I thought I was going to miss my opportunity. The weather here has been great this past week, leaving me with no chance of finding any snow or ice. That was ok, since I would rather the warmth anyway. This led me to think of getting a picture of fire through ice, to show how much nicer it is inside in the warmth. This became trickier than I thought: It took me all week to freeze a cereal bowl full of ice and make it see-through. By the time I got it, it was 2:30 AM Monday. I was trying to get quite a few different shots, but had to work fast, as the ice was melting away. This was one of my last shots before my ice was useless to shoot through. This was taken with my Canon T3i with EF-S 18-55mm f/3.5-5.6 IS II lens about 18 inches from the fire. I then held the ice half-way in between the two, focused on the ice, and took the picture using a shutter speed of 1/30, aperture of f/3.5, and ISO 1600. Post production included cropping the image to remove my hand, and removing some of the noise associated with the high sensitivity. Hope you enjoy!
Regards,
-Michael Dornisch
spend a good amount of time thinking of what I wanted to show through my ice filter and how I would make one. I tried freezing water in various containers and also played around with clear ice vs ice with patterns internally. For what I had at home I found that a plastic cup worked well and allowed me to remove in whole a circular "filter" of ice. I setup the show with a flame behind the filter while trying to keep it from melting! This is what I could come up with.
Canon T2i
f5.6, 1/100, iso 100
-Jared Grayden
This weeks challenge was easy and hard. Easy? Shoot a picture through ice. Hard? Shoot a good picture through ice, with just enough blur and distortion. Easy? Make an Ice filter. Hard? Make a good ice filter you can see through. First, I searched the net for the best way to make clear ice. I came up with three different ways. Boiled water, filtered water, and distilled water.
I used all three methods of making ice filters, but in the end (for me) they all came out with pretty much the same clarity. I tried boiling the water and made two different filters. One was an inch of water on a non-stick cookie sheet (the best). The second was a piece of glass on a cookie sheet covered in water (the worst). The third was a UV and a crystal cross filter filled with distilled water (marginal results).
Then I went out and shot backup pictures. I always shoot backup pictures just in case my creative ideas crash and burn. I shot beautiful photos of ice crystals, icicles, frozen waterfalls with a double rainbow, and even golden trout swimming under a thin sheet of ice in a local lake. But were these photos through a lens with an ice filter? NO, they were not. So I didn't use the beautiful photos. Instead I chose the blurry photos shot through the cookie sheet of ice.
"On Dasher" was shot at a local legend at Christmas time. With over 250,000 Christmas lights and a Mongolian Camel, in Hansen, Idaho. I used my trusty Canon T1i Rebel with the 18-55mm lens at 29mm. Exposure was 1.0 at f/6.3, ISO 100, with a tripod.
-Ron Barrett
Camera: Canon S90. Aperture: f/8. Exposure: 1/100 sec. ISO: 160.
The sun seen through a shard of ice I picked up from the ground. It doesn't filter the entire image, but it seemed like a window into how the forces of nature looked to Van Gogh. A bit of post-processing done in Paint.NET.
- Kathy Scott
I spent a few hours Sunday attempting to "filter" my shots with a homemade thin sheet of ice. Unfortunately the ice was cloudy and each shot was more disappointing than the last. In an act of desperation, I rinsed the ice under warm water hoping to wash away the impurities. I was a little too overzealous and ended up with a hole in the ice sheet. *Eureka* Why not use the hole to my advantage? As you can see, the end result (not edited or touched up at all) really draws the eye to the light, but I feel that in the peripheral you can still make out the yellowish lights from the highway and the "cleaner" lights from the surrounding condo's.
Nikon D90, 35mm f/1.8 DX @ f/4, 1/25 sec, ISO 1600
- Adam Biesenthal
Hexaface
My Brother and I tried lots of techniques to get the best image. We froze a series of small saucer plates with thin layers of water in them. In one of the saucers we froze a hexagon pattern with beads in the middle. We took a stroll around the local hood testing different ice filters with different subjects but this is what turned out! Super fun challenge, but oh so cold.
Canon 60d, Hacked Nikon 28mm prime, f5.6, 1/100th, ISO 100. WB 5600k
- Tyler Bedgood
Kodak EasyShare C813
F/4.8
1/353
ISO:80
I made a large sheet of ice in a drip tray, held it over my camera, took picture, and nearly froze my hands off. What else is there to say?
-Trent Levitt

I shot this pic this past Saturday in Whistler, BC. I used my iPhone 4S during daytime outdoors at a bus stop (stock camera app). My fiancee and I were waiting for the bus to take us to the Village and I noticed an opportunity to get a great photo. She thought it made her look a little creepy but I really loved it!
Oh and we're getting married March 10th!
Thanks!
-Mike Shin