I saw this week's shooting challenge and thought it might be a little too difficult for me to find an outdoor space to try out the technique, since I live in a high-rise in downtown chicago. After some deliberation, though, I decided to head out to my building's sun deck at noon with a few boxes and some foil to give it a shot (pun intended!). While I was setting up my picture, I got a few suspicious looks, and may have confused/scared a few of my apartment's residents. I think at some point, someone must have warned my apartment's security, because one of the guards came out on the deck, but saw me just taking pictures and left. Ultimately, I decided to use the water, but I felt like it took away from the sharpness of my pictures, so I thought I'd try using cranberries floating on water, and liked how it turned out against the blue background.
This picture was shot using a Sigma 70-300mm DL macro lens attached to a Nikon d7000.
- Zameer Abedin
This was a fun challenge. I had to improvise using my wife's hair clip to hold the lime, a purple see through bag as the background since I did not have any wrapping paper, and a small pyrex glass dish since I didn't have much as far as clear glass containers. Used some of the best carbonated water out there - H2O - for the bubbly!
Canon T2i w/ kit lens
f 5.6
1/100 sec
ISO 800
- Jared Grayden
G/O Media may get a commission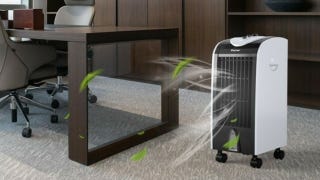 Save $10
Evaporative Portable Air Conditioner Cooler with Filter Knob
Like most of these challenges, I didn't have the time that I needed to
try new things and to learn what I could have if I had the time. ( kids are
very time demanding, btw) I have to admit, I didn't even go outside for
this.
I had plenty of sunshine coming in through a south-facing window so I set
this marble on top of a prop and used some colorful wrapping paper as a
background. I used a sheet of aluminum foil to light up the paper.
Panasonic GH-2 iso 250 f11 1/30
- Tim Hammer
CoffePotGlare
Brewed a fresh pot of coffe and set my mind on doing this challenge and I thought it would be a good idea if I did a Macro shot out of the water steam dorps that formed on the inside of the coffe pot.
Once on the field, I got to project a smal glare of rainbow on the smaller drops with an aluminum foil I used as a reflector. The brownish-orange color comes from the remaining coffe on the pot.
Canon T1i, 1/500 f/7.1 ISO 100 18-55mm lens, Macro Lens Addapter.
thank you
- Pedro Casar
I wasn't able to take a photo in the sunlight so I grabbed the next closest thing, a 500w construction light. I put my camera on a tripod and faced it downward. I bought a cheap magnifying glass and held it up to my lens. Then I mixed oil and water in a glass bowl to get the bubble effect. The subject I too a photo of is nothing more than a red sheet with a white spray paint cap. I faced the light toward my lens and used foil to even out the light on the other side. This photo remains unedited
Canon 60d
Shutter Speed 1/80
Aperture Value 5.6
ISO Speed 200
Lens EF-S18-135mm
Focal Length 135.0mm
- Robert Lundskow
I call this shot, Dancing Grape, named after the red table wine used here.
I really enjoy these types of shooting challenges, because I am always able to get fantastic results with little-to-no expectation of what I want. It's just a fun set-up and a neat idea, and a few hours later I have nearly 100 shots, and quite a few keepers. I pretty much stuck to the video in terms of set-up, and I used several small patches of left-over wrapping paper from Christmas as a backdrop. I chose to go with the silver because it highlighted the harshness of the noon sun with the stark reflection, but it did amazing things to the colors inside the wine - particularly where it is being poured into the glass. If you look deeply at the red and purple lines throughout it is mesmerizing.
This was shot on a Canon EOS Rebel T3i, with a EF-S55-250mm f/4-5.6 IS lens@ 135mm, f/5.0, 1/2500 shutter speed, ISO 100, no flash. Shot in RAW and adjusted exposure in Photoshop.
-R.J. Barrett
Canon T2i, 100mm, 1/125, f/2.8.
After watching the tutorial for this challenge, I thought I'd be funny to be taking pictures of a tropical lemon-y drink outside (since it is freezing here), so I decided to do a humorous "winter" version of the shot. I froze 6 cups of soda water with lemons and limes, went to a photo store and bought a reflector (coz I am a compulsive buyer), and spent my afternoon shooting outside... with my winter coat on.
I am not sure if it is because my sunshine was not as "bright", but even with the reflectors' help I got my best shots at the lowest aperture level (the tutorial suggested we went higher...)
Finally, thanks for giving me an excuse to buy yet another photography accessory :-)... Now I am looking forward to more opportunities to use this reflector!
-Diego Jimenez
Camera: Nikon D3000
Exposure: 0.005 sec (1/200)
Aperture: f/8.0
Focal Length: 45 mm
ISO Speed: 100
when I saw this challenge, I knew I wanted to take a pic of an easter lilly that had just popped open the other day. but I had nothing else that would satisfy the requirements of the challenge — no shiny paper, no vase, not even the bubbly water and aluminum foil. got everything this weekend and went over to a friend's house where I knew there'd be better afternoon light (and we could watch the football game). I was mumbling and grumbling during the whole photo shoot because the one thing I didn't bring over is some tape. I mean, everyone has tape in the house, right? not masking tape, not electrical tape, not even duct tape. I ask him if he's got any gum and he says just what's in my mouth. *ugh* had to use that to try to stick the shiny paper against the pole I was using as a prop and you know what? turns out that gum is a crappy substitution for tape! whodathunkit? anyway, after trying six different backgrounds I settled on this one as the better contrast.
- Bob Zimway
Hello!
This is my submission for the Sunshine contest. It was a bit of a snowy day Saturday (even while the sun was out) so i had to take this picture of my deck. I tried to find something that would seem almost other worldly or give a sense of scale, my subject was a jar of capers. I cut up some cardboard and used some aluminum foil i glued to the cardboard as my reflective surface. My first couple of attempts came out too dark but i waited until a little after noon to finally get some better lighting.
Gear:
Canon T2i with a 100 mm(non-L) lens
Shot at f/2.8, ISO- 200 1/60 sec.
I think it turned out pretty well, hope you folks agree! It was a lot of fun.
-Scott Glissmeyer
Nikon D7000, Nikkor 50mm f/1.8D with reversal ring
Shot at ISO 200, f/11, 1/15sec
I bought a reversal ring last spring intending to experiment with macro but had not used it much since. I had just last week determined to actually start using it more when this contest popped up. Perfect timing! I took this image just on the deck railing at a friends house. We were just shooting objects from around the house wondering if they'd have interesting textures up close. I found these cinnamon sticks in his basement. I liked how they looked like rusting pipes and metal or even thick scrolls. The reflector was held just to the left for the brief moments the sun wasn't behind clouds that afternoon.
- Bridge Riddell
Fujifilm s100fs — F3.5 — 1/1600" — ISO100 — 18mm — Macro mode
"Chocolate Doughnut with Milk"
The inspiration for this picture was pretty straight forward — my sister told me about how a nearby doughnut shop had introduced dark chocolate doughnuts. Buying a couple of doughnuts allowed me to accomplish two goals — find a subject for the contest, and to try the new doughnuts. Sometimes simple answers are the best.
I used a chair covered with a towel as the platform for my picture. I used a white towel because I felt all of the color I needed for my picture came from the mug and the doughnut and anything else would be distracting. I took the picture in the early afternoon light and tried to fill in the shadows as much as I could with an improvised reflector made from a cookie sheet covered in aluminum foil.
-Mike Case
"Going with the flow…"
It was a hazy, cold day with the sun peeking in and out of the clouds and the wind at 15-20 mph. Had a hard time propping up a backdrop for the shoot. Scrapped the first setup and went with a totally different theme all revolving around how to keep the backdrop from blowing away… hence the setup of the yellow gift bag under a clear plate with oil and a drop of balsamic vinegar. Fiddling around with the reflector, a piece of aluminum foil, I was able to create the gray highlights in the otherwise dark drops of vinegar.
Nikon D90, Micro-Nikkor 105mm, f/18, 1/125
- Shubha Murti
Thyme in a Bottle...
I took several shots for this week's challenge and out of all of them, I chose this one because I love the way the hues of greens and blues and the softness of the bottle came out. I also could not resist the title.
I put a sprig of thyme in a bottle and filled it halfway with water. I took the photo on the macro setting through the neck of the bottle. I boosted the colours a little in Picasa but other than that, this is the picture as I saw it through the viewfinder. I didn't have a macro lens for this shot but, thanks to this contest, I now have a 100mm macro lens on the way!
- Georgina Lawrence
Sunny Orange
I loved this tutorial. I have to photograph glass a lot (very difficult to do) and this is helpful for certain kinds of shots.
I think the lemon in the tutorial put me in a citrus frame of mind. This is a close up of a piece I made in November. Yummy.
Thanks!
f/8
1/320 sec
ISO-80
8mm Focal Length
- Karen Tarlow
Looking forward to a new macro challenge, I took a lot of photos of random items but nothing was getting the "vibe" I got from the example from Bryan Peterson. His photo said "fresh and cool" to me like it was something from a "Sprite" ad. After watching the tutorial again, I changed my direction into something that would look like it was taken in a studio but was really taken outside. I ended up with a shot of a leaf with light streaming through its veins. My setup included a black backdrop, a sheet of aluminum foil directly underneath the leaf and a large sun reflector for my car's windshield to the side. I also had a small plate wrapped in foil that my five year old held to reflect sunlight onto the leaf. I really like how the sun illuminated the jagged edges of the leaf. Hope you like it.
Tech info:
Canon EOS REBEL T1i
Canon EF-S 18-55mm f/3.5-5.6 IS Lens
f/11
55mm with extension tubes
1/640
ISO 400
0 EV
Thanks
- Matthew Johnson
Island Ecosystem: This is a small patch of moss and lichens growing on the north face of my backyard fence. It never receives direct sunlight. My girlfriend sprayed the island with a mister, and held a tinfoil-covered board to reflect sunlight.
Taken with a Canon 60D, manual exposure at f/3.2 for 0.6 seconds, ISO 100. 135mm focal length, auto white balance, tripod mounted with countdown timer. Processed in Photoshop with the FocusMagic plug-in, saturation increased slightly.
- Brian Hall
I don't have a macro lens, but this seemed like a fun challenge so I still wanted to participate. I enlisted my boyfriend's help and we headed to a park on an unseasonably warm and sunny January day with the supplies. I followed the instructions provided in the tutorial using a vase filled with seltzer water, my homemade reflector of a pizza box and tin foil, and white paper as a backdrop. I tried a few different types of fruit (lime, kiwi, and blood orange) but I liked the vibrant colors in the shots of the blood orange. Since I didn't have a macro, I got in really close while my boyfriend held the reflector. I was really happy with the level of detail my non-macro lens produced! I did some post-processing in Photoshop and gave the water a hint of a bluish hue. I shot this with my Canon EOS Digital Rebel, EF-S 18-55mm lens, 1/250 exposure, f13.
-Jamie Babbitt
I was waiting for a photo challenge to break in my new Christmas gift but was pretty disappointed with this one (given the cold and winter skies that suddenly decided to show up). However, when snacking on a frozen strawberry I figured why not. The frozen strawberry with ice on top was representative of the weather that day (teens) and yet hinted at spring. The 40 minutes without feeling in my fingers was almost worth it...and the strawberry was delicious. No post production processing.
Canon T3 55mm with f8 800 iso at 1/160"
-Zac Wallace
Let me preface this with the observation that it's a wee bit difficult to get overhead sun in January in the midwest. at noon i doubt the sun gets more that 45 degrees high in the sky. so... accounting for that this photo was taken mid-day with the sun at my back, with a whiskey glass sitting on a small square mirror to help light from the bottom as much as possible, with a poster-board sheet from hobby lobby that was colored a matte silver as well as a car windshield sun reflector. I used a burgundy sheet of posterboard for the background, The camera is a Sony Alpha A55 using a Tamron 70-200 lens at roughly 110mm with a +4 macro filter. I tried both sparkling water and 7-up and the 7-up definitely made for better bubbles. I ended up with a ton of shots and it was actually difficult to pick the shot to use and ended up having folks pick their favorite for me on facebook.
- Marvin Francois
So setting up for this picture was pretty easy. I didn't have sparkling water or even Sprite, so I used oil and water in a clear bowl with a painting under it. I just couldn't decide on what I wanted the macro object to be. I thought about it for a few hours and couldn't decide on anything, so instead, I just shot the oil in the water. I think it makes for a far better picture than anything I could have thrown in there.
Canon 7D
EF 28mm 1.8 USM with macro adapter (hence the chromatic aberration)
1/100 sec
ISO 200
f/5.6
- Nick Badger
Sushi bug
During a delicious sushi lunch outdoor, I tried to play a little bit with the food creating different set-ups for macro shooting. I was surprised when this piece of strawberry fell off a sushi roll into this exquisite saucer.
It worked better than I could have imagined, since the detailed macro revealed that the saucer really looked like a leaf and the strawberry a red bug!
The close-up was taken with a handmade foil reflector redirecting a strong midday sunshine.
Canon 550D, EF-S 18-55mm IS at 55mm to get the maximum magnification, ISO 400, f/20, 1/200 sec.
- Ines Sousa
This bee macro is my submission.
2 shot focus stacked macro
2 sec
ISO 200
F/5.6
Sigma 28-80mm at 80mm with extension tubes
Pentax Q
Taking a macro shot in sunlight isn't all that unusual. I'm sure the majority of flower macros are taken outdoors in sunlight. I wanted my macro to look distinctly different. I wanted to take a low key, hard lit, minimal fill shot so it would look more like it was taken in a studio. I constructed a blackout box by lining the inside of a tissue box with black construction paper and gaffer's tape. This would minimize the internal reflections and give minimal fill. Then I cut a hole in the top of the box for the lens to shoot through and a < 1cm hole in the side for the sunlight to enter through. Originally I was going to shoot a dime, as I'd done before. But then I remembered that I saw a dead bee in my car, so I used him instead. To support the bee, I sandwiched two sheets of black paper together with glue and curled them around so that when dried it would give a curved surface. This supported the bee so his face would be upwards towards the lens. Since this is a greater than 1:1 macro, the Depth of Field is VERY shallow. So I shot two shots with different focus points and combined them in GIMP. Also, I shot this with the Pentax Q because the 1/2.3" sensor gives greater detail in a macro due to its high 5.5x focal length magnification factor.
Thanks for the great challenge!
- Devin Lee
For this shot I decided to show my interest in seashells and seaglass using natural backlight to add glow to the scene. I also used a piece of seaglass behind the scallop and the light from behind adds a green tint to the color of the shell. I used a mirror for a backdrop and to capture the reflection. The natural light was reflected back on to the front of the arrangement using a silver insulating blanket. The green leaves of a Poinsetta reflected in the mirror add some interesting shapes that point the eye back to the shell; sorry my plant never bloomed so no red leaves!
Canon 7d with a Lensbaby Composer at f16 for 1/20 sec and ISO 100.
- Brian Jones
Trout Fly
I walked by a fly fishing store the other day and got the idea for my subject for this week's challenge. I have never been fly fishing and dont know anything about flies but a helpful sales person showed me some of the more interesting flies for trout fishing. It turns out he is a photographer and recently bought the same lens I used for this week's challenge. We chatted for a while about flies and photography as well. I made a reflector from cardboard and aluminum foil and used tissue paper clipped to cardboard for the background. Battling the wind was a little challenging but I had fun and met a new friend as a result from participating in this week's challenge.
Canon 50 D, Canon EF 100 mm f/2.8 L macro
ISO 400, f/22, 1/50
- Christine Lyons
Nikon D3000, 18-55mm lens, f/20, 1/1600 sec. ISO-1600
-Specncer Lund
Hi... This Image was shot looking out of one of my windows, just after Sunrise and before it was fully illuminated by the Sun.
It's of Moisture that had collected overnight... Initially I shot it with the Canon G-12, but wasn't satisfied with the resolution...
So I took my Canon 60D, changed the lens to a Tonika Macro 100 mm Prime ATX Pro F:2.8 D Lens... set up the Tripod
and made several exposures and played with the DOF... I liked this version the best. showing the flat surface of the glass,
looking through the concave surface of the Water Droplets... The Image was shot at F:2.8 @ 1/50th of a sec., the ISO was 100.
Would have done something different but I don't own anything transparent... except my memory, which has become seive like.
and with brisk regards
I am as ever...
or used to be...
- Charlie Carroll
Hi,
I've brought most of the materials from supermarket: wrapping paper, fruits,water and a blender for smoothies. I've put the frozen strawberries in the blender added water and syrup and stir-it for about 3 minutes. I've sliced the kiwi as thin as possible for a translucent look and set all up on a table. Camera used Nikon D7000 plus Nikkor 105mm VR f2.8 (f/51, 25s, ISO 100). I've added to the existing light a Flash SB-700 for back-fill, a petzl tikka flash-light for side-kick and silver-foil for bounce-back. For background I've used blue wrapping paper and a bottle of champagne left from New Year.
This was the result.
-Sabin Uivarosan
I got my new camera for an anniversary gift. This is the first DSLR I've had so I'm just learning how to take pictures. For this picture I noticed that I had one small tomato still on the vine in my garden, but it was wrinkled and looked like it had frozen on one of the recent cold nights here in Phoenix. I wondered how the inside would look, and thought the contrast between the inside and outside would be an interesting image. Not sure exactly to do the light bouncing as in this challenge, but I thought I'd give it a try. I put the cut tomato in a glass with tonic water. Camera info: Canon EOS Rebel T3i, EFS 18-55mm lens, f16, 1/320, ISO 500
- Matt Johnson