After watching the video, I looked around the house to see what I could use. I found a lime, tonic water, and a jar mug. For the background I choose a red flannel blanket. I set up pretty much like the video showed. I do not have a reflector, so I tried to make one out of a piece of aluminum foil. The results were, shall we say, not the best. I then tried just a white piece of poster board, but did not like the results with that. I then just tried by changing my position relative to the sun, and that seemed to help.
My camera is a Canon EOS Rebel T2i, using an EFS55-250mm Lens, a focal length of 250, with a f/16 appeture, 100 ISO, and an exposure of 1/250.
- John Hays
Camera: Canon T2i
Lens: Kit lens - 18mm-55mm
Aperture:f/22
Shutter: 1/6
ISO: 100
After watching all of Bryan Peterson's videos(both his and adoramas) I was super excited to try this challenge. I ordered a set of cheap extension tubes online as I dont have a macro lense and started hunting around my house for something to shoot. Once the tubes came in I started playing with them. I came across this blue feather laying on my desk(probably from one of my daughters arts/crafts) and thought it would make a perfect subject for this challenge. I made my own reflector from cardboard and foil and went outside to get some shots. This time of year the sun sits really low on the horizon in Delaware but I made the best of it with my home made reflector. I took a bunch of shots with different color backgrounds, this one was a left over piece of wood with yellow spray paint on it. The final image was re-sized in photoshop.
G/O Media may get a commission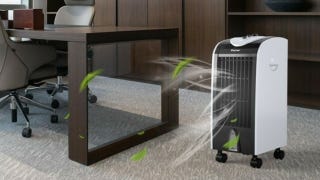 Save $10
Evaporative Portable Air Conditioner Cooler with Filter Knob
- Aaron Knipe
Hello,
For this shot I used a orchid that just started blooming yesterday, and a scrap of paper left over from book binding. This is my first submission to the Gizmodo Shooting Challenge, and I'm very excited how it turned out. I used my Canon Rebel XTi with the Canon Zoom Lens EF 100-300mm at 300m for 1/320, with the aperture set to 5.6.
- Cordelia Neff
Sigma Dp1
f-11-apeture
1/40s-shutter speed
iso-100
-Uriah Clark
Shot with a Nikon D90 using a 40mm Nikon Macro lens shot in RAW at f/8, shutter speed of 1/320 and using spot metering in Aperture priority mode. Essentially, I cut an orange to fit inside a drinking glass, and then I placed it in the sun and placed the lens inside the glass as fired away.
- Pedro Leal
Like the decidedly low-tech approach herein and Bryan Peterson is quickly becoming one of my go to authors...
This is a combination of a j-cloth shammy, foil "kitchen carving board" reflector in a 4 inch vase.
Canon 5D Mark II using a Canon 100mm Macro Lens - f16/ISO3200
-Daniel Jones
Mr Ribbit the Rabbit King and Mrs Beige the Cat Queen sailed away on their boat. On the lovely summer day the sky turned gray, and with the air smelling of cheap mascara and Old Spice the sky would soon begin to cry for ruining their lovely day.
Shot with a Nikon D3100, some plastic bag,
cellophane and a kitschy toy from the 50's I found at a
salvation army.
- Stephan Swanepoel
Camera: Canon T3i
Lens: Kit 18-55mm
ISO:200
Aperture/F-Stop: 16
Shutter Speed: 1.3 seconds
Adapter: Zeikos wide angle adapter
I tried quiet as few things before using a ruler for the shot, At first I tried out a tomato but that ended in a mess.
I made a reflector out of a pizza box my brother used to make his captain America shield, he kept complaining I was coping him.
the ruler is at a angle because I held it at a angle not turning the camera around, took tons of photos to get one without motion blur
Enjoy my photo or whatever you guys do over there.
- Jorge Gallegos
I love using my foil reflector and this was a great excuse to get out into the sun today, which was unseasonably warm in Connecticut. This is an orange slice, clipped to a vase, with a darker orange t-shirt used as the backdrop, shot using my lens reversing ring. For post processing, I did a bit of sharpening and exposure editing, and the major color change, to different shades of pink, so it almost looks like a grapefruit.
Exif: Nikon D3000, f/8.0, 1/1000sec., ISO 200
-Rachel Weiss
I did this all for Peanuts!
Living in the Top End of Australia it is the Wet season and we can often not see the sun for days. However Sunday was clear and sunny so I decided to have a go at the challenge.
To make my reflector I borrowed the reflective sun shade from the car and stretched it across a frame made from an old chair. It worked well enough.
The lens I used was a Sigma 70-300mm zoom, and put it in macro mode. My Camera body is a Pentax K200 DSLR.
Photo taken at f/6.7, 1/500 sec, ISO-100, 285mm focal length.
Nothing fancy with the subject, a bowl of peanuts placed on the grass.
And with hindsight I reckon that I slightly overexposed the shot. Bummer.
- Nick Smith
I pulled a cedar bench out into a patch of unexpected sunlight on the wet grass. The subject was an old maple leaf that had been sitting on the grass. The light from the sun, focused slightly by a homemade reflector, (alluminum foil wrapped around a large round sheet pan) caused all of the little panels and veins on the leaf to light up and reflect an almost rainbow colored light.
I used a Panasonic FZ35 point and shoot for this, which I set to:
ISO 80 to provide maximum sharpness on the details of the leaf.
1/50 shutter speed, to cover for the low light sensitivity.
F7.0 to provide a wide depth of field and to keep all the details on the leaf in focus.
The camera was placed on a tripod to provide stability for the relatively low shutter speed.
-Peter Glitsch
I thought this was a good opportunity to try and shoot some high-speed style, close-in shots that I've been meaning to try my hand at for a while. This was shot in my back yard, with a handmade reflector (cardboard, foil, and masking tape) held by my daughter. The backdrop is just yellow construction paper, and I was pouring colored water into a martini glass from about 2' above the glass to get some motion to freeze.
This was shot with my Nikon D7000 with my 18-200mm lens @ 82mm (I don't have any macro tubes or lenses), from about 2' away. 1/2000s exposure at ƒ/5, ISO 180. Camera was on a tripod, and I was shooting with a remote trigger on high-speed continuous. I rotated and cropped to square in post, along with cleaning up one or two small splatters on the background that I thought were distracting.
- Dennis Wilkinson
Sony Alpha 320
Regular non-macro lens
ISO at 100
I feel as though a lot of people might be trying similar projects to what the video did (Using fruits and a carbonated water). I wanted mine to stand out. I want people to have to look at my picture and hold their attention for a few moments. What you see is simply a glass of water with clothing dye being dropped into it. The line you see across the background is the rim of the glass on the far side. The background I used is a sheet of ice and to finalize the "abstractness" I flipped the photo upside down. What looks abstract is really only upside-down, playing with your brain. I only did small-edits in Snapseed for contrast and saturation. I hope you all enjoy.
- Matthew Carr
Canon 50D
Canon 100mm f/2.8 macro
Kenko Tubes
F-stop: f/10
Shutter Speed: 1/25th
It was a very windy day today. The reflector and picture kept blowing over. Had to use light corn syrup for the drop because the water would not create a big enough drop.
Stacked 2 images but should have used more, missed the focus a little on the top of the blade of grass.
- Chris Andrews
Photo taken on a small end table, using a glass bowl, pineapple soda, a strawberry and a reflective car sunshade as a bounce. A pillowcase was used as a drape over the table. Camera is a Pentax K-X, at 75mm focal length in Av mode set to F4 at 1/1600s. Lens was a Tamron 28-75mm F2.8.
I thought I'd try to pretty much replicate what was in the example video. I used the pineapple soda and a strawberry since its something I'd drink anyway, waste not etc... Unlike some poor souls working on this, in Arizona it was a balmy 74 degrees in front of my house, perfect weather to get outside, so thanks for a challenge that took me outdoors! I setup the end table in my front yard with a bit of wood propping up the sunshade reflector. The bowl was placed to catch the sun, the angle was nice at 4pm. I took several test shots, dropping strawberries into the soda and finally settled on clipping one to the side with a clothespin after a brief interruption by a bemused UPS man who asked if I was doing an experiment. Cropped in Picasa, adjusted for a bit of fill light and saturation. Resized in Paint.NET.
-Brian Hert
Shooting Summary:
Canon T2i
55 - 250 IS lens
f0
Shutter speed 1/400
ISO 250
After reading Gizmodo for over a year now and especially after getting my first SLR (a T2i) last year, I finally decided to make an account and start entering in the challenges. This is my first entry so here it goes.
This challenge was a little rough for me at first, especially not having a dedicated macro lens. I tried using the lenses that I had at my disposal but I wasn't very happy with the results I was getting. So, after doing a bit of online research, I read that you could actually flip your lens and use it to take macro shots! For this shot, I decided to use two slices of kiwi and put them in a glass of seltzer water. I didn't have any bright colored backdrops around so I decided to use the cover of a blue notebook I had in my room. I went outside in my front yard around 1 o'clock to take this photo. And using the technique I read about, I held my lens backwards and ended up with decent results. The area of focus was very narrow doing it this way, making it difficult though. If I had to do macro photography again I would definitely try and get my hands on an actual macro lens, but I had a good but of fun improvising!
-Brian Richardson
Camera: Nikon D60 with 55-200mm lens with Hoya +2 macro lens attached.
Shot at: f10 at ISO 100
This is a glass jar of rocks, shells, and glass my daughter and I collected at the beach. It is sitting on the glass patio table in my backyard, I thought it would be good for letting light come up from underneath. The background is the lid from my kids turtle sandbox propped up on a patio chair. For a reflector, I used the window shade from my wife's car. I set the camera up on a tripod and ran it with my remote while I held and adjusted the reflector.
- Jon Troxell
So I just got a new Canon T3 for Christmas and was out-back. I was playing around with it and saw this little bee on the ground, remembered about this challenge, got the setup and shot some pictures. I had a reflector behind the bee to show the shadow. I looked through them later and saw they were all either underexposed or overexposed. I seemed to like the not full focus on the bee, with the background overexposed, bringing attention to the bee. Just goes to show a cheap camera can make great images! Canon T3 w/ 18-55 3.5 - 5.6 IS II, Manual focus, ISO 400, and a lighting fast shutter-speed of 1600.
Best Regards
- Jason Zeis
I used my Canon AE-1 Program for this shot. It was loaded with Kodak BW400CN film. 1/15 second, f/4.0, 70mm. The lens was a Canon 70-210mm. I read the article around 4 in the afternoon and since I only had one shot left on the film I wanted to get it developed, so I used the last shot for this. I took a bowl, poured some awful ginger beer into it, and stuck the tiki head in along with some swedish fish tied on fishing line into it. The lighting was absolutely horrible, cloudy and low in the sky, I used a reflector to get what was left of the light. I'm not sure what product would be advertised like this, but it sure turned out great!
- Lucas Dewey
Camera: Nikon D90
Lens: Nikon 60mm Macro
ISO: ?
Aperture: f/4
I recently got my wisdom teeth removed and was sitting at home icing my horribly puffed cheeks when i noticed the really cool looking bubbles that formed in the ice pack. For the setup, I basically took the icepack, taped it to the window, and using the light streaming through the window, took the picture without a tripod. I loved the outcome and how it has an almost otherworldly feel - just shows how the coolest things come from the simplest objects!
- Lucy Yu
Hey guys,
Well I'm not sure if you guys are familiar with the Pacific Northwest or not, but coming by sunshine in January is about as likely as not catching something from a day time hooker...even if you double bag it.
I have never taken part in one of your photo contests but have enjoyed watching them happen and thinking to myself, "Self, you should enter one of these." Well for once I didn't let myself down.
I will admit that I have cheated. I simulated the sun with one lowly strobe positioned about 3 feet up and to the left of the camera and shot these pictures in my dining room while looking out the window at another windy gray Oregon afternoon. Otherwise I stuck to the assignment. I got the square vase and poured San Pellegrino into it, propped a piece of blue construction paper behind the vase, then I skewered my kumquat on a paper clip, jimmied the kumquat (is it just me, or is the kumquat the most obscenely named fruit?) into position, dropped my D300 equipped with a Sigma 105mmf2.8 Macro lens on a shitty tripod and got into position, kicked on live view to make focusing a snap, then fired off this shot. A couple moments later I imported the RAW file into Photoshop where about 30 seconds of post resulted in a cropped image and no paper clip. I hope you guys like the image.
I hope some other people were able to use real god given sunshine for their submissions. I am sure that this would have been more entertaining to shoot while getting some much needed vitamin D and a tan, but even in my living room I really enjoyed myself. Please, keep the contests coming.
Just for giggles, here are the technicals:
Camera: D300
Lens: Sigma 105mmf2.8 Macro set to f20
Shutter: 1/60
ISO: 250
Light: 1 Alien Bee 400
-Jake Carlsen
Canon 50D
70-300mm Quantaray w/ Macro setting (It's a real POS)
f16 @ 1/200
ISO 640
I dragged my bookshelf out of my office, onto our balcony at lunchtime. I used this as a platform and a lump of playdough to keep the pencils in place. My background? You guessed it. A "Baywatch" surfboard. I liked the yellow against the red - what can I say? As my reflector, I used a piece of foam board. That's about it really. Oh yeah, dummy didn't bring his tripod to work, so this was done handheld, which is a very stupid endeavor for Macro shooting. I'm lucky I got something remotely useful. Some curves, cloning, and a sharpen in PS CS2, & voila. Seriously, though. That lens sucks.
Thanks!
- Creighton Matthews
This shot was taken of this Snow Drift Crab Apple Tree in my yard. It was a rare sunny day in Michigan and I used aluminum foil wrapped over a sheet pan to lighten the "dark side" of the berries. Without the extra light, the shot was dull and lacked glow. Taken on a tripod with a Nikon D90, 18-200 mm (200mm at ~8"), 1/250 @f/8, ISO 200. No post processing.
- Tim McCracken

Camera: Canon EOS 40D
Lens: Canon 24-105 f4L
Setting: 1/1000 sec, f/4, ISO 100, 105mm
Not what the guys on the northern hemisphere will want to hear, but it's summer here in Brazil… And I'm at the beach! What this means is that I actually had a lot of sunshine. I used the reflector (tinfoil) to get rid of the harsh shadows. I had some seashells at home and I piled them in front of a red cooler box. I used the tripod just because I wanted to follow the tutorial, but at 1/1000 seconds, it doesn't really make any difference. I took about 20 pictures in order to get one that I liked. Then I had to crop it a little bit to get closer to the main shell. I did no other processing in Photoshop other than the crop.
-Rogerio Bromfman
Shooting summary: Canon 5d. 16-35mm. ISO 200. F2.8. 1/40sec
Story: I thought the contest was a great idea, but I live in Luxembourg where from October to April we are lucky to get any sunshine. I thought I would take a couple shots anyway and just see if they turned out - this is what I ended up with.
-Philip Wegner
I used a Nikon D40 with a Tamron AF 70-300mm lens. The settings were: F8 fstop, 195mm focal length, 1/200 shutter speed, 200 ISO and center weighted metering. My technique was very similar to that in the video, I made a tin foil reflector which shone from above, I used a piece of yellow paper to stand the bottle on and because of the stool height I had the subject on I couldn't use my tripod, but it's rubbish anyways.
The subject is a bottle of the worlds smallest whisky, I also took photos of an apple and a bead egg but the whisky bottle made for the better subject. I could also drink it afterwards! But I didn't, it's much for me to handle.
-James Finnerty
Hi Gizmodo!
Picture specifications: Canon EOS Rebel T3; 1/100; f/16; ISO 100.
I snapped this one while my boyfriend was working way too hard trying to construct his own photo for this challenge. Poor guy. Took whatever random things were in our apartment (and some random broken glass I found in our parking lot...no worries, I thoroughly washed that glass when we were done), through them in a wine glass, and voila! Wine, berries, pearls, and a 12 gauge shotgun shell—a few of any girl's favorite things. ;)
-Jessica Ortega