Was shooting a portrait in the other direction and decided to track a seagull across the sky while thinking about this challenge .
Kind of a plain shot but want to get myself into routine of submitting - and like the contrast of the tower
-Daniel Jones
What you are looking at is the sun setting, and the effects of the Wallow fire in Az. I was in a rural part of New Mexico, on my way home when I saw this. I pulled off the side of the road on pulled out my little Cannon SD940 IS. The wind has been blowing smoke over the mountains by Torreon NM all day, and making the sunsets a beautiful plethora of orange and purples.
-Doug Greth
G/O Media may get a commission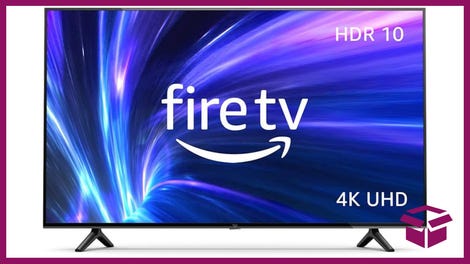 42% Off
Amazon Fire TV 50" 4K Smart TV
This photo was taken with a Nikon D2X @ 24mm f/1.7 1/45sec ISO-100.
My girlfriend and I decided to bake a Rhubarb pie over the weekend, I felt like this was the tastiest Solstice photo I could conjure. Hope you like it.
-Will Christiansen
I shot this at 8:30am on the roof of my office in midtown Kansas City, MO. I've tried to get a captivating shot of the famous Western Auto building for weeks now and the super brightness of the sun finally gave me a decent chance.
Camera: Canon Rebel T2i
Lens: 18-55mm
ISO: AUTO
-Patrick McCormack
No photographer are complete without sunrise/sunset photos, b'coz photography is something to play with lights, use the lights to take good picture. Everybody waits for this moment(I am one among them), this photo was taken in Palos Verdes, near Torrance, one of my favorite place, so I thought this photo will be perfect for this theme.
Moment of this Photo:
"This is the way to Heaven and the doors are open, Please join your hands with me and walk towards sun..."
Camera/Settings:
Nikon D-60, 55mm lens,ISO 400, f/6
-Manigandan Govindaswamy
So this time around I almost fprgpt to do it. Busy day at work n barely had any time for making this better. So here it is. It was 7:30 ish am out my bedroom window. f/32, 1/4000 shutter speed, ISO-100, 200mm lense, wb daylight. A little edit on Gimp n here it is. Thanks for watching.
-Felix Garcia
8pm Corn
It was an amazingly long day since I arrived at work at 8am and left at close to 8pm but although there was a thunderstorm, the sun came out as though it was morning and since the rain had watered the corn it looked very much alive and happy as it was absorbing the still "high in the Sky" sun.
iPhone 4
1/7500s @ f2.8
iso 80
Edited in Lightroom
Saturation and vibrance added.
Happy Summer!
-Nils Rohwer
I was excited to get up and photograph a great sunrise this morning, only to find it was cloudy. After a couple of minutes the light started peeking through the clouds giving me this warm cloud shot. Shot with Cannon T1i, 17-55mm lens, Iso 400, F9.0, 1/25.
-Robin Coats
Much has been written about the Summer Solstice and the start of summer. However, I started thinking that, even though it is the longest day of the year, it is also the beginning of the end. Everything is downhill from here with the days becoming shorter and shorter. What better place to capture that finality than a local cemetery at sundown on June 21st. Located in Franklin, TN the Rest Haven Cemetery has been in use for almost 200 years. Depicted in the photo is the monument to Joseph W Bennett, born Oct. 11 1802, died July 21 1859.
The photograph is a tonemapped image taken from the exposures (1/500s, 1/125s, 1/30s) @ f/5 ISO 200 - 18mm.
-Win Barker
I was getting ready to go out and shoot some photos for this contest when I saw a storm was coming. I live in Florida so this happens quite frequently. I quickly drove out to the location and snapped a few photos when it started to rain. I ran back to my car and shot this photo out the passenger window.
I used a canon 60d with the stock 18-135mm lens.
Focal Length 50mm
F-stop 18
Shutter 1/200
ISO 100
-Robert Lundskow
We didn't have any dramatic clouds today, so I wanted to use something to make the sky a little more interesting. I bought a sunflower, went out over my porch and had a friend hold it out on a clothes hanger. I exposed for the sky, and used a flash to expose the flower.
Shot on a 5DII with a 16-24mm Canon lens, f7.1, ISO100, 1/1000s shutter.
-Zeen Rachidi
"End To The Longest Day"
Canon Rebel Xsi. HDR, Original Picture: 1/15 sec, f10, Then 2 stops up and 2 down. 220mm with ND filter
Went to my super secret sunset spot located in (Cypress Hills Cemetery, Brooklyn). Set up my gear then waited for about a hour. Some guard came by and asked me to vacate the premises. So I told him "No problem, I'm just gonna get a couple more in and I'll head right out". 45 minutes later about 150 pictures later, I'm still shooting. I was a bit disappointed reason being, I didn't get the shot I was looking for. I was waiting for the sun to move behind the Empire State Building to get a "Manhattanclipse". Though it was very satisfying non then less. Enjoy
-Tim Drivas
I was elated to see this challenge come up this week. I knew right away that I could get some good shots of the sailboat races coming in at sunset. I tried multiple types of shots, long shutter speed, perfectly framed boats leading into the sunset, but this shot just seemed so simple and so much better then the rest. I use a Canon T3i, with a Tamron 18-270 lens. This was one of my first shots of the night and I was on full auto, no flash. Enjoy.
-Brendan Dence
All day I was on the look out for something unique to shoot. It was the end of the day and nothing had jumped out at me when it started storming. I wish I could send you video instead of pictures because the storm was amazing. I got in my car and drove to the clearest spot I could to try and shoot how amazing the sun looked behind the layer of rain and storm. With a storm around me and armed with my phone I got a photo I didn't expect. It looks like the photo was etched, but that is how hard the rain was coming down.
iPhone 4
f/2.8
1/146second exposure
ISO-80
Color corrected in Photoshop.
-Michael Mannella
Greetings!
The pyramid in the foreground is called Meade's Pyramid, built in 1903 to commemorate the Civil War First Battle of Fredericksburg. I chose a pyramid because of their celestial connotations, this one's historical significance and it's aesthetically pleasing position under the setting Sun. Note the dragonfly center-left. There were many in the field and I was lucky enough to capture one. This was my first shooting challenge, I hope you enjoy it.
Canon Rebel XT
Exposure 1/800s
Aperture 32
ISO 100
Focal length 290mm
7:54PM
Thank you for your consideration.
-Josh Harding
My husband was working on something tonight and I found out it was a photo contest. I showed him the picture I took today of a double rainbow and we both felt it was a winner. I was on my way home from shopping and how many times do you see a double rainbow? It was hard to capture using my iPhone, but I ended up with one good photo where you could clearly see the other bow.
iPhone 4
f/2.8
1/204sec
The original photo was very dull, so we color corrected it, cropped and rotated it in Adobe Fireworks. It also had a lot of noise and we tried to clean it up a little. Rotating it on it's side makes it look like a moon from another world.
-Leah Mannella
Photo taken with a Canon EOS 60D with a EF-S 18-135mm f/3.5-5.6 IS lens. Camera was set to Aperture Priority Mode. Picture settings are: f/4, 1/1600 sec, ISO 100, 20mm.
My wife and I had a date night with a quick dinner and then a movie. I brought my camera along in case I saw something that would make a good picture for this challenge. While driving home, I stopped near Missile Site Park, just west of Greeley, Colorado. I'd taken pictures from here before of the mountains, and I wanted to do the same tonight while the sun was still out. My wife loves sunflowers and we just happen to see these little sunflower look-a-likes when we stopped. I got out of the car and was able to snap a few quick pictures before the mosquitoes started attacking me. I think flowers like this on a nice sunny day are a good representation of the first day of summer.
-Logan Thomas
Taken with a Canon S90, manual mode, one exposure at f/4.9, 1/1600 second, ISO 80, another exposure at f/4.9, 1/1000 second, ISO 80. Merged into a high dynamic range image using HDR Expose software.
This is a bit of frippery on the front of the capitol building in Olympia, WA. The bright specs are backlit cottonwood seeds floating high in the air.
- Brian Hall
Camera: Nikon D90
Lens: AF-S DX VR Zoom-Nikkor 18-200mm f/3.5-5.6G IF-ED
Focal Length: 27mm (40mm)
Aperture: f/5
Exposure: 1.7s
ISO: 320
Remembering the challenge, I started planning for my solstice shot at dusk later in the evening as I was driving home from work knowing I had the perfect spot ready to go. As the evening progressed, my plans were drastically altered as a few severe thunderstorms erupted and rolled into the area. I was pretty disappointed that I couldn't capture a "magical" solstice sunset shot as anticipated, so I took my now free evening and tried a few test shots of the amazing thunderstorm passing through the area. This was my first time attempting to capture lightning, so I was quite surprised with how easy (lucky) it was to capture another beautiful form of nature and light on the solstice evening.
-Steve Thomas
Since I live in a north-south valley I couldn't get any typical sunrise/sunset pictures and in the middle of the day the sun is too boring/blinding to photograph. In this picture the sun hasn't set yet, I just can't see it without a 20 minute drive. It's a panorama stitched together from 11 pictures, apart from that it's straight off the camera. I probably could have gotten most of it in one frame, but I didn't feel like changing lenses.
Nikon D50
70-300mm f/4.5-5.6 VR
70mm
1/25 sec
f/5.6
ISO 200
-Quentin Swager
On vacation in Orange Beach, Alabama on Wolf Bay and snapped this off of the fishing pier while shooting a short video. Canon T2i 18-55mm lens f6.3, 1/125th shutter speed, and iso 100.
-Jasper Cicero
Feels Great to participate in the challenge after a long time I was driving around to find a good spot and luckily just seconds before the sun went down I found a cemetry where I could clearly capture the sun. Loved the colours.Even more lucky when it was over cast skies all day and the sun just was up for couple of hours in the evening. I used a 55-250 zoom lens
Settings: Camera Nikon D5000
F-stop-f/8
ISO:200
Exposure:1/640 No flash
-Girish
This week I was without my camera at optimal solstice picture time, so I went with my iPhone 4 as backup. This is a photo of the Boston Public Library with the Prudential building in the background. The is the perfect subject for this photo since it has seen over 100 summer solstices (Built in 1895). I used the standard iPhone 4 camera app, and some minor cropping post process.
-Seth Porter
"School's Out"
Took this with my brand spankin' new Canon Kiss X4. When I read the challenge I thought of what summer means to me; parks, pools, and no school. So I went to the grade school next to my house and snapped some shots of the deserted playground trying to reflect the lack of children in school. Shot with a Canon EF 50mm II ; ISO 800 ; F22 ; 1/250 ; Kiss X4
-Kelly O'Neill
This is what the Summer Solstice looks like at the beach in San Diego. Shot w/ a Rebel XS EF-S 18-55 II IS lens @ f/8, 1/800 sec, ISO 200.
-Joseph Baltazar
Almost didn't make this one (and it's my first attempt!). I had a great spot picked by the beach with a roller coaster as the subject, but the marine layer rolled in too early in the day to capture both it and the sun together. So, I rushed home once traffic cleared, drove up the mountain by my house, and started playing around until I got this shot. That's an elementary school in the background, which (since it was empty) I thought was appropriate for a summer solstice picture. Shot on my brand new DMC-LX5,24mm Leica lens, ISO 400, F7.1, and 1/1000 shutter speed. Next time I won't rely on the San Diego beaches in June!
-Chris Wildt
For the past three days, the weather here has been beautiful. Gorgeous, clear and sunny. And what happens today? The day I actually need to take a photo for the summer solstice? It gets socked in with fog. I was all prepared to get a great shot of the sun shining on my local park with phenomenal views of the vast Pacific Ocean. I even got up enough nerve to ask the nice couple sitting on the bench if I might photograph them for this project. Oh well.
Tech info:
Canon EOS Rebel T1i
EF-S18-55mm f/3.5-5.6 IS
23 mm
f/22
1/400
ISO 1600
0 EV
Slight touchup in iPhoto (Removed water spots - I need to clean my lens)
Thanks!
-Matthew Johnson
I usually bicycle to work. I'm lucky enough to have a route that includes about 4 miles of trails through a park. I've always loved this spot in particular when the morning sun shines through the branches of these huge old trees. I've photographed this spot before, but the solstice was the perfect excuse to bring my camera again and photograph the sun and trees once more. Canon T2i, 18mm. f/10. 1/80 sec, ISO-200
-Ben Hugeback
Equipment is a Nikon D90 handheld with 50mm Nikkor 1.8D lens.
AUTO mode:
Aperture: f22
Shutter: 1/200 second
ISO 200
Auto settings for exposure and white balance.
There is nothing like waiting until the last minute. As the sun was nearly below the horizon, it had finally dawned on me that I wanted to show the solstice. As it was a blistering 110 degrees today (and getting hard tomorrow), I tried to stay inside most of the day and didn't look at the sun. After I got home, I was watching TV and noticing the long shadows over the pool and I was like,"Ohh yeah, I gotta do the GSC" so I grabbed my camera and sprinted to the front yard where the light was filtering to my neighbors and my trees. After a few retinal-ingniting shots of the sun through a very big aperture, I finally was able to capture this shot of the sunlight starburst burning through my mesquite tree. It did create some interesting artifacts (reddish glow on left and right of the starburst) but this was the favorite of mine during the final minutes of the sunset.
-Cory
The clouds did not allow for any sun shots, but I thought these flowers had enough bright cheeriness to be a substitute...Taken on an evening walk at a local lake.... f/5.6, shutter 1/100, ISO 400
-Cheryl MacLean
I'm in the beginning stages of a major remodel of my house so I went out to take a photo of today's progress on the house and noticed the clouds. Shot with a T2i with a 18-55 mm lens, ISO 100. I did a microscopic photoshop edit to remove a small contrail in the middle of the cloudbank.
-Michael Talbot
All week I have been taking pictures with my brand new Nikon D3100 throughout the SF Bay area. I have hundreds of pictures that only the grandparents would "marginally" love. So after basically giving up on this contest, I was walking to my in-laws house to fix their computer when I noticed how the sun was setting through their courtyard. So with my iphone, I crawled underneath a tree, through a couple of serious looking spiders, and took a series of shots. This is my favorite.
Iphone 4
F-stop F/2.8
Exposure 1/305
ISO-80
-Ryan McLachlan
I wanted to take the shot with my SLR but I didn't have enough time to develop the film because of the deadline. I found this out in Napa on the side of the road while riding my bike. I took it with my old Sony Cybershot. It was in Program mode, but that still didn't give me much control over the settings. The focal length was 6mm, which is the equivalent of 36mm. F/2.8, 1/60 sec, ISO 100.
-Lucas Dewey
Equipment: Canon T2i, 50mm f/1.4 lens
Settings: 1/800 sec, f/2.8, ISO 100
Technique: Cropping, levels, etc. in Lightroom/Photoshop, with a red-orange color dodge starting at the edge of the field and up, 44%.
The shot I wanted was the sun catching only the heads of the weeds in the field across the street from my apartment. I almost missed the sunset, because I had to eat. I sprinted down, hopped a fence, and snapped less than 10 photos as the sun sank. Postprocessing, I quickly realized that capturing that is very, very hard, because it means the rest of the photo must be dark. But through a happy accident, as I was editing the curves, the sun turned blood-red and the field yellow - and added fluorescent blue and green fringing. I liked it. So I replicated the effect without the fringes. It's a little noisy, but I actually like it that way. The noise looks like heat waves up close, and the close focal point reinforces the feeling that heat is blurring things farther away.
If Gizmodo let me title my entry, I'd call it "Scorcher". It was 95 degrees today, which is just about as hot as Palo Alto gets.
-Joel Frederico
Great idea for, but this was a terrible day for this challenge here in Saskatoon... It rained all afternoon and was overcast most of the evening. I tried most of the day at work to capture a nice shot of rain drops or the whirl-pool in the parking lot at work, but the ever present stare of the boss-man meant I had no luck :(
After dinner though, the skies opened and the sun came out just as we were eating. After an accelerated dinner, we left the house and headed for the "train bridge" in town, which as it sounds, is a rail bridge with a walking platform on the side of it. Its a nice, high spot, with a great view of the river, the weir and the horizon.
I managed to catch this shot (thanks to my wife for pointing it out ;) just as the sun went behind the last clouds on the horizon. I particularly like the rays of light that can be seen coming out of the clouds. I know its not particularly fancy, but given the time and weather constraints, I think its the best I could get today.
Shot with a Canon T2i, EF 75-300 (@230mm), Hoya CIR-PL filter (to cut some glare and add some contrast), ISO400, f/38 and 1/125 second.
Thanks,
-Aaron
This weeks challenge, Solstice, is just a reminder that the oven has been on and is about to be turned up. Here in Arizona we have had a number of large wildfires. Down here in the southern portion of the state along the border, we have had more than a half dozen different fires already. So for us, the heat is on. The summer solstice is not only the longest "day" of the year, but the official start of summer. Here in Southern Arizona we have four seasons - Summer, Not So Much Summer, Lesser Summer, and Summer Lite. Unfortunately this Not So Much Summer (Spring) has been more summer like, and starting tomorrow temps are forecasted to jump 10 degrees to the 110+ range. This photo is a reminder that the heat is on.
Camera Canon EOS REBEL T2i
Exposure 1/4000 sec
Aperture f/9.0
Focal Length 250 mm
ISO Speed 100
Exposure Bias 0 EV
-John Hays
This Picture was taken with my iPhone 4 -
I was driving home after a long day and in the news they mention that it was the summer solstice... I remember the contest and open my sunroof and start taking pictures of the sunset... at 70mph in 595 west in Fort Lauderdale FL.
Once at home I start reviewing and open this shot in PS Express, adjust the exposure and Saturation to make it more dramatic and that's it.
Later in photoshop I just resize it and rename it.
-Ruben Nicholls
Shot with a Canon T3i using a Canon 50mm f1.8 lens in aperture
priority mode at f1.8 (camera then picked ISO 100 with a shutter speed
of 1/2000th of a second).
Being the first day of summer and the hottest we've had all season, I
felt the pool area (which was just opened up last week for the season)
would be an appropriate place to hunt for reflections/refractions of
the sun & convey the feeling of summer.
This shot of the sun reflecting off of the ladder as it extends into
the pool, with the blue water & red paver bricks, just screamed summer
to me.
-Eric Kornblum
I took this picture with my NEX-VG 10 on June 21 2011, National Go Skateboarding day. I wanted to get a skateboarding picture to enter into this contest, on account of it being national go skateboarding day, so i brought my camera along with me to downtown Dallas when we skated it and took this picture just before it started raining. This was the first time i had ever been to this side of downtown dallas so when me and my friend made it to the top of this hill i had to get a picture of him bombing it because it was such a great view of the sky line.
-Dan Jarvis
I shot this photo with my Olympus E-5 paired with my 12-60mm lens at f/5.6 with an ISO of 100. I had the day off from work so I had been driving all over the countryside shooting things. As the evening began creeping in I drove out to a spot on the prairie where this singular tree sits stoically amongst the verdant fields. That special blend of high altitude clouds which can make a sunset ever so sweet also just happened to be perched up it the Solstice sky, so I happily snapped away. I've spent many an evening perched at this particular spot trying to capture that "perfect" sundown shot. I don't always succeed, but I always come back. The true parable I like to say, is that if you never try you never get the shot. Hope you enjoy!
-Pierce Anderson
When I heard what the challenge was this week, I knew exactly where I had to go. Stonehenge. Or, as close as you can get in a Texas desert. This photo was taken at one of the local colleges, where a group of artists erected this recreation of Stonehenge a few years ago in the hopes of luring tourists to the area. Whether it worked or not, I don't know. But I plan on going back there again to take some more shots when the sky has a little more anything in it.
Rebel T1i
EF-S 55-250 f/4-5.6 IS
55mm
1/1000 sec at f/5.6
ISO 100
-Matt Brown
Nikon D3100 18-55mm F/3.5-5.6G lens
ISO 720
44mm
1/200s
F/5.3
I knew I wanted to incorporate melting ice into the photograph but I wasn't sure how. I took several photos of a tall beer glass with water but wasn't very happy with the results. My Labrador puppy Bono must have sensed my frustration so he decided to jump on top of the patio table and break the ice filled glass. I really liked the shot.
I'm not a professional by any means. I purchased my DSLR one week ago and I'm slowly learning how to use it. So this is my first submission of hopefully many to come. I'm excited about seeing my skills develop as I submit photos for the weekly challenges.
-FernandoFernandez
For this entry I was lucky enough to be at a friend's apartment at sunset. I looked out to see a pretty decent sunset through some buildings in Waikiki. I decided to take a HDR photo of the sunset to make it seem a lot more dramatic being that it was the Summer solstice. The HDR was created using using Nik's HDR Efex pro.
The three photos used to create the HDR were taken with a Canon 7D with a 10-22mm f3.5/4.5 Lens.
-Robert Nakama
"Abandoned"
Remember passing by this and thought this would have been a great shot to show the summer solstice heat beating down on this abandoned air strip. Picture was taken at 8:02pm and it was HOT out, approx 96 degrees. Located in Lodi, CA. Although I was just in Yosemite a few days ago for fathers day, there would have been THE place for some summer solstices pics but too bad I had to go to work.
Shot using my Canon Rebel T2i w/kit lens. Shot in RAW / ISO 100 / focal length 55 mm / f/6.3 / shutter speed 1/1600 / WB: Daylight
-Daniel Jennings
Canon EOS Rebel XTI
1/1000
13 aperture
1600 iso
My boyfriend and I were biking 15 miles to Taco Tuesdays and decided to stop at the bottome of the causeway for this shot. As we were coming down the sun was just starting to peek out from the clouds. This photo was taken at the Melbourne, Fl Causeway.
-April Chunn
This photo was taken using a Canon PowerShot ELPH 100 HS. Manual settings.
I went hiking near the Griffith Observatory, after a long day at the office producing lesbian porn. I was thinking of doing the cheesy landmark sunset photo of the Hollywood sign, but i liked this photo better. There's a pretty sun sparkle and a ghetto chopper in the sky, the Hollywood sign is in there mostly not visible though and don't forget about the token pretty palm trees. :)
I hope you enjoyed it at least for a second. Thank you!
http://www.flickr.com/photos/zebekgarbage/5858795151/in/photostream
-Rebekah Nazarian
I decided to try something new for this week's challenge and take my first foray into HDR photography. I decided I'd give the auto-bracketing on my D90 a shot to get a few nice pictures of our sunrise here in Miami Beach. The photo was taken at South Pointe Park and is an HDR image of three individual panoramas with 2-stop intervals, each of which was composed of three unique shots, for a grand total of nine shots. This was shot with a Nikon D90 equipped with the 18-105mm kit lens and almost all the photos were taken at 52mm (haha nobody's poifect). I used Photoshop CS3 to merge and blend and Photomatix Pro to do the HDR tone-mapping. Hope you enjoy!
-Dale Cohen
I shot this photo last night at a park just outside my house. I liked how the clouds were forming before the thunderstorms.
Shot on F22, ISo 100, 1/250,
-John Mastrella
This photo was taken in Perth,Australia looking at the sunset at Joondaloop beach.
camera settings
Sony DSCT700
Aperature - f7.1
shutter speed - 1/250
-Rajen Raghwani