The government of Ontario recently announced that it's going to start providing limited coverage for in vitro fertilization, making it the third Canadian province to do so. But is assisted reproduction something states should be paying for?
The ruling Ontario Liberal party wants to start paying for one IVC cycle, a procedure that typically costs prospective parents upwards of $8,000 to $12,000 a shot (it can sometimes take upwards of six or more treatments until success). But the province won't cover the costs of drugs and other services associated with IVF. Health Minister Deb Matthews estimates that it'll cost the province about $50 million annually, adding that the offset in medical costs down the line will be more than enough to cover the funding cost.
Back in 2010, Quebec became the first North American jurisdiction to pay for fertility treatments; its program pays for three to six IVF cycles — including the cost of drugs. Manitoba offers a maximum $8,000 tax credit.
The issue of whether or not it's appropriate for the state to fund such treatments is a complicated one. Some Canadian commentators complain that there isn't enough data to support such policies, and that more needs to be done to reduce multiple births (like encouraging the practice of single embryo transfers). And in fact, Matthews says this is a priority for the new initiative.
Those issues aside, it needs to be said that infertility is a serious health issue, particularly as couples opt to have children later in life — a wholly reasonable decision given how long it takes people, particularly women, to finish their education and establish themselves in a career.
G/O Media may get a commission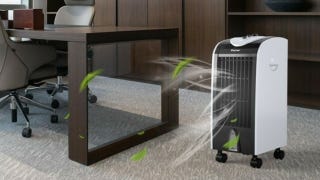 Save $10
Evaporative Portable Air Conditioner Cooler with Filter Knob
Sure, infertility not a life-threatening problem, but reproduction is an indelible part of human functioning. Having offspring may not be important for everyone, but for couples with their hearts set on it, the inability to have a baby can be utterly devastating. This is why some couples will spend upwards of tens of thousands of dollars trying to make it happen.
What's more, without state funding, couples will turn to less effective and more dangerous alternatives to getting pregnant, which can significantly increase the risk of multiple, pre-term, and severe medical and developmental problems. At the same time, even limited funding can help parents start a project that would normally be financially out of reach.
Kudos to Ontario — but it could have been substantially more.
Image: Juan Gaertner/Shutterstock.