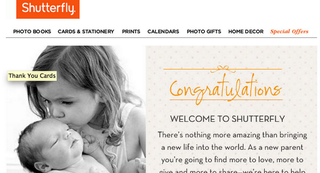 Thanks to what is either the biggest episode of I Didn't Know I Was Pregnant ever or an entirely different kind of accident, the folks over at Shutterfly have had a very busy morning. And you would, too, if you'd just congratulated hundreds of strangers on their nonexistent babies.
Earlier today, Shutterfly users started complaining about a particularly odd (prophetic?) email from Shutterfly:
And truth be told, it's a thoughtful sentiment! Unless, of course, you haven't actually recently reproduced or—even worse—can't. Reactions on Twitter ranged from baffled to amused to legitimately heartbreaking.
Shutterfly did finally address the issue, saying that "an email was sent unintentionally to some customers. We deeply apologize for any offense this may have caused." And it continued to apologize over, and over, and over again.
To Shutterfly's credit, it handled the situation just about as well as it could have. Glitches happen, and it's pure bad luck (and perhaps some mild oversight) that this one happened on the scale that it did. On the bright side, someone on the other side of that email had to be pregnant. So that's something. [Twitter via Mashable]