Not one, but two Slate regulars blaspheme the iPhone amid the media lovefest of the past week. First, Tim Wu flatly (and rightly) says that "the iPhone is—so far—not a product that will turn any industry inside out." It's a great phone, but a crappy, and moreover, locked computer.
Here's the money quote: "Judged by the standards of a personal computer or electronics, that's odd: Imagine buying a Dell that worked only with Comcast Internet access or a VCR that worked only with NBC."
The obvious (and dreamy and impractical) solution is that Apple should've let it roam free, like a posthuman Jesus, from network to network, carrier to carrier, on "permanent roam." Right now, you can't even use Wi-Fi to make calls (a la T-Mobile). All in all, the iPhone isn't really revolutionary—it pretty much "plays by the rules."
Slate's second hater, Jack Shafer, can have his criticism of the iPhone-loving media summed up thusly: "So, who is craziest? The doofuses in line, the panting authors of the iPhone news stories or the recent purchasers of Apple stock?"
G/O Media may get a commission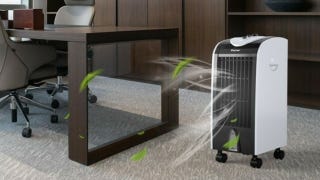 Save $10
Evaporative Portable Air Conditioner Cooler with Filter Knob
Well, who do you think? And how just rule-abiding is the iPhone in the regulation-choked wireless industry?
iPhony: Why Apple's new cell phone isn't really revolutionary [Slate]
iPhone Suck-Up Watch [Slate]