Using data obtained through the Freedom of Information Act, Government Executive magazine looked at the type and cost of equipment that police departments received from the Defense Department since 2006. If you think the items couldn't be crazier than what you've read about already, think again.
The entire article is worth reading in full, but here are some highlights:
92 pairs of "SNOWSHOES" for a total cost of $6,191.60. El Paso County, Texas.
Several counties received snowshoes from the Pentagon excess equipment (including counties in Idaho, Montana and Illinois), but no county's receipt of snowshoes needs a second look more than El Paso County, Texas.

While El Paso does get some snow because of its elevation, the county has a median snow measurement of 0 inches, according to the National Oceanic and Atmospheric Administration. The likelihood of a need for law enforcement to wear snowshoes is low.
18 units of "HAMMER, HAND" for a total cost of $2,683.86. Oakland County, Michigan.
Oakland County is part of the Detroit-Warren-Dearborn, MI, Metropolitan Statistical Area and has a population of 1,202,362, but that does not explain why the local law enforcement needed to receive 18 hammers from the Defense Department at an average cost of $149.10 each. Considering Sears sells a Craftsman hammer for a quarter of the same price, it seems cost-prohibitive that the Pentagon is buying hammers at such a price in the first place.
G/O Media may get a commission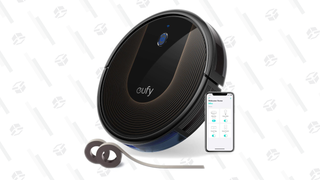 48% Off
Eufy BoostIQ RoboVac
240 pair of "DRAWERS, EXTREME COLD WEATHER" for a total cost of $1,770.65. San Diego County, California.
The documentation on just where the equipment goes is not clear, so a lot of the equipment could be used in county jails, by county or city law enforcement or any other number of places. But one thing's for sure: Almost no one in San Diego County, California, needs underwear for "extreme cold weather." San Diego is one of the most pleasant places in the world, weather-wise, with a year-round average temperature of 75 degrees.
One "TRUCK, ARMORED" for a total cost of $65,070.00. Lincoln County, Montana.
Lincoln County is a heavily wooded area on the Canadian border, with a sparse population of just under 20,000 people. It's also an area of low crime, which makes one wonder why a local police department received a $65,000 armored vehicle. Fear of invasion from the Royal Mounted Police?
Five "LAUNCHER, GRENADE" for a total cost of $3,600.00. Buena Vista County, Iowa
Buena Vista County is not known for being a war zone, but rather a group of small communities in northwest Iowa. The need for multiple grenade launchers anywhere outside a war zone is small, but minuscule for the BVCSO, considering its last two press release-worthy law enforcement actions included a capsized boat and a traffic accident.
As Government Executive observes, these and other items raise lots of other questions about the Pentagon's 1033 program. Most importantly, who approved these transfers? According to the Defense Department, the equipment is made available to police departments "if they want it and if they qualify for it." That means, "someone in the Pentagon looked at an application from Buena Vista County for five hand grenade launchers and did not bat an eye."
When dealing with foreign countries, the Pentagon has an End-Use Monitoring program that ostensibly "reduces the security risks involved in transfers of equipment and services and assures that required export controls and physical security and accountability requirements are in place and enforced." Apparently, we'd benefit from a similar program for equipment and technology transfers within our own country.