Over the past year, I've been documenting how to build a suit of Stormtrooper armor, and a little on how to go about wearing it once you've completed it. This week, I'd like to close out the column by taking a look at the bigger picture: what have we learned from this little journey?
In the last decade, cosplay culture has exploded into the mainstream. Major conventions such as San Diego Comic-Con and New York Comic-Con have become household names, while traditionally "geek" properties have been more popular than ever. Fans, casual and serious, have discovered the joy of dressing up as a favorite character, whether it's an elaborate Halloween costume, or something that you put together for your local comic convention.
The web has had a major influence on the growth of this subculture, with websites such as the Replica Props Forum and Instructables providing detailed instructions or guidance for makers. This infrastructure, along with tools such as 3D printers, have converged, allowing anyone to not only put together a costume, but put together something that looks fantastic.
The Star Wars community in particular has some major advantages going for it as well: organizations such as the 501st Legion (and others!) provide a whole new world for anyone interested in assembling a set of Stormtrooper armor.
While the 501st caters to all manner of bad guys from the Star Wars universe, the Stormtrooper is by far the most popular. As of the time of this writing, there are 3999 Stormtroopers in the organization, and most likely a ton of others that have been built by people who haven't or won't join the group. Stormtrooper armor, in its kit form, is reasonably easy to assemble, comes in a fairly standardized package, and has a ton of materials to guide you as you put one together.
G/O Media may get a commission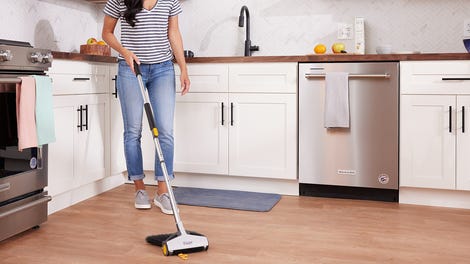 BOGO 50% Off
Flippr - BOGO 50% Off
On a macro level, there's a lot of support for anyone interested in putting together one of the Empire's most iconic figures.
On the micro level, there's also a lot to learn.
While writing this column, one of the comments that popped up in some form or another was along the lines of: "I'd like to do this, but I don't have the skill level."
I can understand the sentiment, but while a box of plastic can seem like a daunting prospect, you can do it.
Anyone can do this hobby and succeed wildly. Look at any of the galleries of costumes from major conventions, cosplay videos, or fantastic fan films that are out there: these are largely constructed by amateur makers, rather than professional prop designers.
Putting together this particular Stormtrooper required time and effort. It involved cutting, sanding, drilling, and gluing. I learned how to properly use a rivet gun, and how to cut plastic with a razor blade. I learned just how different Stormtrooper armor sculpts have become since I first started this way back in 2003.
But more than that, beyond the practical parts of putting together a movie-style prop, what I learned building this (and other costumes) is a new appreciation for building things.
I noticed this recently while I was fixing some things in my house. I'm far more inclined now to take something apart and put it together. One of my son's toys broke recently—a cheap plastic octopus that attaches to a hose. When I first turned it on, it made a loud pop, then began leaking. A year or two ago, I probably would have thrown it in the trash; this year, I took it apart, discovered how it was constructed, then put it back together, almost as good as new. I found the same thing when fixing some plumbing, and repairing some other random things that I might have either discarded or called in a professional for.
I ended up with a really cool prop that I've trooped in a couple of times, along with another on the way (and I'm seriously coveting a First Order Stormtrooper now). But the things that I took away from with this build are going to stick with me even while I'm not in armor: they've taught me how to not accept the physical world around me at face value; that anything can be changed, torn down and rebuilt.
The armor that I've put together over this last year is almost ready for final approval with the 501st Legion: I'll be submitting my pictures before too much longer. I've trooped in it a couple of times to work out the kinks, and to make it somewhat more comfortable to wear. I'll be taking everything that I learned and will be putting it to use in my next one, and probably some other one after that. Each build gets easier, and I've come away with each one feeling a bit more creative and confident in my abilities. There's other projects that I'll tackle, I'm sure—maybe one of the Martian Marines from The Expanse, or maybe something that requires a slightly different skill-set.
If you've ever seen a character on a television show or a movie and thought "I'd love to do that," don't wait any longer: go get started. Your first attempt might not look like what you see on the screen, but you can make it better. Want to do some sort of fun mashup character, like Darth Maul in a USPS uniform? That's totally doable. (Seriously, I expect to see a Darth Mail costume at a convention this year).
Cosplay has become an accessible hobby that's not simply self-indulgence: it's a growing way for fans to interact and immerse themselves in the stories that they love, whether that's at your local comic con or on the set of a fan film.
So, get out there and build something.