Boaters off the coast of Western Australia have spotted a bottlenose dolphin that appears to be wearing some kind of shirt. Wildlife officials suspect it was a deliberate act—one that could have caused the aquatic mammal to suffocate. Alarmingly, the dolphin hasn't been since since.
The T-shirt clad dolphin was spotted in Koombana Bay, Bunbury, on Australia Day (January 26). Photographs of the animal were sent to Australia's Department of Parks and Wildlife (DPaW), which is now asking the public for more information. In addition to finding the dolphin, the agency would like to get their hands on the person who did this.
"It is unlikely that the dolphin swam into the singlet [what Aussies call a sleeveless shirt], so this appears to be an intentional act," proclaimed the wildlife agency on its Facebook page. "This could have been catastrophic for the dolphin if it had covered its blow hole and restricted its breathing. Unfortunately the animal has not been seen since."
Speaking to ABC News, the department's Pia Courtis said: "Dolphins are quite playful but it's unusual for them to be able to swim through something like that and get it sort of stuck," adding that, "Thankfully for it, it's on the other side of its blowhole and its pectoral fins are out so it can still swim."

G/O Media may get a commission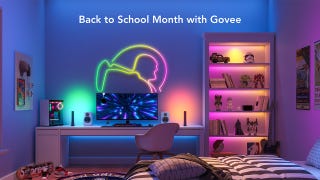 Back to School
Back to School Month with Govee Sale
The dolphin may be safe for now, but over time the shirt could shift and pose a mortal threat. It's also not clear how the shirt might affect the dolphin's health or behavior, including its ability to hunt. Because the shirt is covering the dolphin's dorsal fin, the wildlife officers can't tell if the animal was previously tagged, nor can they identify it from a set of local dolphin photos (dorsal fins are like fingerprints—no two are the same).
Under the Wildlife Conservation Act, the perpetrator could face a $4,000 penalty.
This has not been a good month for dolphins. Last week, a baby dolphin was killed by selfie-seeking tourists in Argentina. Just leave them alone, people.
[ABC News]