What makes the animated Castlevania show such a delight is how it builds upon decades of source material from across Konami's classic games. Characters from obscure entries, monsters, and yes, that kickass music all get woven into the show's bloody, gothic adventures. But an even sneakier nod to the games has been uncovered.

Castlevania's second season culminates with our heroes Trevor, Sypha, and Alucard storming the castle of Alucard's father, Dracula himself. One incredibly rad fight scene later, they're face to face with Dracula, who easily overpowers everyone save for his son, who he proceeds to knock around several floors of the castle for good measure in an epic supernatural fist fight.
It's a great moment that exemplifies the entirely different power level both Dracula and Alucard are on compared to everyone else around them, but it also holds perhaps the sneakiest Easter egg the entire show has had, as spotted by Twitter user @Nick_Waplington (and confirmed by Castlevania assistant director Adam Deats): the infamous wall chicken.
G/O Media may get a commission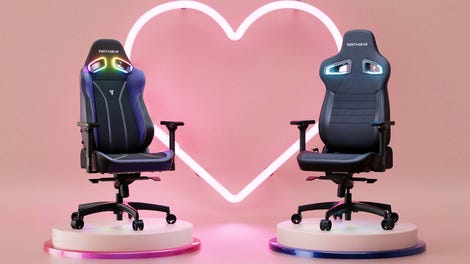 Up to $150 off
Vertagear Gaming Chairs
It's very hard to spot, so here's a screencap that brightens up the area in question. You can see, undeniably, the shape of a piece of meat, complete with cartoonish bone sticking out of it, hiding in the wall Dracula and Alucard just busted open.
If you've not played a Castlevania game before, all this talk of proteins embedded in the walls of Dracula's gothic magic teleporting castle (and why they're a good thing) is probably wildly confusing. But it's actually a reference to the games themselves, which...well, hid meat in walls for you to find.
The early Castlevania games were actually pretty damn hard to beat, primarily because it was difficult to get your health back—as it was chipped away by the endless bullshit monsters roaming around every level (ugh, those leaping flea men guys in Symphony of the Night!)—outside of, well, finding food to eat. That food, in most of the games, comes in the form of these comical-looking giant haunches of meat that you'd occasionally find by whipping open certain sections of a wall:
They've been pork chops, distressingly generic "meats," cuts of roast beef, you name it, but the name for the trope that's endured among fans above all is the Wall Chicken. Because it's chicken. That you found in a wall. And then ate like a weirdo that's way weirder than just some dude who whips vampires for a living.

It's a deeply silly part of the series, and the Castlevania show didn't have to reference it while telling its melancholic, satisfying story about the grief of Dracula and his son. But the fact that it did just really makes it that much more delightful an adaptation, honestly.