Can Sony catch GoPro? It keeps coming close. Each new Sony action cam almost manages to reach GoPro's lauded quality, but doesn't quite seal the deal. With the new high-end 4K Action Cam, Sony looked like it might actually leapfrog GoPro's flagship Hero4 Black. It doesn't.
In fact, in some ways, it feels further behind than ever.
G/O Media may get a commission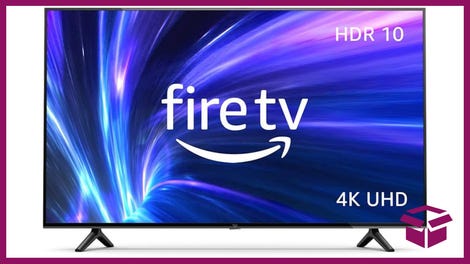 42% Off
Amazon Fire TV 50" 4K Smart TV
Design
The Sony 4K Action Cam is basically a dead ringer for its predecessors, which all had the same basic shape. That's good—they're sleek and aerodynamic—but also bad because Sony's cams are pretty tall and overall a lot larger than GoPro's little bricks.
Physically, here's what to expect: Up front, stereo microphones flank the f/2.8 Zeiss Tessar lens. On the side, a black and white LCD screen with up and down buttons, and some additional logos for show. Up top, a record button and hold switch. Around back, a lockable door gives you access to the battery, micro SD card slot, micro USB port, and micro HDMI.
Even without a waterproof case, the camera is "splash-proof." Supposedly.
Footage Quality
Overall, this camera shoots some very nice-looking footage. If you're not comparing it to anything else, you'd probably be perfectly happy with it. If you view them next to identical footage from the Hero4 Black, though, some shortcomings emerge.
Watch our video for a comprehensive look at image quality, including side-by-side examples.
The biggest surprise is that in the camera's banner mode—4K at 30 frames per second—detail is noticeably worse than the same mode on the GoPro, and that's despite the Sony shooting at a higher bitrate and generating much larger file sizes. In our comparison video above, if you look closely at details in the 4K scenes, you can see that details are fuzzier on the Sony, and yet also look digitally over-sharpened, somehow.
There's also just much better dynamic range on the GoPro—you can see much more detail regardless of brightness. Check out my snowboard scenes in the video above, and notice how the GoPro sees way more detail in my black jacket than the Sony, yet you still get plenty of detail in the snow and sky.
Colors are more accurate on the GoPro, too, in both "GoPro color" mode and in "flat" modes. Sony's "vivid" mode (which is the default) is way over-saturated. Yes, colors are vibrant and really pop, but they look cartoony and they're just way off. The sky is never that blue and my face wasn't sunburned, despite appearances. Sony's "neutral" mode is better, but not by much. GoPro's "flat" mode practically looks like HDR footage by comparison.
The Sony fares better in other shooting modes. When shooting 1080p at 120fps, the GoPro footage looks a bit blockier than the Sony if you look at fine details. It's a very subtle difference, but it's there.
But the Sony also has lens distortion which really warps things at the edges of the frame (though, to be fair, the Sony's field of view is about five degrees wider).
The Sony also fares better in low-light situations. Sort of. The images the Sony produces are much brighter, but they're also extremely noisy. The Hero4 Black opts to under-expose the scene, which produces cleaner images, but you can't see as much. If you ramp the GoPro footage up in your desktop editing software to be as bright as Sony's footage then it becomes just as noisy. I'd call it a win for the Sony, but just barely.

Sony does clearly win when when shooting 720p at 240fps—buttery smooth slow motion footage. With GoPro, you only get a 90 degree field of view while shooting slow-mo, which is incredibly limiting. It's okay if you're shooting other people who are a bit further away, but if you've got the camera pointed back at yourself you can barely get anything in the frame.
Sony allows you to continue shooting wide, which just makes it much more versatile. That said, it's a 1080p world (with 4K slowly on the rise), and it's pretty hard to justify shooting at 720p these days. Nobody is making 720p TVs anymore, and generally speaking, I wouldn't recommend shooting below 1080p if you want your footage to stand the test of time.
The Sony has better audio quality as well. The mics are just a lot more sensitive. That's not always a good thing, as it can pick up a lot more wind noise or rumble/rattle from whatever it's attached to, but overall it's preferable to have more sound rather than less. Once both cameras are in their cases, though, it's much closer, which is strange. Sony claims the reason its waterproof case is only rated down to 32 feet is because they wanted to preserve the audio quality, but the GoPro sounds just as good in a case that'll go 100 feet deeper. Go figure.
Oh, and Sony has image stabilization. GoPro has none. It's important to note that you can't shoot 4K or 1080p 120fps with stabilization, which somewhat limits its utility, but for 1080p60 and lower it's a nice option to have. It's also important to note that it's digital image stabilization, not optical, which means that it crops the image. It's a big crop, too, reducing the field of view from 170 degrees to just 120, and it can add some jello-like wobbliness as well, but overall it does a nice job smoothing out little shakes, and it's a good option when shooting in the more standard modes.
For some reason the Sony had a tendency to stop mid-clip for seemingly no reason. This happened several times during my surf and snowboard tests. I would be up and riding and definitely nothing had touched a button, and the clip would just cut out. This resulted in the GoPro having complete clips whereas the Sony missed some moments. Nothing I was doing was particularly glorious, but it's not hard to imagine how badly this could suck.
The overall verdict: I think the Hero4 Black just produces better-quality footage, overall. It's sharp, less distorted, the colors are far more accurate, and the dynamic range is head and shoulders above the Sony. The Sony isn't too far behind, but it's definitely behind.
Using It
And here's where the GoPro just plain stomps the Sony.
Sony's menu system is absolutely maddening. Settings aren't always where you think they're going to be, and some of them are buried several layers deep. Worse, you can't change two settings in the same menu without being transported all the way back to the home screen after your first selection. You've gotta scroll back to the settings, then find that submenu all over again, and then make your second selection. Rinse and repeat. In contrast, GoPro's new menu system (introduced with the Hero4) lets you get to everything really quickly, and generally there's logic to what goes where.
Also, because the settings screen is on the front of the GoPro, it's really easy to switch modes and tweak things while the camera is strapped to a surfboard (or what have you) and pointed back at you. The Sony's side-slung controls meant I had to get off my board every time I wanted to switch modes.
On a related note, Sony still hasn't put an LED on the front of its action camera. That means that if the camera is pointed at you (which seems likely!), you'll have no idea whether it's rolling or not. There's an LED on top, but it's harder to see in a lot of set-ups. It's so dim you won't be able to see it in bright sunlight anyhow. The camera beeps so quietly you can't hear it when it's in a waterproof case. The Hero4 has none of these problems.
[Image credit: A.J. Handegard]
Speaking of the waterproof case: The case on the last iteration of the Sony Action Cam was only waterproof down to 16 feet, so 32 feet seems like a definite improvement, even though it pales compared to the 131 feet you get with the GoPro. Unfortunately, during my surf testing, the case leaked. I wasn't surfing big waves, and that board certainly never went more than a few feet deep, and yet it leaked and leaked badly. When I exited the water, I'd wager there was at least a teaspoon of water in there.
Good thing it's a splash-proof camera, right? Wrong. The camera died a few hours after I got out of the water and Sony had to send me an entire new camera. Sony claims that the case I received was not yet "production level," but I haven't yet received a replacement for the case to test that out. Buyer beware.
Next problem? Mounts. Sony mounts break. I managed to break two Sony mounts—one when surfing, and another when snowboarding. Once, I sunk the nose of my surfboard and tumbled forward, landing right on the cameras. I didn't hit hard enough to cause any pain, and the GoPro was fine, but the Sony mount snapped like a twig. I could have totally lost the Sony if I hadn't tied the cameras together.
When snowboarding in Vermont, with both cameras duct-taped to a pair of selfie-sticks—yes, I looked like a tremendous asshole, but I do it all for you folks—I hit an ice patch and slid out. Again, I didn't really fall that hard, and the cameras just sort of bounced off the ground. The GoPro was fine, but the Sony mount had completely cracked. Epic fail. It's worth noting that in 3+ years of testing action cameras I'venever had a GoPro mount break on me. Not one. I know other action sports enthusiasts who have broken them, but I haven't done it.
This brings us to another advantage the GoPro has: You can get GoPro mounts pretty much anywhere. Surf shops, ski shops at resorts, sporting goods stores, electronics stores, airports (yes, seriously). They're ubiquitous. In comparison, both times when I broke the Sony mounts it was damn near impossible to find a replacement—even in surf towns and ski towns where GoPro stuff was everywhere. Just look at the GoPro section vs the Sony section from the Best Buy near Encinitas, CA (where even they didn't have the Sony mount or waterproof case I needed). Is it an unfair advantage? Totally unfair. But as a consumer, it's just so much easier to find the GoPro accessory that you need, and that makes a huge difference. Sony has begun selling an adaptor that lets you use the Sony Action Cam with GoPro mounts. That's helpful, but it doesn't exactly inspire confidence. Plus, I wouldn't trust it to stay in one piece.
Also, while the 4K Action Cam is capable of recording at bitrates much higher than any other action camera—as high as 100Mbps—you have to use a higher-speed micro SDXC UHS-I memory card (Class 10, U3) which is trickier to find in the physical world and much more expensive. It creates much larger file sizes and as you've seen in my video up top, the advantages aren't always apparent.
NOW, all this isn't to say that the Sony doesn't have any advantages. The biggest one is built-in GPS. You can put accurate overlays on your videos (if you use Sony's editing software) that include things like your speed and even a map. It's very cool and I wish GoPro would do it too.
Sony also has a wrist-mounted remote control with a full color screen that can let you see exactly what you're shooting. You can control up to 5 cameras at once, and it can be pretty handy. At the same time, it's bulky and not very comfortable to wear. It also costs an additional $100. GoPro's remote doesn't have a screen, but it does have a longer range... which I doubt will matter to many people.
Both cameras have apps available on major smartphone platforms. Sony's PlayMemories app has a feature that supposedly picks your best footage to help you highlight the moments that you'd actually want to keep. I didn't find it to be very consistent, though (it missed most of the best stuff), and it isn't all that practical, either, especially when you're dealing with such large files. I also had a lot of issues getting it to work with my phone (a Nexus 6), but to be fair, that phone has been having weird connectivity problems lately. Overall, I just find GoPro's app simpler, quicker, and easier to use.
Battery life is a mixed bag too. In 1080p at 30fps (with stabilization, Wi-Fi, and GPS off) the Sony comes in at a very impressive 2 hours and 14 minutes, compared to just 1 hour and 37 minutes on the Hero 4 Black. But remember, that's 1080p. At 4K, the Sony lasted just 56 minutes compared to 1 hour and 10 on the GoPro, and at 1080p 120fps it died after 53 minutes vs 1 hour and 3 on the GoPro. This matches my observations in the field, when I would be frequently changing between the high end modes with both cameras and shooting the same-length clips on both. The Sony was the first to die on every one of my test days.
If you're just shooting 1080p at 30fps then those results would be flipped, but if you're just shooting 1080p30 you don't have any reason to drop $500 on a high-end cam.
Like
The footage looks good. You can connect the camera via micro HDMI and it will push 4K footage directly to the TV, which is fun at the end of a long day.
Audio quality is excellent.
I love that both the camera itself and the waterproof case have built-in mounts that allow them to attach to a standard tripod.
The built in stabilization can be handy if you're going over a lot of bumps—as long as you weren't hoping to shoot in 4K or at 1080p120.
No Like
Sony can't make a mount to save its (action camera's) life. For something that's supposed to be built for rough n' tumble activities, that right there basically makes it a non-starter.
Ditto the not-so-waterproof case, though it's possible that we just had an early unit that wasn't production-ready.
No light on the front of the camera is really annoying, and the menu system will make you want to tear your hair out if you're the type of person who messes with modes and settings.
There's also a noticeable lack of dynamic range in the images, even in the "Neutral" mode color are a bit off, and images tend to be over-sharpened.
Low-light images have a lot of noise, too.
It's really hard to find a mount for a Sony Action Cam when you need one, and it's really easy to accidentally bump the record button and start recording the inside of your pocket.

Should You Buy It?
No. It's been less clear with previous iterations, but this is one very easy call to make. The advantages don't outweigh the disadvantages. At $500 it isn't any cheaper than the GoPro Hero4 Black which shoots better video, is much easier to use, and has strong and widely available mounts. We gave it every possible chance, but there's no contest. [Sony]
Video by Brent Rose and Michael Hession