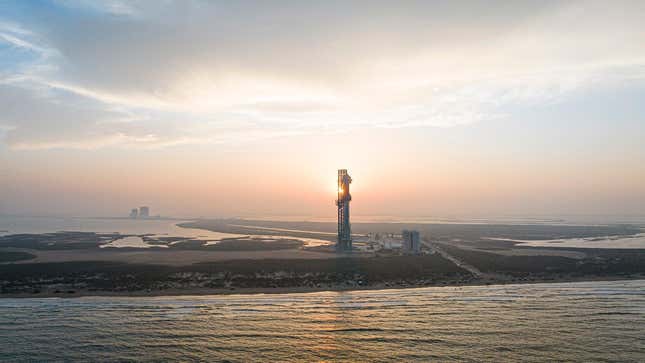 Following back-to-back annual losses, SpaceX has reportedly turned a profit during the first quarter of the year despite an increase in costs as the company continues to spend on its unproven Starship rocket, which has not flown.
Astronomers Could Soon Get Warnings When SpaceX Satellites Threaten Their View
The private space company generated a first quarter profit of $55 million on revenue of $1.5 billion in 2023, The Wall Street Journal reported based on documents that offered a rare glimpse of SpaceX's finances.
This year, even as SpaceX drops more money on its Starship rocket, upgrading a launchpad that sustained damage during the heavy-lift launch vehicle's first test flight in April, revenues from its trusty Falcon 9 rocket and internet constellation Starlink are helping the company turn a profit.
The year before, SpaceX reported an increase in its expenses from $3.3 billion in 2021 to $5.2 billion in 2022. The company's revenues, however, doubled to $4.6 billion, which reduced SpaceX's annual losses to $559 million in 2022, down from $968 million in 2021, according to the financial documents. The documents also revealed that in 2021 and 2022, the company spent a total of $5.4 billion on purchases of property and equipment, as well as research and development, a portion of which went towards the development of Starship, although the documents don't specify exactly how much.
SpaceX's Falcon 9 performed a record-breaking 60 launches in 2022. The workhorse rocket is in even higher demand this year as other launch vehicles, such as United Launch Alliance's Vulcan Centaur, failed to make their debut. SpaceX also raised the price for trips to orbit on board Falcon 9 by about 8% in 2023, with a launch now costing $67 million.

Still, there is a lot riding on SpaceX's upcoming Starship rocket's journey, which remains grounded following its less-than-ideal test flight when a few of the rocket's engines failed and it was forced to self destruct. The company recently filed its final mishap report to the Federal Aviation Administration (FAA), a crucial step before the administration can give SpaceX the green light to launch Starship again. The FAA is also battling a lawsuit related to the botched launch, which prompted a coalition of conservation and Texas-local non-profit groups to sue over its approval of SpaceX's Starship activities in Boca Chica. SpaceX recently filed to fight alongside the FAA in this lawsuit.
SpaceX is eager to see Starship fly as the company is under a $2.89 billion contract with NASA to use a lunar lander version of its rocket in landing humans on the Moon by late 2025 as part of the space agency's Artemis 3 mission, and then again for Artemis 4 in 2028, under a separate $1.15 billion contract signed last year. NASA has started to doubt its commercial partner, recently declaring that Starship threatens to delay its Artemis missions.
In mid-June, SpaceX CEO Elon Musk announced that Starship would fly again in six to eight weeks, but we've learned not to take his overly ambitious timelines seriously. For now, the next-generation rocket still awaits a second chance to prove it can reach orbital heights.
Want to know more about Elon Musk's space venture? Check out our full coverage of SpaceX's Starship megarocket and the SpaceX Starlink internet satellite megaconstellation. And for more spaceflight in your life, follow us on Twitter and bookmark Gizmodo's dedicated Spaceflight page.