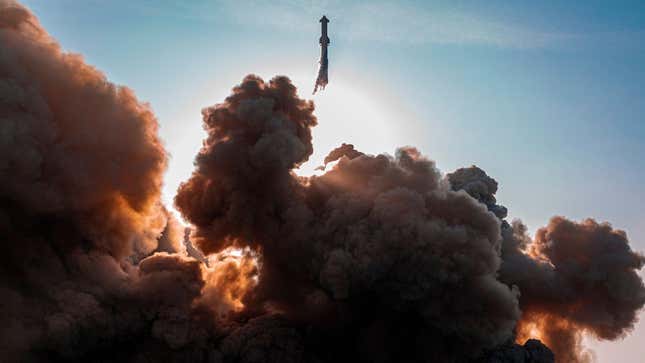 SpaceX isn't planning to sit on the sidelines as environmental groups and the Federal Aviation Administration duke it out over the regulator's decision to approve the inaugural launch of the Starship megarocket.
Rob Savage on Collaborating with YellowJackets' Sophie Thatcher
The Elon Musk-led privacy space venture has filed a motion to formally become a co-defendant in a pending lawsuit against the FAA. That legal complaint was brought forward by a coalition of conservation and Texas-local non-profit groups against the federal agency over its approval of SpaceX's Starship activities in Boca Chica.

The Center for Biological Diversity, American Bird Conservancy, and others allege that the FAA rushed SpaceX's Starship permitting process without adequate environmental review or mitigation requirements. Together, the plaintiffs are hoping to force the federal agency to conduct a new assessment, which could stall future SpaceX launches at Boca Chica for years. In a bid to avoid such a regulatory hold-up, SpaceX is angling to join in the fray and argue its case. The company filed a motion on Friday to intervene as a defendant in the ongoing suit.
SpaceX's interest in the case is obvious and clearly spelled out in the recent filing. "If the Court were to rule in Plaintif's favor...the Starship/Super Heavy Program could be significantly delayed, causing severe injury to SpaceX's business." Under a section heading that reads, "The FAA does not adequately represent SpaceX's interests," the company's intervention further states that "SpaceX has a direct and substantial economic interest in the outcome of this case that the government does not share."
In specific terms, SpaceX's legal team writes that the company has invested more than $3 billion into developing its Boca Chica launch facility—all of which could theoretically be on the line in the environmental suit. Despite the significant past investment, SpaceX CEO Musk has publicly considered the idea of relocating Starship operations to Kennedy Space Center in Florida. This prospect aligns with SpaceX's intention to launch Starship from the eastern coast in support of NASA's Artemis missions. Importantly, SpaceX holds two multi-billion-dollar NASA contracts, in which Starship will be leverage as a craft for landing astronauts onto the lunar surface.
Along with the motion for intervention, SpaceX's chief financial officer Bret Johnsen also submitted a supporting declaration outlining further reasons why the company believes it shouldn't be subject to more regulation. That filing seems to argue that SpaceX's activities at Boca Chica are in service of a greater public good—that the company is "substantially reducing the cost of accessing space," which it's doing through the company's numerous government contracts and via its Starlink internet satellites. Johnsen writes that, without Starship, "hundreds of thousands of people, including many in the United States who live in areas with no or limited access to high quality broadband" will have to wait even longer for upgraded satellite connectivity.
The plaintiffs don't oppose SpaceX's intervention and have consented to SpaceX filing a responsive plea, per the legal motion. "This is standard for a case like this and does not alter the claims," said Jared Margolis, senior attorney for the Center for Biological Diversity in an email to Gizmodo. "It is generally the case that a permit holder is allowed to join a case against the agency issuing the permit, and so this is not unexpected."
Why the lawsuit?
The FAA granted SpaceX approval for its Starship plans at Boca Chica in June 2022 without requiring an in-depth Environmental Impact Statement. Instead, the agency handed down a list of about 75 relatively lax environmental mitigation actions that the company would have to comply with—most of which amounted to motoring requirements. Environmental groups, CBD included, opposed the approval from the outset.
SpaceX's Boca Chica site is surrounded by sensitive wildlife habitat that's home to several endangered and threatened species like ocelots, piping plovers, and Kemp's Ridley sea turtles. The facility includes and borders fragile wetlands and shore areas which serve as a major stopover for migratory birds. Previous federal review of the site found that SpaceX's activities pre-Starship launch had already led to a dramatic decrease in shorebird populations and caused other harms to the local ecosystem. Then, Starship actually had its maiden voyage.
On April 20, the two-stage Starship—the largest, most powerful rocket ever built—blasted off from SpaceX's Boca Chica, Texas facility. It cleared the launch tower and stayed in flight for about four minutes—making it a success by the company's standards—before spiraling out of control and eventually exploding following a dangerously delayed self-destruct command. However, even before the notable explosion, the launch had some clear issues and triggered apparent environmental impacts.
SpaceX's own launch pad and other infrastructure were heavily damaged during take-off. Dust and debris from the event blanketed a nearby town and some sensitive wildlife habitat. At least one shop window miles away was reportedly shattered by the uncontrolled force of the launch, which propelled big hunks of concrete and metal thousands of feet away from the site. A multi-acre wildfire ignited in an adjacent state park. The FAA grounded Starship following the botched launch.
Many of these impacts likely could have been prevented had SpaceX installed standard and appropriate launch pad suppression systems meant to quell the enormous energy of rocket take-off. At Kennedy Space Center, for example, NASA has a flame trench and a water deluge system for launching oversized rockets. SpaceX opted to forgo such precautions in favor of speed, according to tweets from Musk.
It's that "move fast, break things" mentality—on full display with Starship—that seems to have prompted the environmental groups to act. In the immediate aftermath of the bungled launch, the plaintiffs filed their lawsuit.
However, as the case points out, Starship's take off is far from the only fiery incident to come out of SpaceX's activities at Boca Chica in recent years. A previous prototype test in September 2022 caused a brush fire that ended up scorching 68 acres of protected land. At least eight explosions and fires have occurred at the facility over past five years, the lawsuit says. Then, there's the more quotidian potential for environmental disruption from increased vehicle traffic, sound, light, and pollution.
As things stand now, "proposed mitigation by the agency isn't enough to prevent the launch program from causing significant environmental harm," CBD previously told Gizmodo via email. Likely, with SpaceX's new bid to get involved, the company will have to respond directly to such allegations in court.
Want to know more about Elon Musk's space venture? Check out our full coverage of SpaceX's Starship megarocket and the SpaceX Starlink internet satellite megaconstellation. And for more spaceflight in your life, follow us on Twitter and bookmark Gizmodo's dedicated Spaceflight page.