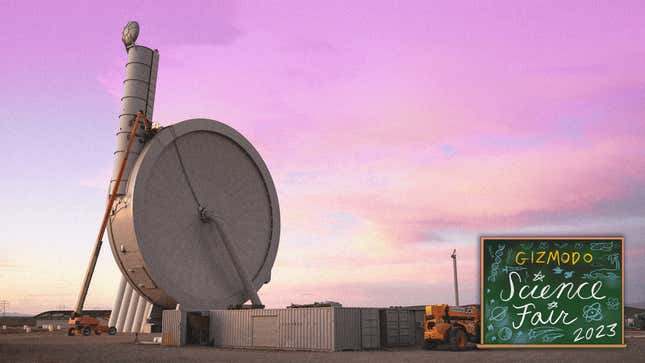 SpinLaunch is a winner of the 2023 Gizmodo Science Fair for seeking to build a groundbreaking centrifugal launch system that can deliver small satellites to orbit cheaper, faster, and with reduced environmental harm.

Better Mobility & Cameras: NASA & Axiom's New Spacesuits | Techmodo
The Question
Is it possible to launch rockets into the upper atmosphere without fuel?

The Results
The first tests of the company's suborbital 108-foot (33-meter) accelerator at Spaceport America in the New Mexico desert have been promising, attracting the attention of investors, members of the aerospace industry, the Department of Defense, Homeland Security, and NASA. Kinetic energy serves as the system's veritable first stage engine for getting objects off the ground. An arm rotates rapidly inside a vacuum-sealed centrifuge chamber, spinning the launch vehicle to supersonic speeds before flinging it to the skies above.

The New Mexico facility, dubbed A-33, is a one-third scale model of the orbital version SpinLaunch is hoping to build, but it has performed well, hurling 10-foot-long (3-meter) projectiles to altitudes reaching 25,000 feet (7,620 meters). To date, 10 tests have occurred at A-33 since October 2021, including one on September 27, 2022, in which SpinLaunch hurled a Test Launch Vehicle packed with demonstration payloads for NASA, Airbus, Cornell University, and satellite manufacturer Outpost Space. The payloads survived the tremendous speeds and forces involved, in what was an encouraging viability trial for the system.
The company, founded by Jonathan Yaney in 2014, originally built a 40-foot (12-meter) non-flight facility in Sunnyvale, California, setting the stage for the A-33 suborbital facility. When SpinLaunch vice-president of technology David Wrenn joined the company in 2015, key questions remained unanswered about the concept and its feasibility.
He wondered, "can you build a large-diameter vacuum chamber at low cost, can you achieve hypersonic velocities rotating inside that system that hasn't been previously achieved by even the fastest flywheel systems built by governments, and can you precisely and reliably release a launch vehicle off the end of that rotating tether?" Wrenn told Gizmodo. The latter challenge is "no small feat," he added, saying it requires sub-millisecond accuracy. "We answered those three questions with the 12-meter accelerator that we originally built in Sunnyvale."
"A big part of the challenge is proving that what we want to do is realistic, but there's also the challenge of actually building a company that can do it, and that's where most of the work goes into," said Maxim Clarke, a senior systems engineer at SpinLaunch. "We're building a company that builds this giant accelerator machine with little to no engineering heritage that went into it."
Why SpinLaunch Did It
Should all go well, the A-33 mass accelerator will lead to an orbital launch facility with an arm that spins at 5,000 miles per hour (8,000 kilometers per hour). Once the full-scale system comes online, SpinLaunch engineers will target altitudes between 31 and 44 miles (50 and 70 km), at which point the launch vehicle's propulsion stage will kick in to complete the journey to low Earth orbit. The finalized system should be able to launch satellites weighing 440 pounds (200 kilograms) to low Earth orbit.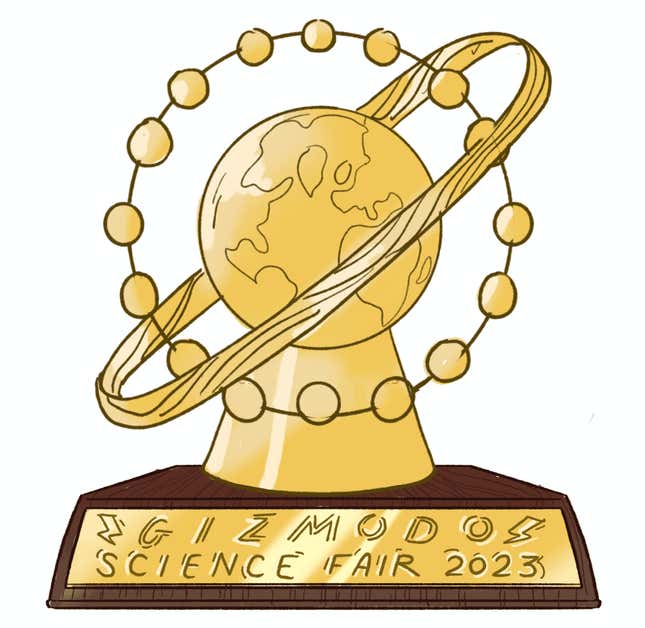 SpinLaunch says the system will result in a 10-fold reduction in launch costs and a 70% reduction in the use of fuel compared to chemical rockets. What's more, the system should be able to perform around five launches each day. And that's for a single accelerator.
It's never been cheaper to launch satellites to space, and that in turn has resulted in new ways of using space, including the introduction of internet satellite constellations and systems capable of continuously monitoring Earth at high resolutions. "SpinLaunch is part of that cost reduction curve," said Wrenn. "Fundamentally, SpinLaunch is about providing inexpensive, sustainable, rapid access to space, so that all these really great applications that have an impact on humanity can come to fruition with a lower barrier to entry."
Jan Helbing, SpinLaunch vice-president of product marketing, said the company is poised to launch business cases that didn't previously exist. "Our customers don't even know they're customers yet, and when you truly change the dynamics of getting into space, you introduce a market that nobody has talked about or addressed."
Why They're a Winner 
SpinLaunch is seeking to take an old idea and make it real, thereby changing the way we access space. The company has yet to perform an orbital launch, but it's a potential paradigm changer in terms of how launch providers can operate. The ground-based, electric-powered mass accelerator also stands to lower launch costs and offer a more environmentally friendly way of reaching space. Rockets, as we're learning, can be very dirty and not-so-good to the upper atmosphere. A number of key hurdles remain, such as proving that technologically sensitive payloads can survive the g-forces involved during spin and launch and that the propulsion stage will work as planned.
What's Next
The company is planning to run more demonstration flights with A-33, followed by the construction of a full-scale orbital mass accelerator. Ambitiously, the team is hoping to perform its first orbital launch, and potentially start building satellite constellations, in 2026. Given that SpinLaunch will have rapid access to space, it's seeking to pair that with inexpensive space systems that go along with this launch capability.
"A meaningful portion of our engineering is allocated towards building SpinLaunch-compatible spacecraft components, entire integrated satellite buses, and turnkey solutions for customers that we're in conversation with," Wrenn said. "But it all starts with low cost access to space."
The Team
The SpinLaunch team consists of roughly 200 employees and is led by CEO and founder Jonathan Yaney. Key contributors include Maxim Clarke, senior systems engineer; Ryan Hampton, vice president of special projects; Scott Laffler, general field superintendent; Mark Sipperley, director of launch engineering; and David Wrenn, vice president of technology