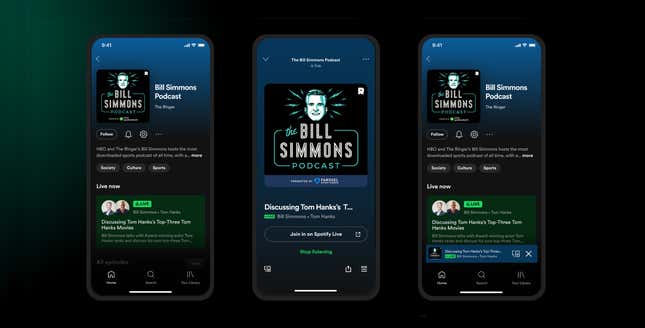 Spotify is officially shuttering its Clubhouse copycat called Spotify Live. The feature was a bit like a live radio station that listeners could access on the Spotify mobile app.

How to Hide Your Sensitive Images in Google Photos
Music Ally broke the news today, reporting that users were made aware of the scrapped feature this afternoon. Although Spotify Live is getting the axe, the company plans to continue experimenting with live features in its interface, according to the outlet. According to Spotify's own website, Spotify Live was a bona fide live podcasting feature where users could listen to discussions in different rooms either on Spotify or on the Spotify Live app. Spotify Live was launched with its current name in April 2022. Spotify told Gizmodo in an email that Spotify Live will officially be closed on April 30, 2023.
"After a period of experimentation and learnings around how Spotify users interact with live audio, we've made the decision to sunset the Spotify Live app," Spotify told Gizmodo in an email. "We believe there is a future for live fan-creator interactions in the Spotify ecosystem; however, based on our learnings, it no longer makes sense as a standalone app. We have seen promising results in the artist-focused use case of 'listening parties,' which we will continue to explore moving forward to facilitate live interactions between artists and fans."
Spotify Live saw humble beginnings as Locker Room, a sports-focused version of audio-only app Clubhouse. Spotify acquired Locker Room parent company Betty Labs for €57 million in March 2021—that's a little over $62 million nowadays—with the promise of expanding the app to a wider swath of creators. Spotify's version of Locker Room, called "Spotify Greenroom" was launched that June, before it was rebranded to Spotify Live this past April.

Spotify has experimented with the launches of a bunch of features outside of its traditional music offerings. Notably, this past February, Spotify began rolling out its AI DJ, which will offer you music it thinks you'll like in between anecdotes from an artificial intelligence voice. Similarly, the company also began teasing a Spotify home feed modeled after TikTok in a bid to keep people actively staring at the app instead of sticking their phone in their back pocket when they put an album on shuffle.
Update April 3 5:15 p.m. EST: This article was updated to include comment from Spotify.