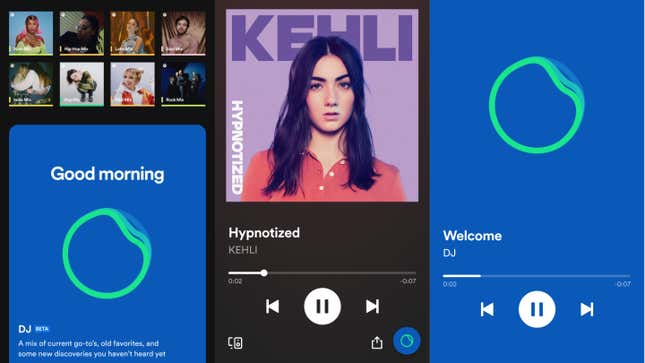 Spotify has unveiled a new feature to help curate your music that is fueled by artificial intelligence. The company's new AI DJ, aptly named "DJ," helps guide you through your listening experience by feeding you music it thinks you'll love along with computer-generated commentary on what makes those songs great.

Meta's Apparent Firing Goof
DJ serves as a music curation tool from Spotify that feeds you songs you like and songs it thinks you'll like, wrapped up in a realistic voice modelled after Xavier "X" Jernigan, Spotify's Head of Cultural Partnerships. DJ generates charming and cheeky quips after every few songs that were generated via machine learning, and these comments describe your listening habits and fun facts about the album or song you're listening to. DJ is Spotify's latest foray into AI, but the music streaming service is no stranger to artificial intelligence—Spotify uses AI to feed you customized playlists like Daily Mixes, Decade Mixes, and Mood Mixes.
"[The DJ] gives us the ability to harness the power of contextualization to help tell artists' stories and talk about songs a little bit deeper," J.J. Italiano—Spotify's Head of Global Hits—said during a press event at Spotify's office in Brooklyn yesterday. "That's a tool we haven't had in the past, that we're really excited about."
You can access DJ by navigating to the Music feed on the Spotify mobile app's home page. There you will be greeted by a wobbly green circle on a vivid blue backdrop—that's DJ. Tapping on DJ will begin the AI's process of sending you personalized music complete with a brief monologue every five or so songs, just like you'd hear on the radio. If the present suite of songs isn't fitting the mood, you can tap DJ's button located at the bottom right of the screen to switch up the mood.
The AI that powers DJ was not built from the ground up by Spotify, but was developed following the company's acquisition of Sonatic, a London-based tech company that specializes in AI voices. Writers at Spotify generate scripts based on Jernigan's own cadence, inflection, and slang usage, which are then fed into a voice model that Spotify trained with machine learning to mimic Jernigan's voice that will generate DJ's commentary.
"If we change a comma to a period or to an ellipsis, that can actually change the inflection of AI X," Jernigan said at the event.
Spotify says that 81% of its users enjoy the platform's personalization, like Spotify Wrapped, which generates a completely unique annual roundup of your most listened to songs. DJ is an effort in that direction, of taking the experience of using Spotify and tailoring it to a specific user. While some users could find the constant interruptions by DJ annoying, Spotify says that this commentary can actually engage the user and convince them into trying the new music DJ feeds them.
But with all that said, DJ is a little unnecessary. DJ is basically a humanization of Spotify's already existing AI-generated playlists—which also recommend you songs you might like and revisit your past listening habits—except now the tool has a fun voice. While DJ is cute and fun to play with, it's hard to feel like the AI isn't just Spotify's attempt at chasing the wave of AI-forward products from tech companies, like Microsoft's ChatGPT-fueled Bing and Shutterstock's AI art generator.
DJ is in Beta, and is available to Spotify Premium users in the United States and Canada today.
Correction February 22 9:20 a.m. EST: A previous version of this article incorrectly stated DJ's name as X. This article has been updated to clarify the name of the feature.