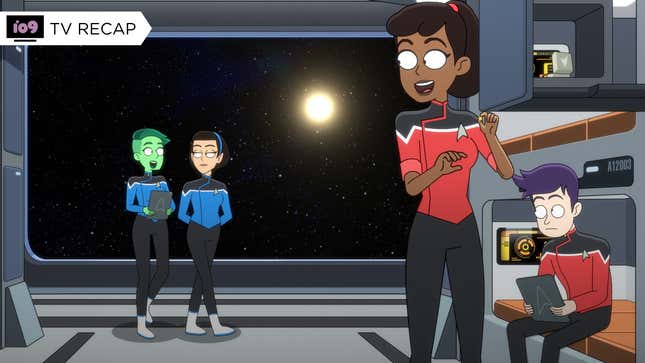 Star Trek: Lower Decks has found a lot of comedy in its status quo. No matter how zany the adventure or esoteric a riff on classic Star Trek is on offer week by week, things aboard the USS Cerritos generally have to be back where they started by the end of an episode. But in season four, the show takes a confident step forward that could begin to push that status quo in a new direction.

How Has Ortegas Changed and Grown Coming into Star Trek: Strange New Worlds Season 2 | io9 Interview

By and large, Lower Decks' dual-episode premiere this season—the Voyager gag-fest "Twovix" and the more traditional "I Have No Bones Yet I Must Flee"—sticks to what has worked best about the show across its first three seasons. There's plenty of gags, plenty of references—especially in "Twovix" where, as the name implies, we not only follow up with one of Voyager's most controversial episodes but also just get to watch the series gleefully tear through Voyager nods in a way it's not done so far. There's a lot of the sort of upstart, scrappy Us vs. Them vibe that has defined Boimler, Tendi, Rutherford, and especially Mariner's relationship with the Cerritos' senior staff and the general concept of upwards trajectory aboard the ship.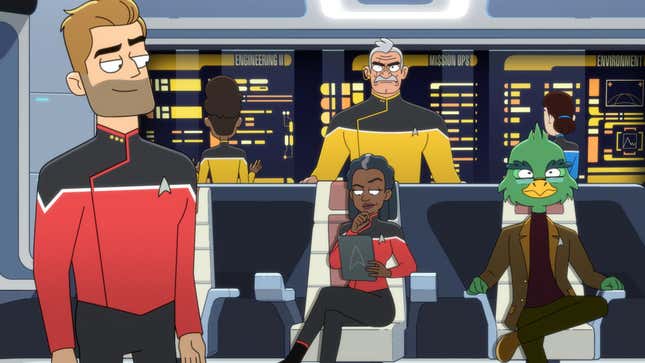 This would usually be fine, were it not coming off a season like Lower Decks' third, which leaned heavily on this sort of familiar territory to dig its heels in and have its characters mostly refuse to really grow over the course of the show like they had in seasons one and two—rehashing a lot of the familiar pain points and conflicts before setting everyone back into the places they were at the start of season three. Lower Decks came into season four needing to do something to really shake the series up while still retaining what worked—and thankfully it almost immediately gets about to doing that in "Twovix," which ends with a moment that makes it almost impossible to talk about the premiere without laying out first:
Our Lower Decks ensigns are ensigns no more. Everyone—including newcomer Vulcan assignee T'Lyn, and, by the end of episode two, Rutherford as well after being initially left out—at the start of the season, is promoted to Lieutenant Jr. Grade.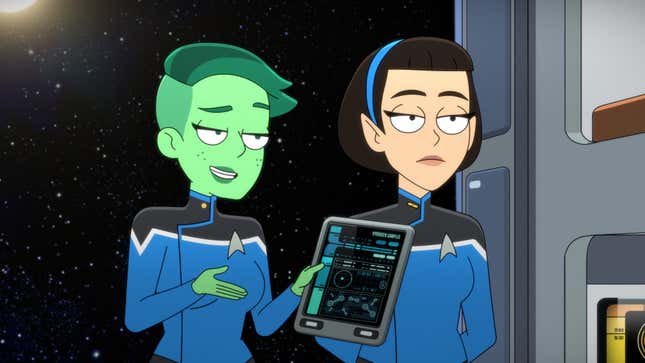 It's a development that, on the surface, means almost as much as it doesn't. Lieutenants Junior Grade are barely above the command rung of an ensign, so they still have that scrappy lower decker energy. On the other, it's a recognition of everyone's growth over the last three seasons—well, mostly the first two seasons—that opens up the kinds of stories Lower Decks can stretch itself to tell. Our heroes can have people under their command, not just colleagues on the same level as them. They are trusted with more assignments with the bridge crew—whether they want it or not, as becomes the focus in "I Have No Bones" for Mariner. It's a symbolic promise that Lower Decks, even in its position as a comedic Star Trek animated show, does not have to be rigidly defined by its original premise: its characters can grow and change and develop. There's actually few other Trek characters we've gotten to watch in this way, as they make their way through that upward trajectory.
It's a powerful promise to make, especially ensconced in an opening episode that leans almost all the way into the other direction of Lower Decks' dual selves as a comedic show as much as it is a Star Trek one. You almost feel the tension in the air the second the potential of promotion is introduced, when Ransom offers to Boimler that outside of any major disaster, his odds are high in the next batch of rank pips being handed out. What the show is setting up is what it's done before, dangling that upward mobility only to clench it further out of distance after hijinks ensue. After all, it's what we saw last season, which largely rehashed Mariner's conflicts with her mother from the first season of the show to frustrating effect.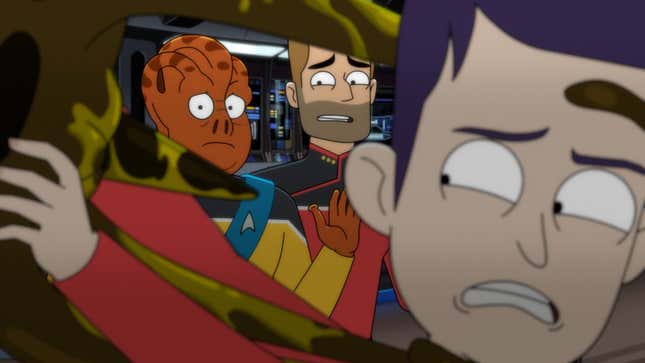 But Lower Decks itself has had plenty of time to grow beyond that kind of joke, and while "Twovix" is otherwise a full on sensory assault of Trek gags—both aboard the original Voyager, which the Cerritos is tasked with escorting as it becomes a fully fledged museum display acknowledging the absolutely bananas things that Voyager showed us over seven seasons, and aboard the Cerritos itself, where an accidental transporter malfunction leads to a Tuvix-style amalgam revolution—it does not make the mistake of returning to this particular gag. It's an earnest, proper acknowledgement that its characters, no matter their doubts in themselves, have done enough to earn a promotion in spite of whatever new comedic calamity they might face (like, say, an accidental re-release of the Voyager macrovirus) in the here and now, because we've seen them become better comrades and officers over the course of the last few years.
While "Twovix" leans primarily into Boimler's doubts about this belief the Cerritos command team and Lower Decks itself have put in our protagonists, "I Have No Bones" leans into the other arguable main character of the series and their own insecurities over promotion in the form of Mariner. Once again, the premise is set up to juke where it ultimately jives—frustrated by being promoted out of her "bad girl" persona and convinced that Ransom must be setting her up to fail, Mariner's first away mission as a renewed lieutenant sees her rebel as much as possible in an attempt to beat Ransom at his own supposed game. She shows up late, she wears her scruffy workout gear instead of her uniform, hell, she tries to get Ransom, herself, and their accompanying ensign killed before the mission's even started, executing a hot shuttle landing at the interstellar zoo the Cerritos is due to remove some humans out of. All very Mariner.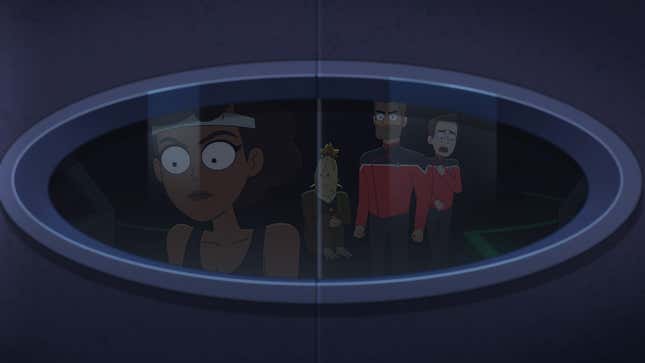 But as things at the zoo take a turn for the worse in the form of an escaped exhibit called the Moopsy—a diminutive white creature that, while basically a cute Pokémon, actually drains beings of their bones for sustenance—Mariner is forced to not just be on her A-game, but directly put faith in Ransom that he's not playing her in order to make it out of the situation alive. It leads to a great moment between the two that has been four seasons in the making, where Mariner brings the image she has of Ransom in her head directly to the man himself, as well as all her own insecurities about her capability and worthiness of being an officer. And just as she assures Boimler in "Twovix" that he'd earned his chance at promotion, this time it's Ransom who assures her that this is not him trying to undermine Mariner, but Mariner trying to undermine herself out of something that she's truly worthy of: being a great Starfleet officer, as we've seen time and time again.
There's still some cause for a little hesitance across these two episodes. The brief but consequential focus on an overarching threat of a mystery ship attacking random vessels across the galaxy feels like a kind of build up that the show tried and couldn't quite manage to nail with the Pakleds, so we'll see how that changes. From a character perspective, "I Have No Bones" giving its B-plot to Rutherford hastily speedrunning getting promoted to catch up with his friends speaks to how little Lower Decks has given time to him as a character over the first three seasons. But these are minor issues in the face of Lower Decks taking a really big step with its characters overall—a promise that we'll have to see play out over the course of this season, and an exciting prospect.
---
Want more io9 news? Check out when to expect the latest Marvel, Star Wars, and Star Trek releases, what's next for the DC Universe on film and TV, and everything you need to know about the future of Doctor Who.