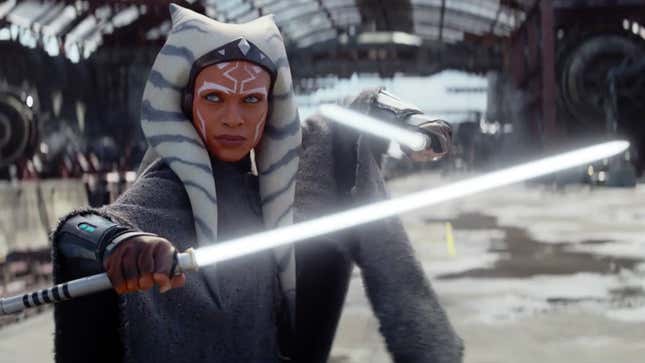 Star Wars is a franchise full of characters who go through a lot, and Ahsoka Tano has had a pretty eventful life. Since she debuted on Star Wars: The Clone Wars as an apprentice to Anakin Skywalker during the prequels, she's been caught up in one event after another, from engaging in military skirmishes to surviving Order 66 and being a key player in the growing Rebellion. With her upcoming solo series set to debut in a few months, one of the show's key threads will see Ahsoka (as played in live-action by Rosario Dawson) learning to let people fully into her life again.
Spoilers of the Week Feb.11th
Speaking to Empire Magazine, showrunner Dave Filoni (and also Ahsoka's co-creator) said the titular show would explore how lonely her life has become since becoming Not a Jedi and jumping around from place to place. He said the show would start off with her as a wanderer who's "wary of any organization as such because of the power that comes with it as a group." During the final season of Clone Wars, this was something hinted at once she was reunited with Anakin and Obi-Wan, but will be given more focus here.
Jedi living solitary lives is fairly common, but the circumstances of Ahsoka's loneliness are more complicated than others like her. Between surviving Order 66, several Inquisitors, and a fight with her old master, she's got plenty of reason to be closed off. And it should help explain why the character's live-action appearances in The Mandalorian and The Book of Boba Fett have felt so...off in one way or another where she dips out anytime she gets a whiff of community being formed. (It's not even all that exclusive to live-action, as she appeared and disappeared throughout the second season of Star Wars Rebels.)
While it's been easy for Ahsoka to come and go as she pleases from places in the past, that won't be quite as easy in her show. In Rebels, she was saved by that show's protagonist Ezra Bridger (played here by Eman Esfandi), and he told her to come find him. This is her way of returning the favor, and that'll require her to partner up with fellow Rebels character Sabine Wren (Natasha Bordizzo) as they travel the galaxy looking for their missing friend. Filoni had no problem saying connecting with Sabine during their travels together would be a challenge for her. "[Ahsoka] walks a path that basically died out a long time ago," Filoni observed. "What is that life like? If you are a loner, you have a very small circle of friends. What is it like, then, when you try to open back up?"
Star Wars: Ahsoka comes to Disney+ in August.
---
Want more io9 news? Check out when to expect the latest Marvel, Star Wars, and Star Trek releases, what's next for the DC Universe on film and TV, and everything you need to know about the future of Doctor Who.