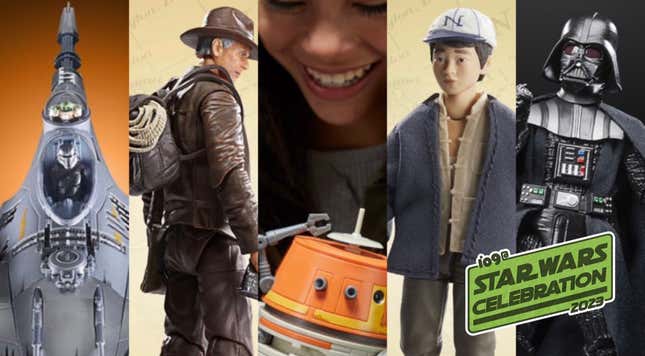 Star Wars Celebration brings plenty of news with it from the galaxy far, far away, but it also brings future opportunities to drain your wallet. Hasbro understood this more than anyone else at their panel at the London convention, and they brought out big announcements from Star Wars and Indiana Jones to whet fans appetites.

Hasbro's panel covered not just the galaxy far, far away, but one a little closer to home, as it lifted the lid on products due throughout the next year for both Star Wars and Indiana Jones. In the realm of Star Wars, Ahsoka got its first merchandise in the form of a Rebels favorite: an interactive "chatter back" Chopper, giving you your own version of the Ghost crew's sassy droid to talk back to you. Return of the Jedi's 40th Anniversary was the big pull of the day however, with the reveal of more retro-card back Black Series figures (including a nifty new Darth Vader with removable helmet) and a three-pack collection of Anakin, Yoda, and Obi-Wan's Force spirits from the end of the movie. In the smaller scale 3.75" Vintage Collection, fans were treated to a new four-pack of figures from Return of the Jedi's opening Jabba's sail barge sequence, as well as a bumper version of Din Djarin's Naboo N-1 Starfighter from The Book of Boba Fett and The Mandalorian, complete with removeable ship parts and updated figures of Din and Grogu to fly in it.
The larger-scale 6" Black Series line also got new reveals in the form of an entire wave dedicated to the second season of The Bad Batch, featuring updated figures for Hunter, Tech, Wrecker, Echo, and Omega based on their "mercenary" outfits, as well as a new Imperial Clone Commando. The Book of Boba Fett also got a nod with a new and updated Cad Bane action figure inspired by the Bounty Hunter's brief appearance in the series.
Over in the world of Indiana Jones, Indy himself was unsurprisingly the star of the show. Doctor Jones made up more than half of the revealed figures for Hasbro's new "Adventure Series" 6" line, with versions of Indiana from Raiders, Temple of Doom (in an increasingly shirtless capacity), and even the new Dial of Destiny movie joining figures based on Short Round, Dial of Destiny's Helena Shaw, and Raiders' Marcus Brody and René Belloq.
Pre-orders for all of Hasbro's new figures will go live in the coming week for most of its Star Wars reveals on April 11 (the Bad Batch figures will be available to order May 4 from Walmart exclusively, save for Omega, who is a wider release), with the Indiana Jones toys going up shortly after on April 13. Click through to see pictures of every reveal!