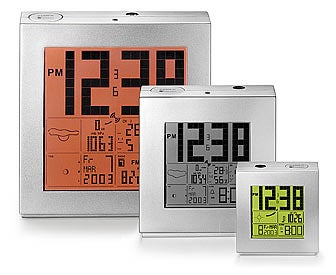 Do you wake up to the sounds of your local morning zoo radio program? Hate the over-affected voice of the host? Why not get a real alarm clock, like this Starck Smart Clock and be done with it already?
Designed by Phillipe Starck with the intention of better understanding the universe (yeah...), the Starck Smart Clock has an automatically regulated clock, so no more blinking "12:00." There's seven different melodies that you can wake up to and the minimalist design, apparently, has the same effect as the Axe Effect.
The digital LCD displays time, date, temperature, barometric pressure and moon phase, all things you need to know as soon as you wake up. The background of the LCD is available in red, gray and yellow.
$100 unlocks the mysteries of the universe.
Product Page [Hive via Gadgetizer.com]