As it often does, Facebook recently tweaked the way its advertising (and privacy) settings work, which means you now have extra options when it comes to stopping your social media activities from following you around the web. Here are the new and old settings you need to know about.

Is AI Moving Too Fast? | Future Tech
First of all, Facebook builds up a picture of everything it thinks you like and don't like, based on your various activities on the platform. The idea is to serve you ads that at least have a chance of being interesting to you. You can see your advert preferences here: click any x button to remove a topic or use the box at the top to add one.
By stretching its digital tentacles across the web (think of all those Like and Facebook login buttons you come across), Facebook can also monitor your browsing habits when you're not actually on Facebook, which again feed into the profile that's being built up about you. To stop this from happening, head here and change the top option to No.
G/O Media may get a commission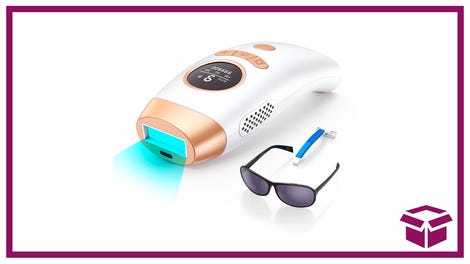 58% Off + Coupon
IPL Hair Removal Device
FInally—and this is the new option just added—Facebook can use what it knows about you to influence the adverts you see when you're not actually on Facebook. It doesn't affect data collection, just how and where that data can be used. To prevent this as well, change the second option from the top on this page to No as well.
The Digital Advertising Alliance and Do Not Track
For even more control over how your browsing activities are logged and used, head to the Digital Advertising Alliance site and opt out from the tracking programs run by some of the web's biggest names (including Facebook). You can choose all the companies or Facebook specifically—which is particularly important if you don't have a Facebook account, as you won't have the options listed above available to you.
And what of Do Not Track? While you can enable this in every modern-day browser, it's not a protocol that Facebook currently recognizes, so it's going to be largely ineffectual when it comes to stopping the social network from keeping tabs on you. The settings inside Facebook and on the DAA site should keep you protected though.
It's the same with mobile browsers and the Facebook app on your smartphone: Facebook's data collecting and ad targeting will largely be set by the options we've already mentioned, even though your phone will come with a host of separate privacy and security settings that you can use.
You can't really use Facebook without it building up an advertising profile of you—it's what pays Mark Zuckerberg's bills—but you can at least take some control over the process. For more on Facebook, check out our previous Field Guides on Facebook advertising and Facebook privacy.