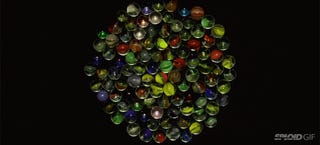 This music video directed by Christophe Thockler for Victoria+Jean's song Firecracker reminds me a little bit of staring inside a kaleidoscope. Only if the inside of that kaleidoscope was filled with mini-drones in the shape of marbles that move around as if they were controlled by one hive mind. My imagination aside, it's pretty cool.
Thockler writes:
Here is the second video I directed for Victoria+Jean, for the song Firecracker. As the track is fast paced, I wanted to manipulate glass marbles and lights to create a sort of abstract and playful piece of work, an explosion of lights and a kinetic whirlpool of reflexions. It is a visual recreation, a feast of shapes and colors moving in rhythm with the song.
---
This is part of a series in which we are featuring really cool music videoclips. If you are a musician or a director with high quality work, please drop me a line here.
---
This is SPLOID, a blog of delicious brain candy. Join us on Facebook