We have a lot of new details about Wal-Mart's movie download service—it is, as some feared, not as full-featured as we would have hoped, but it was repeatedly emphasized throughout the conversation that the service is very much in the "early beta stage," so they're "primarily focused on... improving what [they] offer." Full rundown follows.
That said, here are some numbers. Movies come in two sizes: the larger "PC" size and the smaller portable one. They dodged the question about the resolution of movies (supposedly they're getting back to us and when they do, we'll let you know) but the PC version is "near DVD quality," which is to say it has a bit rate of around 1.3-1.6 Mbps. TV shows, on the other hand, are decidedly focused on being quick downloads, with a bit rate of 500-800 Kbps for the file.
All of the files are WMV for the time being, and are encrypted with Windows Media DRM. You can burn them for back up—they encourage customers to do so—but right now they're stuck on a single PC with the option to move them to up to "three compatible portable devices." They are working to the expand that, however. Moreover, only PCs (XP and higher) and only IE 6 and up. Firefox support is coming.
G/O Media may get a commission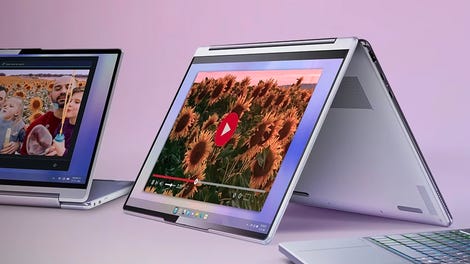 up to 70% off
Lenovo Spring Clearance
As we said earlier, they offer "3000 productions." This is "about evenly split" between movie and TV content, with each episode of a show counting as a single production in that number. No ABC, Fox, CBS or NBC yet, but they're working on it and "would like to be in business with everybody."
The way they got to be in business with "everybody" in the movie business, we should note, is by closely following the studios' set prices for movie downloads, which are designed not to cannibalize physical DVD sales. (Steve Jobs's refusal to cater to that price point, along with the fear of an iTunes monopoly, is why he as of yet, only has Paramount and Disney on board with iTunes.) Strongly emphasized throughout the interview was Wal-Mart's committal to ensuring a strong DVD market.
To that end, we found out how the discounts for consumers who buy both DVDs and digital movies works. Basically, when you buy the physical DVD, you will get a code allowing you to download the "portable" version of the movie for $1.97, the PC version for $2.97, and both for $3.97. (Much like they did with Superman Returns back in November.) This will be the major way the service is pushed and utilized, at least initially. Obviously, the service isn't intended to disrupt traditional means of movie watching.
Part of the non-disruptiveness is given Wal-Mart's view that "the business is new now," and they (along with everyone else) still "need to figure out how it works." So no big marketing campaign, at least for a while. It'll be featured on the site, and there will be some in-store promotion, but nothing big. It's still very much all about the physical Wal-Mart store, but expanding into "multi-channel and multi-format" distribution.
Lastly, while we're not thrilled with the current price points, it was clearly stated that the studio "sets the price," and Wal-Mart is pursuing and will continue to advocate for "a good price for the customer," which we interpret to mean lower prices.
If this service fails, the blame rests mostly on Hollywood's shoulders, since most of these terms were dictated by the studios. Middle America isn't the target for this service, at least for right now, largely due to its beta status, but also, we think, because of the unnecessary restrictions placed on it by the studios, making it too complicated for Wal-Mart's core customers. And that is a big mistake on the part of the "Big Six," one they may soon pay for.
Wal-Mart First to Offer Digital Movies From All "Big Six" Studios [Gizmodo]