The US Air Force's secretive X-37B spaceplane returned to Earth back in May after a mysterious two years in orbit. Nobody knows what it was doing up there, since the mission is highly classified, but it's heading back into orbit in just a couple of days. And this time it's getting a little help from SpaceX.

Yes, the unmanned Boeing X-37B has completed four missions and spent a total of 2,085 days in orbit. But this is the first mission where it won't be launched from an Atlas 5 rocket. Instead, this launch, scheduled for Thursday, will be on top of a SpaceX Falcon 9 rocket.
SpaceX became certified to launch US military payload back in 2015, and aside from getting this spaceplane in orbit, the company will be launching satellites for the US Air Force in 2018.
"The ability to launch the Orbital Test Vehicle on multiple platforms will ensure a robust launch capability for our experiment designers," Randy Walden, the director of the US Air Force Rapid Capabilities Office, said in a statement back in June about the partnership with SpaceX.

G/O Media may get a commission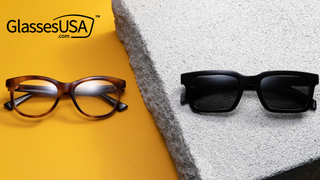 60% off frames
GlassesUSA.com Back to School Sales
"We are excited about this new partnership on creating flexible and responsive launch options and are confident in SpaceX's ability to provide safe and assured access to space for the X-37B program," Walden continued.
As Space Coast Daily notes, when the spaceplane landed at Kennedy Space Center back in May it was the first since the last flight of the space shuttle Atlantis six years ago. Previous spaceplane missions were operated out of Edwards Air Force Base in California, but now everything has been moved to Florida.

From Space Coast Daily:
Three previous X-7B missions all concluded at Edwards Air Force Base in California. But the Air Force now maintains one of three former shuttle hangars at KSC for the X-37B program, allowing the Boeing-built spaceplane to launch, land, and be refurbished at the same spaceport.
Like previous missions, we have no idea what the unmanned spaceplane will be doing, nor how long it will be in orbit. But with everything going to shit here on Earth, we don't blame it for wanting to get away for a while. If it's gone for another two years, that would put it back on this planet sometime around September of 2019. Hopefully we'll have figured some stuff out by then.