It's a good time to be a Supergirl fan.

Kara Zor-El from Argo City is having a mini-renaissance, with multiple comic-book titles and a TV series bearing her superhero name. There's more on the way, too: Yesterday, DC Comics announced a new high-profile miniseries called Supergirl: Being Super, written by Mariko Tamaki, drawn by Joelle Jones, and due out in December. Tamaki's an award-winning writer who co-created the hit comic This One Summer with cousin Jillian Tamaki and Jones has been nominated for an Eisner award—the comics medium's highest honor—for her work on Lady Killer and Helheim. The project stands apart from current DC continuity, a decision that seems to aim it for the broader mainstream audience that might be encountering Supergirl primarily through her TV show.
Here's the official description from DC:
Imagine this: You're an alien. You have super powers. You are SUPERGIRL. But you're also 16, a teenager just trying to survive the day-to-day life of high school. The upside is, yes, you can fly, you can crush diamonds with your bare hands. The downside is that being super can be a super complicated and super confusing thing to be, especially when the whole being super thing is a secret.

This is the story of Kara Danvers, known to her home planet of Krypton as Kara Zor El. On the one hand, Kara is a typical teen, navigating relationships, friendships, and classes, on the other she's a being with immense power and potential, with the added responsibility of managing her developing super powers. As if transitioning into adulthood wasn't hard enough!
As Kara turns 16, her powers begin manifesting in bizarre hot flashes, glowing zits, symptoms that are becoming harder to control. That's right, two words, ALIEN ZITS. This new series is more than just heroics. It is the action-packed and heartfelt story of Kara Danvers and her attempts to balance the roles of teenager and hero.

This is a fresh take on Supergirl full of passion and ingenuity, with some added teenage irony. The first issue of the new series will debut December 28th, with subsequent issues being released every other month. Each issue is super-packed with 48-pages of story, in prestige format.
G/O Media may get a commission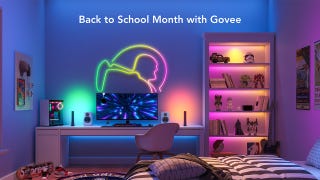 Back to School
Back to School Month with Govee Sale
Meanwhile, in the mainline DC Universe, Supergirl getting an infusion of fresh talent. After a prologue came out a week ago in the form of Supergirl: Rebirth, this week sees the start of a new Supergirl ongoing series. Supergirl #1—written by Steve Orlando, with art by Brian Ching, Michael Atiyeh and Steve Wands—finds Kara poorly adjusting to a status quo in National City.
While Supergirl's been on Earth for a good while now, she hasn't been participating with human society. The New 52 reboot re-imagined Kara as a maladjusted outsider who didn't want to fit in the way her cousin did. In a big divergence from past portrayals, her anger became a defining characteristic, to the point where she became a rage-powered Red Lantern for a while. All of that is in the past now, and after regaining her lost powers with the help of the Department of Extranormal Operations, she's trying on the new secret identity of Kara Danvers, with DEO agents playing the role of her foster parents.

All the elements that made Orlando's run on Midnighter so enjoyable show up here as well, just with less limb-exploding ultraviolence. His strong grasp of character dynamics and voicings make the inevitable frictions and friendships feel inviting and he's finding fresh angles for a character who's been around for decades. For example, Kara harbors a little quirk of speech in this issue that has her referring to Krypton in the present tense. It's a heartbreaking device that drives home how fresh all of this loss and adjustment is for her.

There's a strong undercurrent of nostalgic sadness in this first issue, which switches back between showing Kara preparing to triumphantly enter young adulthood back on Krypton and struggling to adjust to adolescent rites of passage on Earth.

When I spoke with Orlando two weeks ago, the writer said his aim for the new series was to define Kara as a Supergirl without using Superman as a reference. There's a brief flashback to an interaction with her now-dead cousin, which underscores her own loneliness.

But it's not all downers in Supergirl #1. Kara's screw-ups with basic skills like driving a car or using a classroom projector add humor to the proceedings, as does a snippy encounter with self-aggrandizing reporter Cat Grant. Ching's linework is fun and loose, nimbly allowing for cartoony expressiveness and exaggeration without regressing into caricature. This new Supergirl nods at the sunny tonality and some elements of the CW series, but feels like its own thing: a teenage soap opera of a girl trying to find her place in the world while authority figures dog her every superpowered move.