It is becoming increasingly obvious that our Solar System — with its inner collection of small rocky planets and an outer region buffeted by gas planets — is quite uncommon. According to a remarkable new study, the reason may have to do with Jupiter and an ancient migratory journey that kickstarted the destruction of…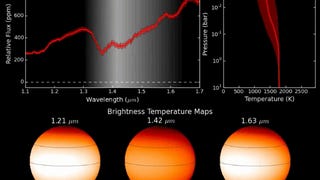 A gas giant located about 260 light-years from here has winds that howl at the speed of sound and a day side that's hot enough to melt iron. We know this because astronomers have just made the most detailed weather map of the temperature of an exoplanet's atmosphere. Here's the forecast for WASP-43b.
Canadian astronomers have discovered a gigantic planet-like object that's so far from its parent star that it takes 80,000 years to complete a single orbit — a distance that's 50 times farther than Pluto is from our sun. The discovery may force a re-think into how and where planets are capable of forming.
By Japanese manufacturer TakaraTomy, these $27 floating lamps resemble our own two favorite members of the Solar System, the Earth and its moon. Simple in design, the lamps are simply mylar balloons (like you'd see at a birthday party) with an LED at the bottom to make it glow. We'd love to see buy more durable…