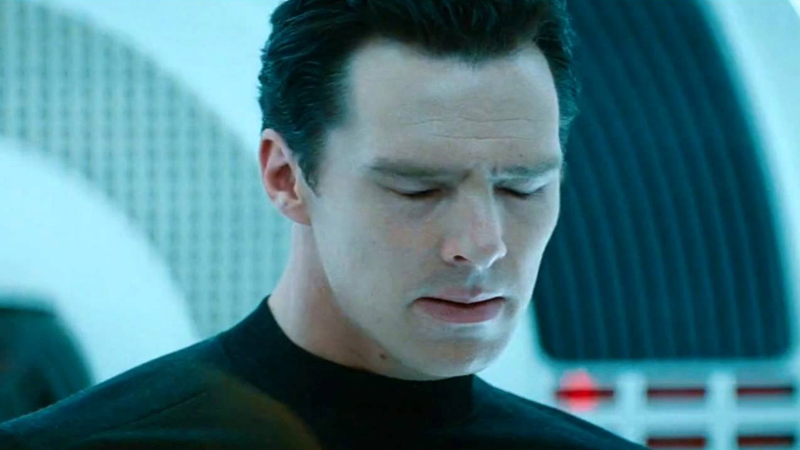 Star Trek Into Darkness had plenty of unfortunate flaws, but if there's one thing that it's still mocked for, it's how the production team approached keeping the identity of Benedict Cumberbatch's villain away from moviegoers. Two years after the film came out, they're finally starting to admit that was a mistake.
The most irritating part of Star Trek Into Darkness was the reveal of Benedict Cumberbatch as Kirk's arch-nemesis Khan, because 1) J.J. Abrams swore for months, multiple times, that the character was not Khan, but 2) we all knew Cumberbatch had to be playing Khan because it wasn't worth keeping any other character…
In the months leading up to the release of Star Trek Into Darkness, we got a lot of "Is he or isn't he?" teases as to whether Benedict Cumberbatch's character would be Khan Noonian Singh. Screenwriter Roberto Orci reveals in a new interview that, even during the scripting phase, there was a lot of debate about whether…
No sooner has Star Trek been released than people have started throwing around ideas for a sequel. Klingons? Khan? The Borg? We'd like your opinions, please: Who should NuKirk jerk around next?
Movie posters used to be simple and dignified, until marketing departments realized that the more sensational the poster, the more ticket-buyers. It's like the cover of a comic book: You might see an image of Batman riddled with bullets and dead, but that never takes place in the actual story itself. Star Trek has…
Nothing warms the hearts and soothes the soul at holiday time like a hot laser slicing through your pain receptors. That's why we put together this list of the top seven torture scenes from science fiction, including one that spawned one of the lamest action figures in the world. (We didn't include the Star Wars…
Kirk: Khan, you bloodsucker. You're gonna have to get your own Korean Hasee L230E/15.4 Laptop now, do you hear me? Do you?
Khan: Kirk. You're still alive, old friend.
Kirk: Still, "old friend." You've managed to see me in the 15.4-inch screen, but like a poor marksman, you keep missing the target.
Khan: Perhaps I no…