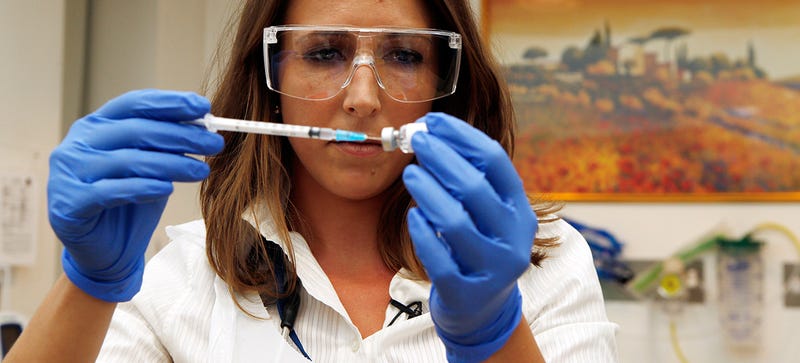 Yesterday, the CDC confirmed the first Ebola case diagnosed in the US. The patient, who recently traveled to Liberia, is now isolated in a Dallas hospital. With containment efforts challenging West Africa, and US officials searching for anyone who came in contact with the Dallas patient, where is the Ebola vaccine?
If you want to put on a surgical mask, rubber gloves, goggles, ear muffs and trap yourself in a plastic bubble after watching this terrifying video of how fast an epidemic would spread across the world, well, I'd totally understand. Because it's crazy fast. Using the world's air transportation network, theoretical…
With many of America's federally employed food-safety personnel on furlough (thanks, government shutdown), it's a good thing there isn't a major foodborne-illness outbreak unfolding across the country! Oh, wait.
You probably already know that most science fiction movies feature terrible science, and especially awful physics. But some movies feature scientific mistakes so basic and so terrible, they give you what can only be described as a "logic coronary."
New images from the virus film Contagion, which people are calling Crash meets Outbreak, show Jude Law (who plays an angry damn-the-man blogger) handing out leaflets to the ruined masses, warning that the CDC is FULL OF LIES. Methinks Jude needs to be a bit more concerned about his ridiculous suit than the CDC. But…
Dustin Hoffman is so concerned about getting better science in science-fiction movies, he's helping to sponsor a "dating service" to match movie directors with real scientists. But will he play a violin at their table-side?