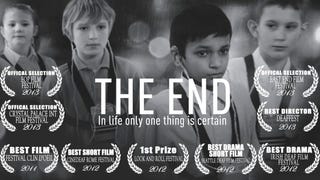 Shot in the style of a documentary, The End follows four deaf children through their lives into an imagined future, as some decide to undergo treatment for deafness while others refuse it. But as the number of deaf people dwindles, what happens to the those who gradually find themselves without a culture?
The Fiah's Exodus mission is a noble one, to remove sentient races from their doomed planet and relocate them to a safer preserve. But Ethma and Endi's assignment on Earth is troubled from the start, though their crew of accidental human stowaways is the least of their problems when the entire Exodus mission takes a…
Physicist Dr. Dave Goldberg tries to give an answer to a complex scientific question on io9: When will the Universe end? And how? There are still many theories, but one timeline seems likely. Not that I care too much beyond pure curiosity—it all feels too far away compared to the certain and nearness of our own end.
Robert Downey Jr. explains how The Avengers fits in thematically with the Iron Man solo films... and drops some Sherlock Holmes 3 hints. Chris Pine tells us what to expect from Star Trek 2, and hints he might star in a most unlikely genre film. There are huge hints for Iron Man 3 and The Hobbit. Will both realities…
Marvel Comics have released a teaser ad entitled "The End" - But can we work out just whose end it is based upon our knowledge of what happens afterwards?
The last F-117 stealth fighter was retired a few months ago. Most of the fleet is now stationed in a special retirement village all its own at the Tonopah Test Range in Nevada, where they await their fate. This fate. Hopefully, for humanitarian reasons, the first Nighthawk to the slaughter seen here was done…
If you think you are going to see some cool fireworks today, just wait three more days. Because we just checked the countdown and that's when the Large Hadron Collider will be activated in Geneva, Switzerland. Then we all will enjoy the mother of all fireworks. Well, not us, but the aliens, Tom Cruise, Elvis and the…
A new report from CERN allegedly puts the final nail in the coffin of doomsday theorists claiming the Large Hadron Collider will result in a reality-ending black hole on Earth. In a word, the report calls the project "safe," and reiterates CERN's original argument that even the most powerful collisions planned for the…