What are the best songs about comic books, other than Black Sabbath's "Iron Man"? I asked Douglas Wolk on IM the other day because he's the only person I know who is obsessed with comic books and music simultaneously. (He's the author of the awesome Reading Comics and Live At the Apollo about James Brown.) The best find was a rare single from 1969 called "Nobody Loves the Hulk!" Ten more after the jump.
Here are the top 10, in no particular order:

The Traits, "Nobody Loves the Hulk" (remade many times by Ska bands for some reason)

Camberwell Now, "Green Lantern"

David J (from Bauhaus), "This Vicious Cabaret" (a song from V for Vendetta)

New Pornographers, "Challengers" (about the Challengers of the Unknown)

Mekons, "Dan Dare" (just in time for Dan Dare's revival!)

Fink Brothers, "Mutants in Mega-City One"

Transvision Vamp, "Hanging Out with Halo Jones"

Sun Ra, "I Am Gonna Unmask the Batman" (greatest title ever)

Paul McCartney, "Magneto and the Titanium Man"

Guided by Voices, "Matter-Eater Lad" (yes this is an actual hero from "Legion of Superheroes")
G/O Media may get a commission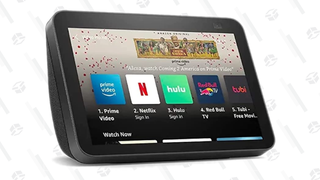 Also, just as a treat, there is a little-known musical offering from Alan Moore, author of The Watchmen, called "March of the Sinister Ducks," which is credited to Sinister Ducks but is really Alan Moore.