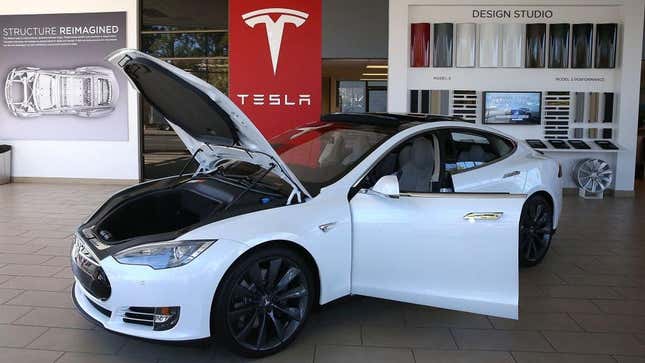 The National Transportation Safety Board (NTBS) concluded its investigation into the deadly Tesla car crash in Texas that killed two men in 2021. The investigation report released on Wednesday said the men, who were identified by KHOU11 as Dr. William Varner and Everette Talbot, entered the vehicle with Varner getting into the driver's seat and Talbot entering the passenger seat before exiting the driveway.
Tesla Investors Not Happy With Mr. Tweet's Tweets
First responders arrived at the wreckage at about 9:07 p.m. on April 17, 2021, to find the 2019 Tesla Model S crashed into a tree and on fire only 550 feet from where it departed. Varner's body was found in the backseat of the car, leading investigators to initially believe the car had been on autopilot when it crashed.
However, the newly released report found that the autopilot feature wouldn't have been activated because there weren't any lane lines on that road which are required for Tesla's Traffic-Aware Cruise Control system to work. Tesla CEO Elon Musk and executives responded to criticism that the car was at fault nine days after the crash.
A Tesla executive told KHOU11 at the time, "We inspected the car with NTSB and NTHSA and the local police and we were able to find that the steering wheel was indeed deformed." They added, "So there was leading to the likelihood that someone was in the driver's seat at the time of the crash and all seatbelts post-crash were found to be unbuckled."
Other factors included the cruise system wouldn't have worked over 30 mph on that road, but the Tesla event data recorder found the vehicle reached 67 mph only two seconds before it crashed. According to the report, the recorder showed the acceleration was "consistent with driver activity" and revealed that the seatbelt had been in use when the car hit the tree.
"Although the driver's seat was found vacant and the driver was found in the left rear seat, the available evidence suggests that the driver was seated in the driver's seat at the time of the crash and moved into the rear seat postcrash," the report said.
The report confirmed that the driver was excessively speeding and failed to control the car due to impairment from a 1.5% alcohol level. Results showed the driver was under the influence of two sedative antihistamines and alcohol which caused him to swerve off the road and collide with a tree, ending in a "post-crash fire."
Harris County Precinct 4 Constable Mark Herman said it took four hours to extinguish the flames and more than 30,000 gallons of water. NTBS reported that the lithium-ion battery in the vehicle had caused the car to erupt in flames, killing the passengers, and is recommending car manufacturers provide information on how to extinguish fires caused by the high-voltage lithium-ion batteries to better prepare emergency response teams with a "quicker and easier" way "to find the necessary information."