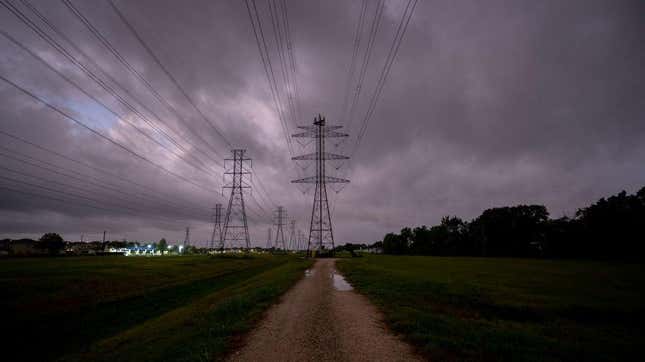 It is hot as hell in Texas at the moment, and the sky-high temperatures are straining the state's grid. Excessive heat warnings and heat advisories are in effect for most of the state today, according to the National Weather Service.

Stay in Your Seats, It's Gonna Be a Bumpy Flight | Extreme Earth
"The record breaking heat in Texas caused by a stationary upper-level ridge will continue for the next several days. High temperatures will be in the 100s and 110s across southern Texas," an NWS alert said.
There's not going to be much respite during the evening and nighttime hours for the lone star state, so the grid is struggling to keep up with high energy demand. In response, the state's grid operator has asked people to step up. "ERCOT has issued a Voluntary Conservation Notice for today from 4–8 p.m. due to extreme heat & forecasted record demand," the Electric Reliability Council of Texas tweeted on Tuesday.
Texans are going to be hard-pressed to turn off their air conditioning. The Houston area is experiencing heat at around 100 degrees Fahrenheit (37 degrees Celsius) and heat indices of around 120 degrees Fahrenheit (48 degrees Celsius). Nearby Gavelston is experiencing 91 degrees Fahrenheit (32 degrees Celsius) and heat indices around 110 degrees Fahrenheit (43 degrees Celsius). The Austin metropolitan area is experiencing 104 degrees Fahrenheit (40 degrees Celsius) today, according to the NWS.

Some state residents are already going without power involuntarily. As of this afternoon, more than 50,000 customers in the state are without power, according to Poweroutage.us. And these outages could continue—Texas is in for several more days of high temperatures.

Want more climate and environment stories? Check out Earther's guides to decarbonizing your home, divesting from fossil fuels, packing a disaster go bag, and overcoming climate dread. And don't miss our coverage of the latest IPCC climate report, the future of carbon dioxide removal, and the invasive plants you should rip to shreds.