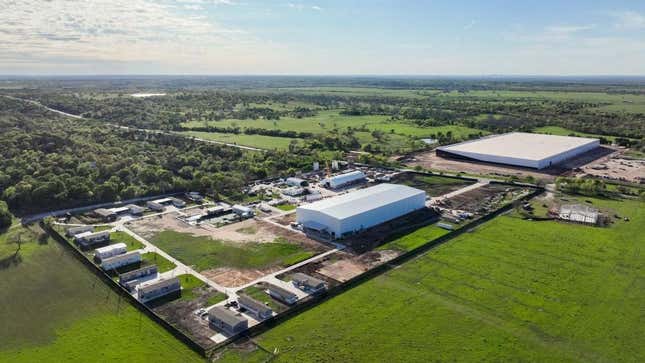 Bastrop, Texas residents are pushing back against a permit that would allow Elon Musk's infrastructure construction company, the Boring Co., to dump more than 140,000 gallons of treated wastewater a day into the nearby Colorado River.
NPR Is Going Dark on Twitter | Future Tech
The Texas Commission on Environmental Quality (TCEQ) held a meeting on Tuesday to discuss the company's operational plans. County residents showed up in force, worried about how the private wastewater dumping will affect their health if something were to go wrong.
The Boring Company, a construction company owned by Elon Musk, is currently expanding its operations in Bastrop County, Texas. (If the name sounds familiar, the company has made headlines recently for its plan to construct a one lane car tunnel in Las Vegas that could easily have just been a train.) In Balstrop, Boring has plans to build a (dystopian) company town where employees can rent homes for around $800 a month, a project they're calling Snailbrook. The land is owned by Gapped Bass LLC , an entity that shares staff and an address with the Boring Company, as the Austin American-Statesman reported in 2021; in July of 2022, Gapped Bass filed for a wastewater discharge permit for the area.
But residents and officials would prefer that it opts into the already existing local wastewater system instead of disposing of the water themselves, Yahoo! News reported. Amy Weir, a property owner in Bastrop County, spoke during Tuesday's meeting. She said she didn't think the TCEQ's penalties of up to $25,000 a day were enough to hold the Boring Co. accountable—especially because Musk is so wealthy that a few thousand dollars a day wouldn't much of a punishment.
"The owner of these companies spent $44 billion on Twitter, and it had no impact on his ability to continue to build these businesses," she said. "There is no way for the state to enforce its laws or protect the people and businesses downstream, should there be an issue with discharge from this facility."
Sean Hensley, a local resident and biologist, questioned why the Boring Company couldn't reuse the water instead of dropping it into the river. "How much more can we take?" he said. "We want to clean. And unless Elon Musk and his kids are going to be swimming in here every day, then I ask that you deny the permit."
Community members also had the opportunity to file comments through the TCEQ's website leading up to this week's public meeting. Online filings show that more than 200 comments were submitted, many from local residents who are worried about the wastewater dumping permit.
"Our family swims in the Colorado River and our outdoor classrooms are all right on the River," one community member wrote. "We do not want any more wastewater dumped in the Colorado river! Protect the water, fish and our swimming holes!" Others asked for a second public meeting, citing that only some of the attendees were able to make it into the packed meeting.
"The reason for doing that ultimately is the facility does want to tie into the city treatment system. Currently there is not infrastructure in place for that to happen. So in the interim, this is the solution," Rajiv Patel, an environmental consultant working with the Boring Company said, according to the Austin Business Journal. But community members at the meeting said they weren't comfortable with any wastewater dumping, even if it was intended to be temporary.
Earther reached out to the Boring Company for comment and will update this story if we hear back.
The company's history has come up as a concern for locals before. Back in 2022, Musk's construction company received two violations, the Wall Street Journal reported: one from a failure to obtain a construction permit, the other from installing soil silos and tunnel grout without required air permits from the TCEQ. A final decision in the pending permit could be months away. And according to TCEQ officials, the agency will grant hearing requests from parties affected by the permit, the Austin American-Statesman reported; however, TCEQ commissioners will get the final vote on the pending permit.