As we reported in September, Starz will be pulling its huge catalog from Netflix after the contract between the two companies expires on February 28th. Say goodbye to some of the best films and TV on Netflix; here are the ones we'll miss the most.
Update: As our wonderful commenters discover new tragedies, I'm adding more below.
Starz Play is one of the staples of Netflix's streaming catalog, and after tomorrow most of those films will disappear from instant streaming—unless Netflix can find another way to secure the rights to the movies. In an effort to help ease your transition into a new dark period of Netlflix streaming, here are links to the 20 best films you should consider watching before it's too late. All of these films will be streaming until February 29th:
Toy Story 3
Tron: Legacy
That Thing You Do!
Elizabeth
Robin Hood: Men in Tights
Peter Pan
Scarface
Apocalypto
Hackers
JFK
Teen Wolf
Scream
Airheads
Twins
Tank Girl
Rumble in the Bronx
Spy Hard
Airport
The Nutty Professor
G/O Media may get a commission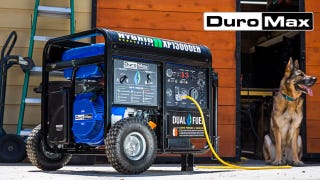 Black Friday Sale
DuroMax Generator Sale
Clock's ticking! I'm afraid to see what my Netflix queue is going to look like when all of these films expire. Which are you the most bummed about? We'll update with the best suggestions from the comments. [Engadget]
Update:
Our eagle-eyed commenters spotted a couple more films you definitely need to consider watching while you can. Keep them coming people!
Update 2 (9pm):
Still updating! Picked a few out of the comments and from our friends at HuffPost and on Reddit.
Young Frankenstein
Beetlejuice
Spartacus
Let Me In
Howl's Moving Castle
Party Down
Ronin
The Man Without a Face
Big
Astro Boy
Mallrats
Hellboy
Billy Madison
Waiting to Exhale
The English Patient