Washington D.C. is getting old. To other countries, our nation's capital might seem like a spring chicken, but it's actually aging rapidly—a fact proven by the scaffolding that's draped around some of its most important monuments this year.
Smithsonian Mag's Jimmy Stamp points us in the fascinating direction of the unique art of scaffolding, which has flowered in DC thanks to several factors. For one thing, tourism is important in this town—making the Capitol building or the Washington Monument look halfway decent in your iPhone selfie is actually important to a city where visitors are an essential part of the economy. Then there's the issue of keeping up appearances, which is actually more important than it might seem. After all, these building serve as political symbols—and a symbol of power wrapped in protective scaffolding conflicts with that image (despite how appropriate it might seem, considering).
Take the facade of the Supreme Court, for example. The Architect of the Capitol—the office in charge of DC restoration and building work—recently completed a huge, 10-year modernization project that included work on the facade. To hide the scaffold, they hung a massive photographic replica of the building from the outside edge:
It might look fake from this angle, but standing in front of it, it's actually fairly believable. Inside, a steel framework let workers clean and restore its columns:
G/O Media may get a commission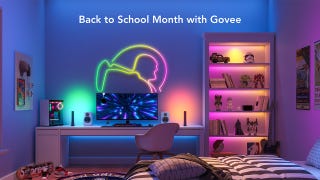 Back to School
Back to School Month with Govee Sale
Images: USCapitol.
The Supreme Court is now back to its old 3D self. But nearby, another monument recently shrouded itself in protective netting, too: The Washington Monument, which has undergone more extreme work over the past two decades; first, in the 1990s, when a full restoration took place, and now, to repair damage sustained in the 2011 earthquake (remember that?!).
Its distinctive scaffolding was actually a project unto itself: architect Michael Graves was commissioned to design a structure that would make the best of the two-year restoration, in 1998.
Image: Alex Wong/Getty.
Graves' design used strips of opaque netting to mimic the actual stonework beneath it, and an extensive lighting rig to make it pop. It's actually been a popular addition—in July, an architecture critic argued that it should be permanent in a controversial Washington Post op-ed.
Image: Garen Meguerian.
Here's the scaffolding being replaced this year to make space for workers to carry out a new, $5 million project to repair the structural damage from the quake:

Images: Mark Wilson/Getty.
Directly across the Mall, another iconic building is donning a veil to match the Monument: The dome of the 150-year-old Capitol building.
This month, the AOC started a project to repair more than 1,000 cracks in the dome—an undertaking that will last for two years. It'll be encased in complex set of scaffolds, but at night, a lighting system will make the dome into a glowing beacon—rather than trying to conceal the work site. Here's a shot of the extensive rust damage:
This actually isn't the first time the Capitol has been renovated.
Though the dome looks like it must be made out of the same stone as the rest of the building, it's made from cast iron—so it's especially sensitive to rust and water damage. In 1959, workers used pneumatic hammers to remove paint from its surface and replace it with protective chemicals and brand-new coat. Here's what it looked like without its white paint:
Later, in the 1990s, workers removed 180,000 pounds of lead paint from the interior of the dome. And so as not to interrupt operations, they devised a tent-like canopy that would catch any paint chips and still allow visitors to see the dome's beautiful fresco:
Image: USCapitol.
We tend to think of Washington D.C. as a city dedicated to architectural preservation, not production—it's cool to think that by attempting to maintain tradition, the architects behind these projects are actually inventing something new. [Smithsonian Mag]
Lead image: Getty/Mark Wilson.