Looking for something worth watching? You've come to the right place, again! From Charlie Rose's interview with funny man Zack Galifianakis to a less hilarious but equally inspiring tale of Detroit, here's the best of what's online this week:
TV

Zack Galifianakis on Charlie Rose: Zack Galifianakis has become a household name, a real feat considering how few households actually know how to spell it. Whereas most of us know him as the weird dude from The Hangover and the even weirder host on Between Two Ferns, Charlie Rose manages to talk to a side of Galifianakis that we've all speculated didn't exist: the serious side. The comedian sheds light on how he got his start and what it takes to pursue the seemingly impossible. He also makes Rose laugh like we've never seen.




20/20's Catfish Exclusive: It's not just for old people, you know. Last Friday's 20/20 featured the filmmakers behind Catfish, the highly acclaimed documentary about a dysfunctional Facebook relationship that you just have to see to believe. One warning: if you haven't seen the movie, this episode will spoil the entire plot without making any apologies, so keep that in mind if you're planning on seeing the film blind (recommended). If you have seen the movie and you're skeptical about it's veracity, you need to watch this episode.
G/O Media may get a commission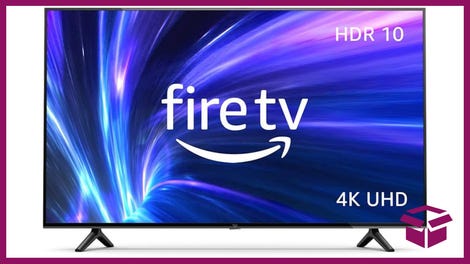 42% Off
Amazon Fire TV 50" 4K Smart TV

Flash Gordon: Recently added to the Internet's arsenal of classic television, Flash Gordon takes us all the way back to 1936. Believe it or not, this series pre-dates television: it was featured first as a serial short shown in theaters before a movie would begin. Sci-fi fans, your genre just got major street cred. Based on the 1934 comic strip, this series follows the adventures of Flash Gordon (played by Buster Crabbe) as he travels through space and runs into trouble on the planet Mongo.
WEB

Uneven Terrain: Web series Uneven Terrain does what the Internet does best: it connects us to some of the weirdest places around the globe, ones that we'd be unlikely to stumble across on our own. The most recent episode, Detroit Lives, is a 30-minute expose on the current state of this metropolis, one of the recession's most heavily hit cities. True to form, this series shows us a side of Detroit we often overlook: the creative side. The best part? It's hosted by Johnny Knoxville.


First Day: If you liked Groundhog Day and have a soft spot for teen soaps like Gossip Girl, you'll love First Day. The series centers on new kid Cassie Mitchell who humiliates herself on her first day of school, wishes she could do it over, and (surprise, surprise) gets her wish. Locked into a repetitive cycle of first days, Cassie has to figure out how to reverse the curse without ruining her reputation.

Internet Personality Test: A Late Night with Jimmy Fallon side project, Internet Personality Test is a Web series in which a slough of celebrities are asked a series of random questions that they have to answer point-blank. From their favorite blogs and viral videos to their most disturbing memories, Internet Personality Test offers insight (however strange) into certain celebrities that you just don't get from other interviews.
MOVIES

Quiz Show: Who doesn't love a true story about media corruption? Quiz Show retells the story of real-life Charles Van Doren (Ralph Fiennes) whose claim to fame was his groundbreaking triumph as a repeat winner on the 1950s prime-time game show, Twenty-One. A success story at face-value, it turns out faithful audiences across America were being duped and it was for more than mere ratings as congressional investigator Dick Goodwin (Rob Morrow) soon discovers. If nothing else, Quiz Show is a captivating tale about the entertainment industry's manipulative capacity.

Tupac & Biggie: Who killed Tupac and Biggie? This 2002 documentary, currently free online from multiple legal streaming sites, seeks to find the answer. Though the film can only theorize who may have murdered the iconic rap artists, the investigation that director Nick Broomfield heads and the conspiracy theories that arise are no less fascinating.

Quick & The Dead: Gene Hackman, Sharon Stone, Leonardo DiCaprio, and Russell Crowe all star in this 1995 western that takes place in a town called Redemption. When a quick-drawing gunslinger (Stone) rides into town to enter the ruthless gun fighting competition, she takes everyone by surprise. Little does anyone know, Redemption is soon to be hers: she came seeking one man and one man only, and she won't rest until he's dead. Added bonus, Quick & The Dead was directed by Sam Raimi of Spider-Man, Drag Me To Hell, and Evil Dead fame.
LIVE

TEDx Live: If you're a fan of TEDTalks, you'll love TEDx, a live forum comprised of self-organized events that bring communities together via the Web. This weekend, TEDx live hosts two events. The first, TEDxKIDS, will stream live on Friday from 9am to 3pm PT and is the first ever TEDx event for kids. The focus will be "Moving Big Ideas Into Action." That's pretty powerful.
The second event, TEDxSMU will stream live on Saturday from 8am to 4pm PT and will focus on the theme "Starting Now: a look at issues of human survival and how we move beyond survival to creating vibrant, healthy communities." If it's inspiration you seek this weekend, it's inspiration you shall receive, thanks to TEDx.
Clicker is the complete programming guide for the new era of Internet TV. Clicker catalogs all the premium TV shows, movies, Web series, live events and music videos available on the Web in one seamless, organized experience so viewers can easily discover what's available to watch, where to watch it, and share what's worth watching online and from their iPhone or Android devices.